The Land Conservancy is pleased to collaborate with the James H. Barrow Biological Field Station at Hiram College to offer a daylong workshop devoted to learning the identification, natural history and behaviors of dragonflies and damselflies (Odonata).
A detailed schedule is below, which includes a morning of classroom time, lunch, an afternoon in the field visiting a number of different habitats and a copy of the book Dragonflies & Damselflies of Northeast Ohio.
Event details:
Wednesday, August 9 from 10:00 am – 4:00 pm
Instructor: Judy Semroc, Field Biologist at Nature Spark
Fee: $40/person
Limit: 15
Location: Directions will be sent to registrants. James H. Barrow Biological Field Station is located in Garrettsville, OH.
Hiram students, please contact Renee Boronka, rboronka@wrlandconservancy.org, for information on complimentary registration.
Schedule
10:00 AM – 12:00 PM Classroom Instruction
Differences between dragonflies & damselflies addressing many aspects & features
Anatomy – descriptions, terminology & functions
Natural history & behavior of flying adults including mating, egg laying, predation & predators, habitat preferences & more
Natural history & behavior of aquatic nymph stage including morphology, hunting practices, predation & predators, habitat types & more
Introduction to Families for both Dragons & Damsels – notable features, behaviors & habitat preferences will be discussed
Field Guide will be distributed – explanations will address all aspects of the guide to make field usage easier
12:00 PM – 1 PM Lunch delivered
1:00 PM – 4:00 PM Field Survey/Instruction Work
Various habitats will be visited to survey for both dragons & damsels – discussing families, habitat usages, behaviors exhibited – including hunting, mating, egg-laying & more
Netting flying adult dragons & damsels to observe morphology & features with live individuals in hand. All will be released after observations
Netting nymphs in the water (hopefully!) and discussing morphology & behaviors important for aquatic survival
Utilize the field guide to study /morphology/features observed in the live individuals
James H. Barrow Biological Field Station at Hiram College encompasses 220 acres and is protected with a conservation easement held by the Land Conservancy.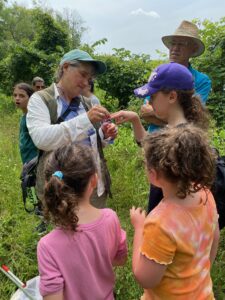 About Judy Semroc
Judy is an area field biologist and naturalist who loves to learn about and share her passion for the natural world through interpretive hikes, programs and photography. She has co-authored two natural history guides, Dragonflies & Damselflies of Northeast Ohio and Goldenrods of Northeast Ohio. Judy is also the founder of Chrysalis in Time' the first Ohio chapter of the North American Butterfly Association (NABA), and serves on the board of the Ohio Bluebird Society & Ohio Ornithological Society's Conservation Committee.
This event is sold out.
Organizer: Renee Boronka, rboronka@wrlandconservancy.org, 216-533-8761