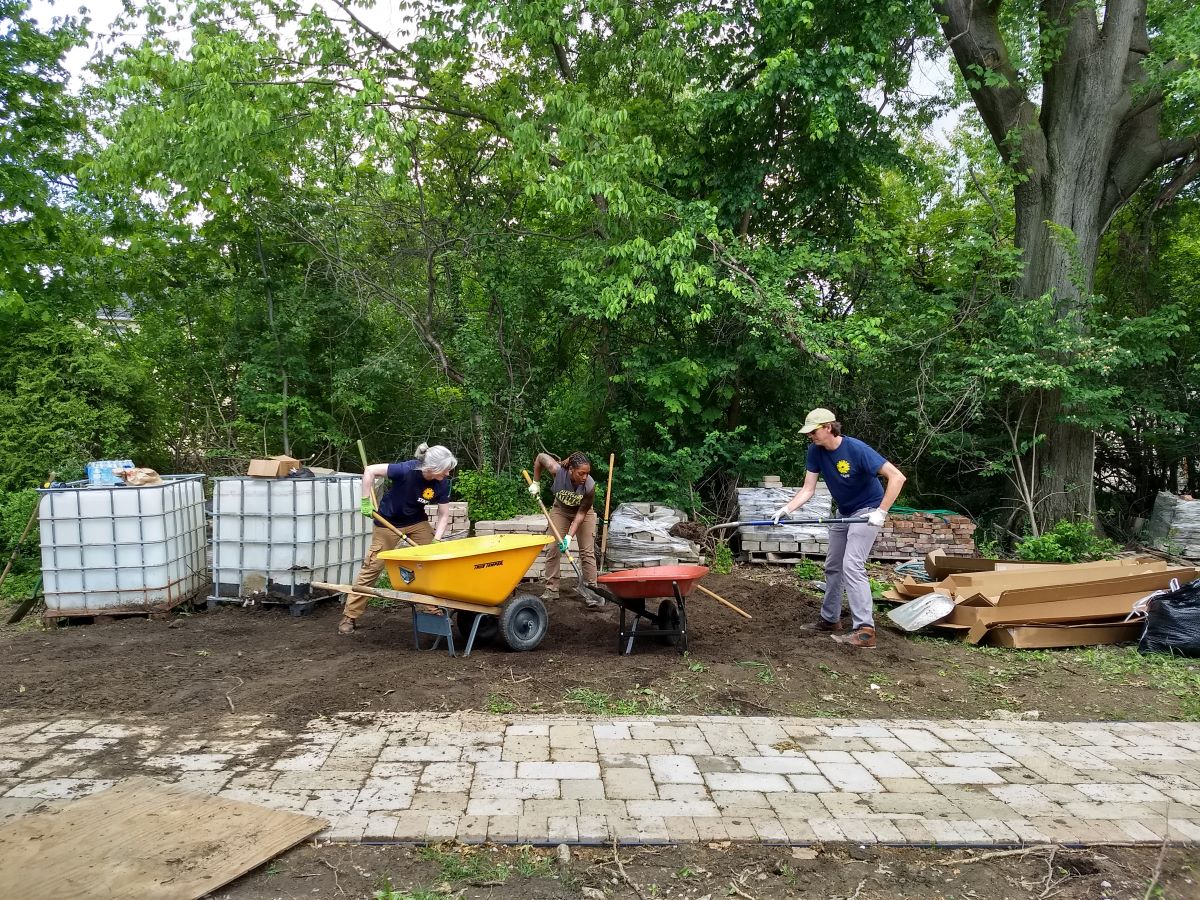 Woodhill Community Garden Promises Healthy Produce for the Community
June 2, 2023
The Calvary Hill Church of God in Christ and Western Reserve Land Conservancy celebrated the grand opening of the Woodhill Community Garden today at the corner of Rosehill Ave. and Woodhill Rd. in Cleveland's Buckeye-Woodhill neighborhood.
Cleveland City Council President Blaine Griffin joined representatives from Western Reserve Land Conservancy and Calvary Hill Church of God in Christ for the opening ceremony to offer remarks and celebrate this transformative project where locals will grow and harvest healthy produce for the community and serve as a learning center and gathering space for kids and adults.
The Garden is the brainchild of Pastor Ernest Fields and his wife Iris. Pastor Fields ministers at the Calvary Hill Church of God in Christ, located around the corner from the Garden. The Garden includes wash stations, fenced-in raised garden beds, compost bin, an irrigation system, pathways to improve access to the site, gardening shed, paved driveways, and a pavilion shelter for community gatherings and educational programming.
Where three vacant and abandoned homes once stood has now been transformed into a productive green space that will benefit the local community, the church, and the nearby East End Neighborhood House by way of a connecting pathway. These two anchor institutions in Buckeye-Woodhill are actively engaged with community members of all ages, with programming ranging from early childhood education services to free meals and social activities for senior citizens.
"This is truly a dream come true," said Pastor Fields. "We worked together in partnership with Western Reserve Land Conservancy and the City of Cleveland Land Bank to create a plan that would turn this unused space into a vibrant anchor for the entire community. We are so excited to announce the garden's grand opening and can't wait for our first harvest."
The project partners relied on multiple public and private funding sources to raise more than $200,000 to create the Community Garden, including a USDA Urban Agriculture and Innovation Production (UAIP) grant awarded in 2022.
"This is yet another positive step and a great project coming to the neighborhood," said Cleveland City Council President and Ward 6 representative Blaine Griffin. "When public, private and faith-based partners work together we can restore what was once a spot for abandoned homes into a community destination. This new Woodhill garden joins Ubuntu Gathering Place and the Ernest Turner Memorial Park as neighborhood gems."
Calvary Hill Church and Buckeye Ministry in Missions Alliance have developed a strong working relationship with the Land Conservancy, which has led to not only the creation of the Woodhill Community Garden, but several other community focused initiatives such as neighborhood cleanups, vacant lot greening, and tree plantings and tree giveaways. Resident feedback has been critical to creating this space and to the many other efforts visioned though this partnership.
Based on outreach that has already been completed, there is a strong need for children in Buckeye-Woodhill to have a safe place to be outside, as well as learn about the importance of eating fresh and nutritious foods. Older adults in the community have a strong interest in passing their gardening skills to younger generations, while also teaching children how to live a healthy lifestyle. Community engagement is the crux of this project, as the garden and community gathering spaces will come to life as residents of all ages are involved in using the site.
"This project is a great representation of how partnerships and neighborhood engagement can lead to a benefit for the entire community," said Khalid Ali, urban greenspace coordinator for Western Reserve Land Conservancy. "This neighborhood was hit hard by the housing crisis. Vacant and abandoned properties plague neighborhood streets, attracting illegal dumping, rodents, crime and more. Our effort to repurpose these properties is dependent upon strong partnerships with churches, community groups and neighbors. We are proud to work with Calvary Hill Church of God in Christ and East End Neighborhood House to make this project a reality."