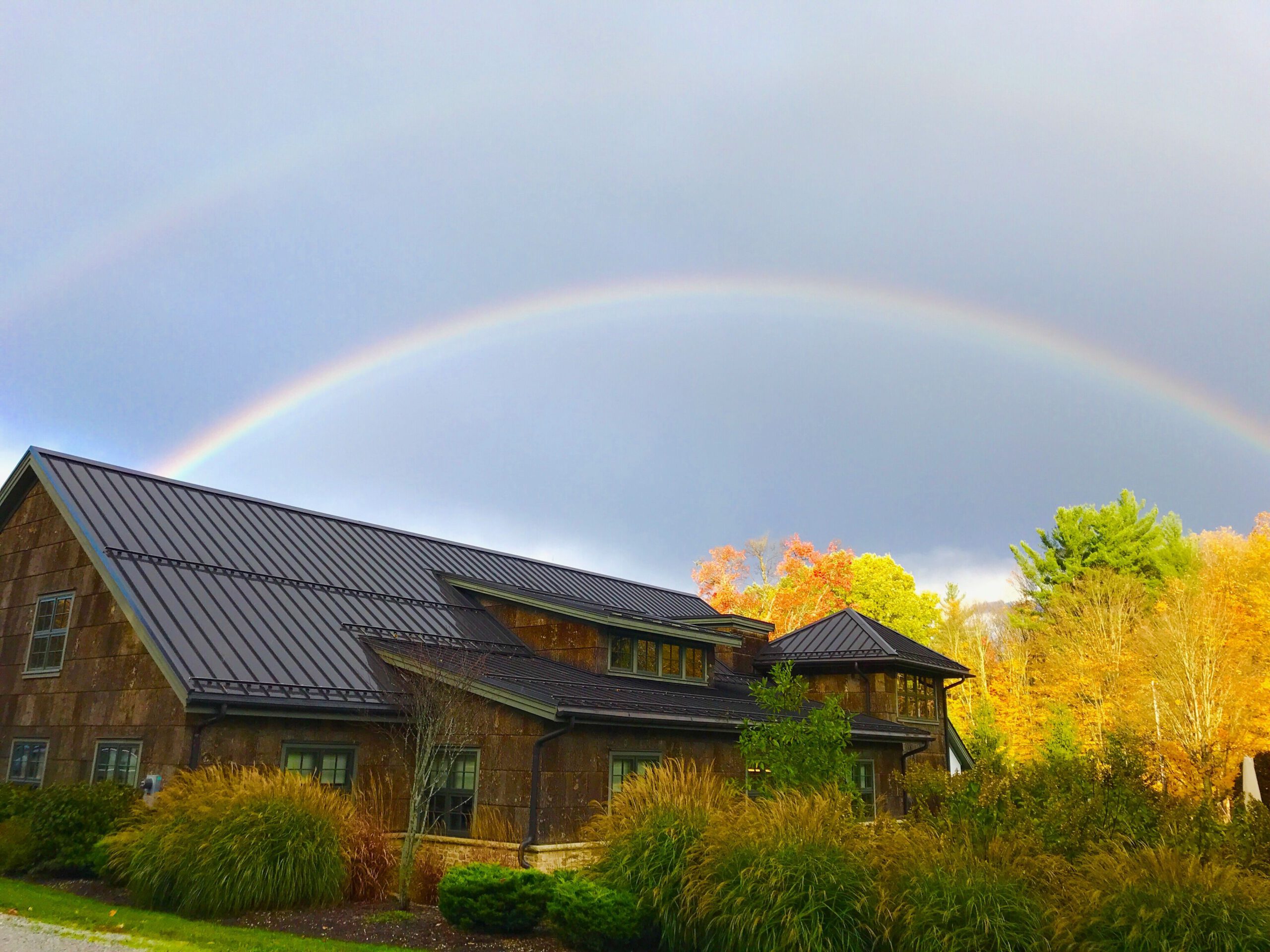 Western Reserve Land Conservancy and Tangent Company recognized for national excellence in the first self-contained on-site water recycling system in the country
September 30, 2019
Western Reserve Land Conservancy, the largest local land trust in Ohio, and Tangent Company, LLC, creator of the first self-contained water system in the country for small commercial buildings and homes, were honored last week in California at the Annual WateReuse Symposium, a gathering of water re-use experts and advocates from across the country. The two Northeast Ohio companies partnered on the installation of Tangent's WaterCycle™ self-contained water recycling system at the Land Conservancy's 16,000 sq.ft. central office in Moreland Hills. It is the first of its kind in the United States to eliminate well water dependency and septic system discharges.
"The power of Tangent's groundbreaking water recycling system and its impact on water sustainability is just remarkable," said Rich Cochran, President and CEO at the Land Conservancy. "We firmly align in their mission and have been honored to experience the benefits of this system firsthand. The success of this project is a gigantic step forward in water sustainability for the future— in Northeast Ohio and beyond."
The nationally accredited Land Conservancy installed Tangent's water recycling system at their central headquarters in Moreland Hills in 2012. The system combines commonly available water treatment technologies with proprietary fail-safe controls to purify wastewater onsite and recycle it into the facility as extremely high-quality purified water that is safe for cooking, drinking and all human contact. In 2014, after two years of monitoring by the Ohio Health Department (ODH), it received final permitting for supervised use to provide the facility's drinking water.
Visionaries including the Land Conservancy, Tangent Company and its founder, the late Bill Prior, Ohio legislators, the Ohio Department of Health and EPA regulators collaborated to make possible this first permitted, off-grid, completely closed-loop direct potable reuse (DPR) system in the United States. As part of its evaluation process the ODH engaged an independent panel of experts from leading national U.S. and Canadian water organizations and water quality oversight groups to provide feedback on treatment design, testing protocols, and performance data.
Paul Rice, president at Tangent Company, accepted the award on behalf of the Land Conservancy at the WateReuse Symposium in San Diego on September 9. The WateReuse Association's annual Awards for Excellence "recognizes individuals and projects that have made significant contributions in support of greater adoption of water reuse."
"It is important that the industry leaders in water recycling are recognizing the contribution of this Ohio application in demonstrating what is possible in water recycling," said Rice. "While municipalities and regulators in water-short western states continue to consider Direct Potable Reuse, none have gone as far as to implement it in an off-the-grid completely closed-loop application. Innovation takes courage, not only to invest in technology, but to adopt it. This recognition not only belongs to Land Conservancy leadership but extends to the employees and all those involved with the Western Reserve Land Conservancy who have supported use of the Tangent WaterCycle™ system for over five years."
Tangent company founder, the late Bill Prior, once said: "There will come a day when we're sitting around in our rocking chairs, telling our grandchildren what we did with our lives. We should think about how we tell that story – and then live it today". "Making water sustainability a reality stems from that philosophy," Rice added 'it's for our future'."
So far, the Land Conservancy has recycled more than 700,000 gallons of water and provided employees with a highly purified drinking water source while eliminating discharge of an equal amount of septic effluent into the sensitive surrounding Chagrin Valley. The project fits their dedication to preservation and sustainability that is also reflected in other innovations at their central office including tulip poplar bark as exterior siding, bamboo shoot flooring in the boardroom, geothermal heating and cooling, and roofing prepped and wired for solar panels.
Building off its direct potable reuse technology, Tangent Company is introducing a new cost-effective home sewage treatment system in Ohio that purifies septic system discharge and eliminates bacterial pathogens and other untreated pollutants commonly released from outdated technologies.