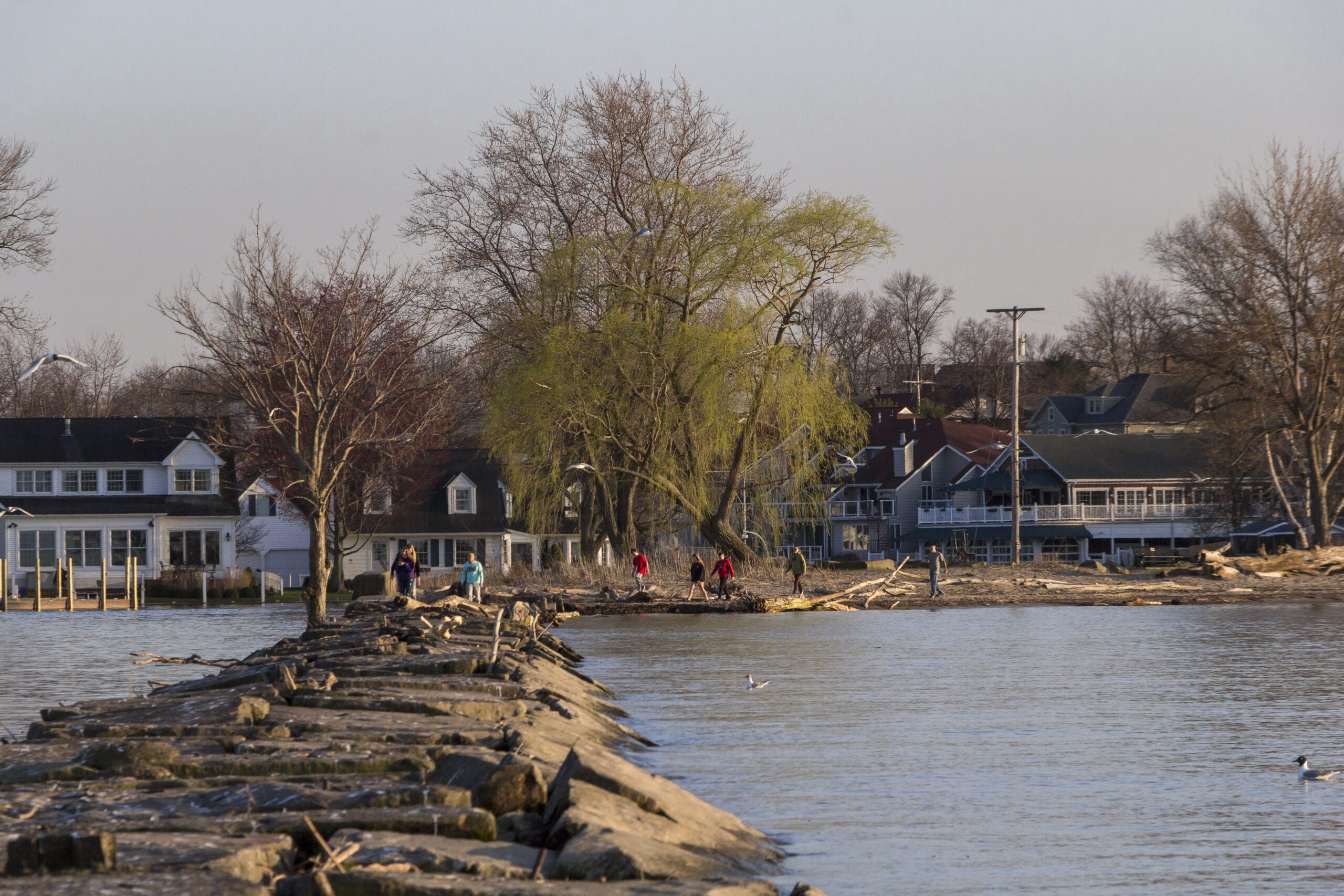 Vermilion's Main Street Beach: A World-Class Lake Erie Shoreline Destination
May 17, 2022
The City of Vermilion and Western Reserve Land Conservancy – Ohio's largest land trust – unveiled plans today for a multi-million dollar investment into Vermilion's Main Street Beach. Construction and revitalization designs include a new comfort station, kayak/canoe launch, improved parking and sidewalk upgrades, beautiful landscaping and additional safety measures. Construction on the comfort station will begin this month and be complete in the fall with the entire project to be complete before summer 2023.
"The Lake Erie waterfront is what identifies Vermilion. It is how we began and who we are to this day," said Vermilion Mayor Jim Forthofer. "When this construction is complete, we will have a world-class beach where locals and visitors can enjoy the lake and our town. But this revitalization project would never have happened without the partnership between Vermilion, the Land Conservancy, state and county agencies and many passionate citizens. This has truly been a team effort."
Vermilion's Main Street Beach welcomes hundreds of daily visitors during summer months, inviting all to bask in the sunshine, play in the sand, jump in the water, paddle the lake, and more. The city's beach is a public attraction that few other Ohio towns can boast. With only 20 percent of Ohio's lakefront property along Lake Erie open for public access, Main Street Beach is a precious natural resource treasured by residents and visitors alike.
"This critical lakefront property will now be permanently protected, ensuring the beach and park will be here now and for future generations," said Andy McDowell, vice president of western field operations at Western Reserve Land Conservancy. "The improvements to the beach area will address community needs and provide a natural, publicly accessible area for people to get outside and enjoy the lake."
The project site encompasses the western half of Main Street Beach, the half beach-goers know as housing the historic Vermilion Lighthouse. High water levels and wave action have badly damaged the existing green space, eroding City-owned land that serves as a public gathering space and allows visitors to view both the lighthouse and Lake Erie. The $2.3 million project involved acquiring and demolishing two homes near the beach and demolition of the Wakefield Mansion and Inland Seas Museum, a dilapidated building that would have required much more funding to rebuild and restore.
"This revitalization project will address both immediate and long-term needs for the park and the beach," said Marc Weisenberger, parks supervisor at Vermilion's Parks & Recreation Department. "There will be ADA-accessible walkways, a new comfort station, kayak launch, improved landscaping and much more that will greatly improve the park and make it welcoming to all."
If there were ever any doubts about the need for free access to beautiful open spaces, the COVID-19 pandemic silenced them. According to a 2020 Google Mobility report, Erie County park usage increased by an astounding 124 percent; Erie MetroParks passed its 2020 fall levy in every single precinct, demonstrating the communities' desire for more publicly accessible parks and properties.
"Standing by Lake Erie in beautiful Vermilion it is easy to understand how collaborative projects like these promote the health and over-all wellbeing of residents and visitors," said Melissa Price, deputy director at Erie MetroParks. "We are proud to partner with both the City of Vermilion and Western Reserve Land Conservancy in protecting and improving the Main Street Beach Area."
An improved Main Street Beach will be a draw for locals and tourists alike, bringing in tourism revenue and supporting Vermilion's local businesses hit hard by the Covid lockdowns.
"The beach is always busy and that was even before these transformative changes," said Micah Roberts, owner of Erie and Anchor, a small business in downtown Vermilion. "I can't wait to see what will come when these improvements are complete. It will make Vermilion a crown jewel on the Lake Erie shoreline. As a small business owner and a resident, I couldn't be happier."