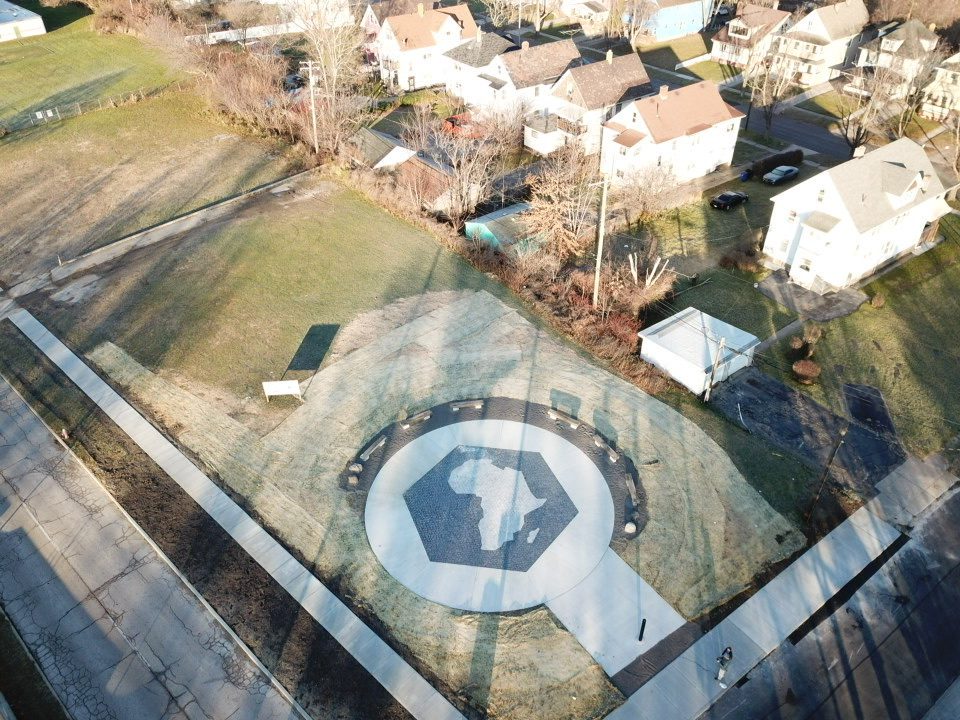 Ubuntu Gathering Place Opens in Buckeye-Woodhill
June 17, 2023
The Ubuntu Gathering Place officially opened today with fanfare and celebration as Cleveland Mayor Justin M. Bibb, Cleveland City Council President Blaine A. Griffin, representatives from East End Neighborhood House and Western Reserve Land Conservancy, and local community leaders welcomed neighbors to enjoy the newly-constructed public park at the corner of E.103rd St. and Shaker Blvd.
What was once an auto dealership turned vacant lot has been transformed into a beautiful 0.5-acre public space includes walkways, newly planted trees, bioretention cells that will mitigate stormwater runoff, an outdoor education space, locally-commissioned art walls, and a plaza with a depiction of the continent of Africa. Ubuntu is a Nguni Bantu term meaning "humanity," sometimes best translated as "I am because we are." It symbolizes the powerful connection that can exist between people who are open to seeing each other in each other.
"This is truly an amazing accomplishment," said Cleveland Mayor Justin M. Bibb. "The community came together and turned an eyesore into a beautiful public park for the entire neighborhood. Folks from East End Neighborhood House, Western Reserve Land Conservancy, Burten, Bell, Carr, LAND Studio and the Saint Luke's Foundation showed that when we work together, we can accomplish anything. This neighborhood is undergoing a transformation that will have a lasting impact for many generations to come."
Additional partners on this project include Environmental Design Group, which developed a below-market cost for the design, engineering and construction management, and New Vista, which handled all the construction. LAND Studio, and Burten, Bell, Carr Development, Inc. provided additional support. The project was made possible thanks to generous seed funding from the Saint Luke's Foundation, which enabled the Land Conservancy to leverage additional funding from the National Fish & Wildlife Foundation's Sustain Our Great Lakes program, The Funders Network – Partners for Places, Northeast Ohio Regional Sewer District, Cuyahoga County, Bank of America, Reinberger Foundation, and Fifth Third Bank.
"This new park joins the Woodhill Community Garden that opened recently, giving residents more peaceful, green spots to enjoy and become neighborhood destinations. This neighborhood had been overlooked and underinvested in for many years," said Cleveland City Council President Blaine A. Griffin. "Not only did the Ubuntu Gathering Place turn a vacant lot into a respite spot for residents, but it is also an outdoor classroom for youth, and brings public art into the community. This is the start of many positive projects in this community."
The community that will be served by the Ubuntu Gathering Place has faced tremendous challenges with high poverty rates, unemployment, poor health outcomes, crime, and racism. More than 95% of the neighborhood is African-American, more than 58% of residents live below the poverty line, and the median household income is $15,000.
The green infrastructure component of the project includes a serpentine series of bioretention cells stretching throughout the property, removing approximately 244,000 gallons of stormwater annually from the combined sewer system. The micro-graded cells will ultimately filter water to the final vegetated infiltration basin that will serve as the centerpiece of the Green Infrastructure Outdoor Classroom within the Ubuntu Gathering Place. East End also plans to use the outdoor classroom as an educational tool for the development of environmental stewards among the community's youth.
"Ubuntu is what this community deserves," said Atunyese Herron, president and CEO of East End Neighborhood House. "For too many years our community was forgotten, neglected. But today, we mark the beginning of a new chapter, one that will tell the story of how this community came together for change. This public gathering space will be where friendships are built and memories are made. It is the culmination of many years of hard work and tireless effort, all of which were truly worth it."
East End was founded in 1907 as part of the settlement house movement when the neighborhood was predominately populated by Hungarian immigrants. From the 1940s through the 1970s, the neighborhood transitioned to predominately African-American families as whites moved outside the city limits, largely the result of unjust housing policies and redlining. Over time, as poverty increased, housing stock in Buckeye-Woodhill deteriorated and violence became prevalent. The effects of these historically discriminatory housing practices are still felt in the neighborhood today.
"Historic disinvestment is apparent in the lack of high-quality green space and parks in Buckeye-Woodhill," said Isaac Robb, vice president of planning, research and urban projects at Western Reserve Land Conservancy. "By creating the Ubuntu Gathering Place to promote sustainability and social capital, pathways of opportunity will be created in a Cleveland neighborhood that has been overlooked for too long. We are so proud to have worked with East End Neighborhood House and many others to bring this vision into reality."