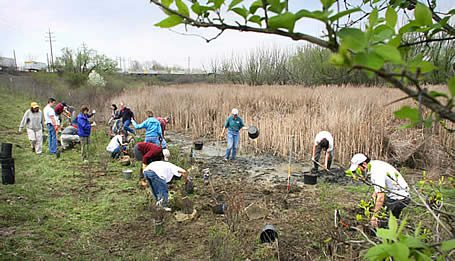 Success Stories – Summit County Land Bank
January 2, 2012
Akron Community Foundation has awarded Western Reserve Land Conservancy and its Thriving Communities Institute a $15,000 grant to help Summit County establish a county land bank.
The funds will be used to help set up the Summit County Land Reutilization Corp. – a county land bank – as a tool to enable the county to proactively secure vacant and abandoned properties.
Like so many counties of northern Ohio, Summit County is challenged to manage a rapidly growing number of abandoned and foreclosed properties. The city of Akron has more than 2,000 properties targeted for demolition, but no funding to raze them. In addition, approximately 500 additional properties are foreclosed in Summit each month, adding to the vacancy problem that threatens both the safety and stability of neighborhoods.
"We have received strong support from Summit County residents – including political and civic leaders – to start a county land bank in Summit County," said Jim Rokakis, director of Thriving Communities. "This grant will enable us to begin that work, and I deeply appreciate the Akron Community Foundation's support."
In May, members of the Summit County Council approached Thriving Communities for assistance in establishing a land bank. Rokakis has been working closely with community leaders to engage government offices whose work will be affected by the creation of this new entity.
Rokakis has said there is an immediate need to begin securing vacant and abandoned properties in Summit County in order to stabilize housing prices and tax-base.
Akron Mayor Don Plusquellic, State Rep. Zach Milkovich, and members of Summit County Council enthusiastically support Thriving Communities' work to establish a land bank in Summit County. Thriving Communities will also reach out to work cooperatively with local neighborhood groups, including East Akron Neighborhood Development Corporation, University Park Alliance, The Nazareth Development Corporation and Alpha Phi Alpha Homes, Inc.