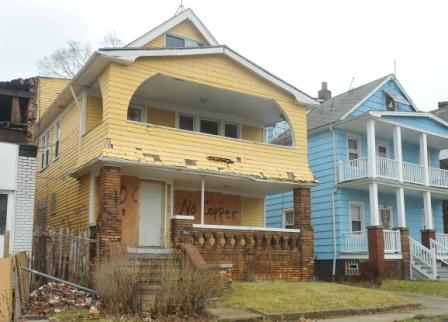 Study says demolition helps curb Cleveland mortgage foreclosure rates
February 13, 2014
Cleveland neighborhoods in which blighted homes are razed generally have lower mortgage foreclosure rates, according to a new study of the impact of demolition in the city and inner-ring suburbs over a four-year period.
The study also concluded that residential property values "can be hedged by demolition activity across Cleveland submarkets."  The study area was comprised of four submarkets, ranging from high functioning to extremely weak. Findings indicated that stronger neighborhoods realize the largest home-equity benefits.
The study, which was conducted by the Griswold Consulting Group at the request of Western Reserve Land Conservancy's Thriving Communities Institute and funded in part by Cleveland City Council, Ohio Attorney General Mike DeWine, the Eva L. and Joseph M. Bruening Foundation and Cleveland Neighborhood Progress, looked at the effect that residential demolition had on real estate equity and mortgage-foreclosure rates in Cleveland and several inner-ring suburbs between 2009 and 2013.  Other sponsors include land banks in Cuyahoga, Franklin, Hamilton, Lucas, Mahoning, Montgomery, Stark, Summit and Trumbull counties.
About 6,000 demolitions took place during the four-year period.  According to the study, those demolitions cost about $56.3 million and provided benefits of $78.9 million, suggesting a $22.6 million net benefit. This net benefit translates into an aggregate estimate of $1.40 return on investment for every $1 spent on demolition in the Cleveland area over the study time period.
The study focused on the outcomes of home demolition in Cleveland neighborhoods.  It found there was "a clear trend of decreasing mortgage-foreclosure rates" where demolitions took place
"As [glossary_exclude]legacy[/glossary_exclude] cities gain control of their distressed property inventories, limited budgets demand optimal targeting of blight remediation funds for maximum impact," wrote study authors Nigel G. Griswold, Benjamin Calnin, Michael Schramm, Luc Anselin and Paul Boehnlein.
Jim Rokakis, a former Cuyahoga County Treasurer and director of Thriving Communities Institute, said the study had its genesis in a meeting with representatives of the U.S. Department of the Treasury and the White House Advisory Council.  In the meeting, Rokakis and others asked for reallocation of a portion of Hardest Hit Funds from foreclosure prevention to demolition.
"These agencies asked that we prove that demolition of blighted properties can be considered a foreclosure prevention method – that strategic demolition would reduce the number of foreclosures in our communities," Rokakis said.
Thriving Communities subsequently sought funding for such a study and received it from a variety of sources, including Cleveland City Council and DeWine, who had previously allocated $75 million from a national bank settlement toward demolition under his Moving Ohio Forward program.
Rokakis said preliminary results from the Griswold Consulting Group study prompted the treasury department to make $60 million in demolition funding available to county land banks in Ohio.
The study encompasses the City of Cleveland, Ohio and 19 of the surrounding municipalities directly adjacent to Cleveland. These municipalities make up the First Suburbs Consortium and consist of Bedford, Bedford Heights, Berea, Brook Park, Brooklyn, Brooklyn Heights, Cleveland Heights, East Cleveland, Euclid, Fairview Park, Garfield Heights, Lakewood, Maple Heights, Parma, Parma Heights, Shaker Heights, South Euclid, University Heights and Warrensville Heights.
Key findings include:
With the aggregate change in value caused by demolition estimated at $78.9 million, a net benefit from demolition activity in the Cleveland study area was estimated at $22.6 million;
This net benefit translates into an aggregate estimate of $1.40 return on investment for every $1 spent on demolition in the Cleveland area over the study time period;
Demolition activity tends to benefit stronger neighborhoods more than weaker ones in terms of real-estate equity.  The study addressed only financial impacts but acknowledged that demolition "impacts several other outcomes, including crime reduction, among others"; and
Across the study area, it was shown that "demolition activity is a preventative measure of future mortgage foreclosure."
About Thriving Communities Institute
In 2011, Western Reserve Land Conservancy formed Thriving Communities Institute in response to the foreclosure crisis that has devastated Ohio's urban centers.  Jim Rokakis, a nationally recognized expert on urban revitalization and author of the law authorizing county land banks in Ohio, was named director of the program.  Thriving Communities has helped create county land banks across the state – there are now 17 – and has helped secure more than $182 million in demolition funding for Ohio's cities.  In addition, Thriving Communities  is in the beginning phase of a re-forestation project in the city of Cleveland.
About Western Reserve Land Conservancy
From the countryside to the city, Western Reserve Land Conservancy provides our region with natural places that nourish and support vibrant and prosperous communities by identifying, preserving, restoring and maintaining essential assets like clean water, working farms, wildlife areas and parks.  To date, the Land Conservancy has preserved 533 properties and 38,494 acres in northern and eastern Ohio. The Land Conservancy is based in Moreland Hills and has field offices in Cleveland, Akron, Medina, Oberlin, Chardon and Orrville.