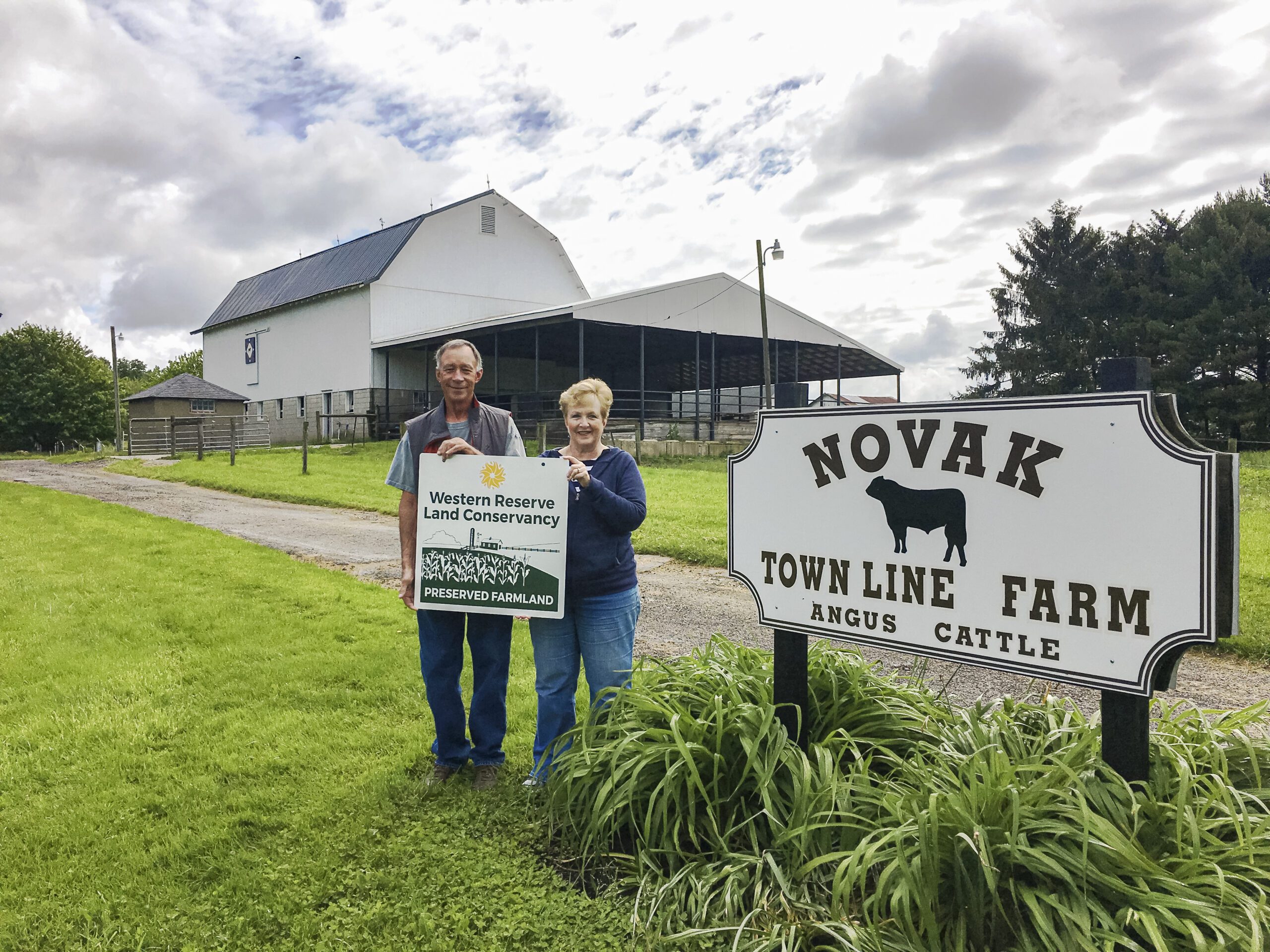 Stewardship Messenger – July 2023
July 24, 2023
Conservation Spotlight
Volunteer Pilot Curt Keal
Western Reserve Land Conservancy's stewardship team completes annual visits to the nearly 900 protected properties throughout our region. For a decade, Curt Keal has assisted the team through his volunteer work as a pilot. While many properties are best visited by foot, some properties can easily be monitored by air.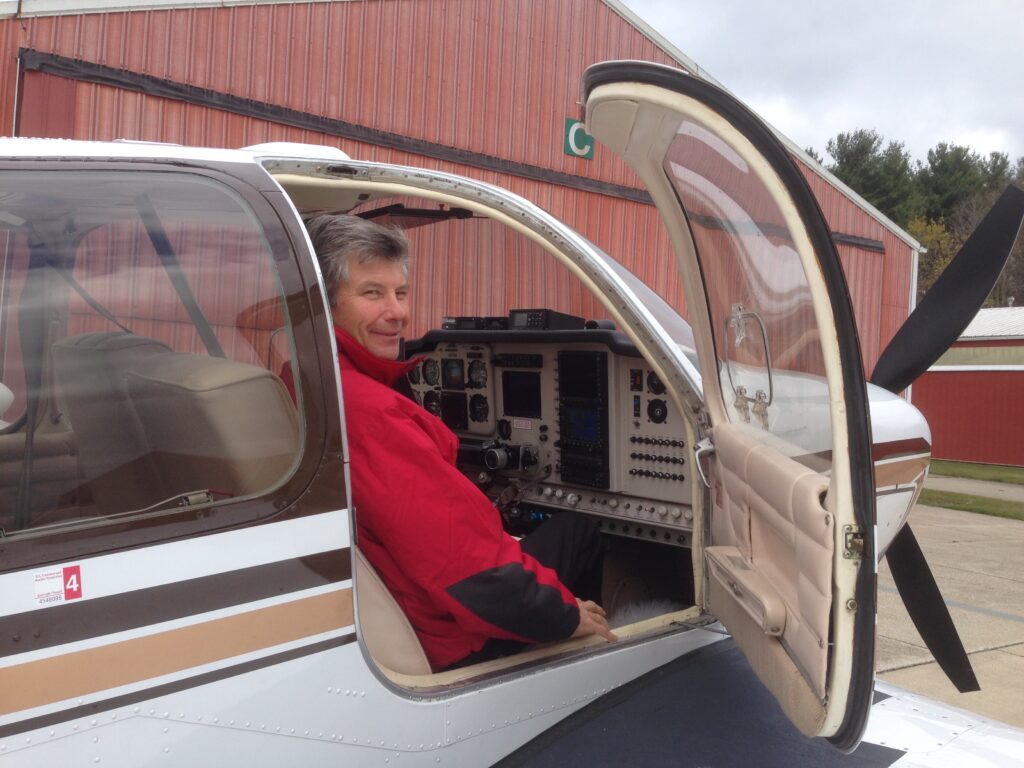 Curt's father was a pilot but took a break from flying once they had young children at home. He started flying again when Curt was 10 years old. When his father underwent instrument training, Curt would always sit in the back seat where he developed up a love of flying. Curt wanted to be a pilot when he was in high school in Willoughby, but he decided to pursue other career paths.
Curt met his wife Patti when they were at Bowling Green State University. Patti also came from a flying family and earned her pilot license at the age of 18. After college, Curt was hired by Ohio CAT in Brecksville and became a credit manager there. They moved to Medina because they enjoyed its rural and small-town character while still being close to work. He continued to fly with his dad for about 15 years. After Curt's father passed away in 2001, Patti bought Curt flying lessons so he could go out on his own. He has continued flying as a hobby and even took an aerobatics lesson in Florida just for fun.
In Medina, Curt and Patti live next door to land conserved by the Land Conservancy. They had a hobby of cleaning up litter on properties adjacent to big box stores. They noticed trash on the conserved land and connected with the Land Conservancy to ask for access. Staff at that time asked Curt if he would like to be involved in the Land Conservancy's Medina Summit Chapter working locally to fundraise, provide outreach, and connect the Land Conservancy to local projects. Curt would continue to be involved with the Medina Summit Chapter for about 10 years and even served as the Chair for a number of years.
Around 2013, we started to form our aerial monitoring program and asked Curt if he would be interested in volunteering as a pilot. In the beginning, it was a challenge to spot specific parcels of land from the sky, but now, Curt can recognize each property from up to 5 miles away. Just like the land stewards do when making ground visits, Curt looks for any significant changes to document such as the construction of a new building or land management activities when he flies over a property.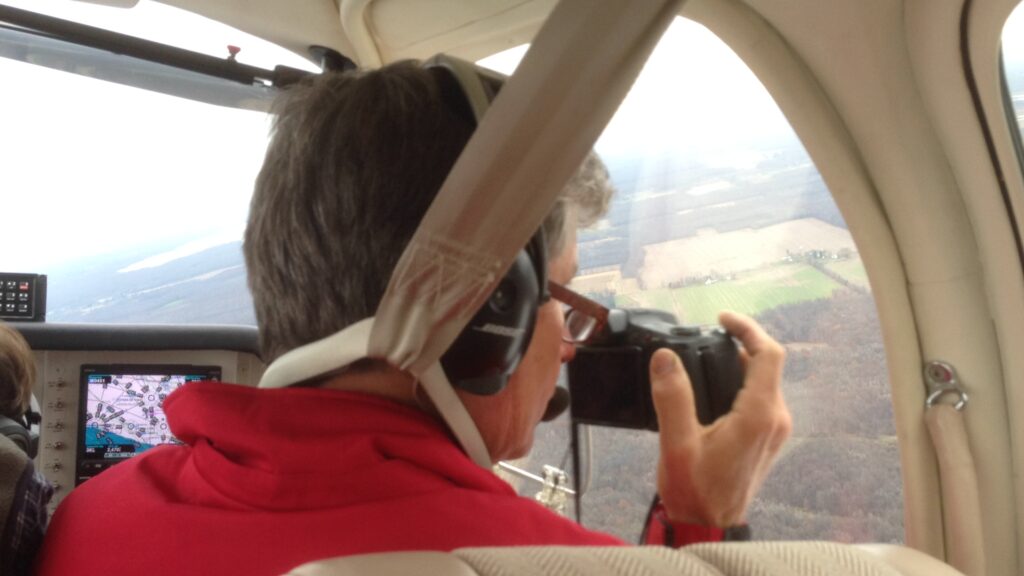 Curt says that stewardship visits take the boredom out of flying. Instead of setting the plane on autopilot and going in a straight line, Curt has the opportunity to take a more aerobatic approach. Curt flies in large loops and turns to thoroughly view the properties. He also has the opportunity to fly near major commercial airport routes where pilots have to pay more attention to the air traffic. For Curt, the additional communication demands of flying in heavy traffic add a layer of complexity to the flights that make them more enjoyable. There is also plenty to see while flying. Curt finds mining operations very interesting to view from the air after working in a career related to heavy equipment. Ohio also has some pretty airport approaches. Curt particularly enjoys the views when landing at Carrol County Airport and Middle Bass Island Airport.
Curt provides invaluable assistance to the stewardship team, visiting almost 100 properties by air each year. Some of our team members have even had the chance to accompany him on a flight. We are grateful for Curt's help each year.
---
Know Your Conservation Easement
Incorporation into Subsequent Instruments
As time passes, every conservation easement (CE) will someday be transferred to a new owner. Most CEs require that the CE is incorporated by reference in any legal documents by which fee simple or possessory interest in the property is divested, including for rare instances when a partial interest in the property may be transferred.
To achieve this, most people have the attorney drafting the deed or easement include a sentence stating that there is a conservation easement on the property. The CE can be referenced by instrument number or by book and page number. It typically also states who the CE was granted to, including Western Reserve Land Conservancy and any co-grantees such as Ohio Department of Agriculture or a park district.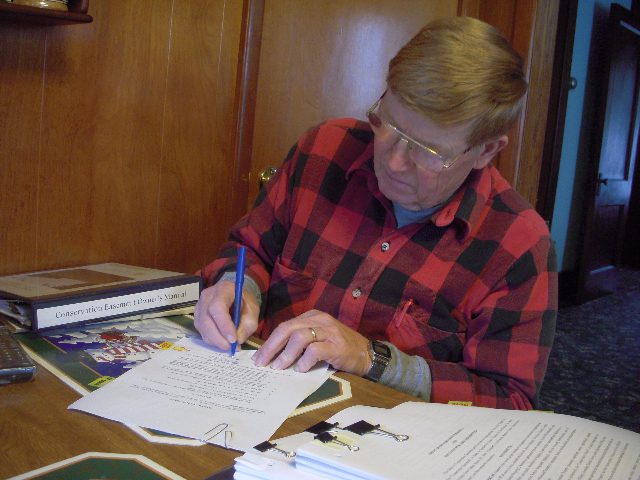 This requirement may seem like a small detail or even an annoyance as you are trying to wrap up a property transfer, but it has big implications! When the title to your property is reviewed before a transfer, a title agent typically only looks back 40 or so years at recorded documents. Eventually, your CE will be more than 40 years old. Incorporating the CE by reference into any new deed or easement will ensure that it does not get buried in the title work and lost throughout the years. Mentioning the CE explicitly in the deed or easement ensures that the new owner is aware that a CE exists. This helps to prevent any unnecessary surprises.
As always, please let us know if you are planning on transferring your property or any interests in your property. We can review your CE and let you know if there are any requirements, such as incorporating your CE into subsequent instruments.
---
Nature Notes
Get Ticked OFF!
This year the Ohio Department of Health is getting serious about ticks and tick-borne illnesses in Ohio. You may have seen billboards and TV ads or heard radio commercials urging Ohioans (and visitors) to "be TICK smart" and to follow four steps to avoid tick-borne diseases. The ODH's website states, "Diseases spread by ticks are an increasing concern in Ohio and are being reported to the Ohio Department of Health more frequently in the past decade, with Lyme disease and Rocky Mountain spotted fever…being the most common. Lyme disease cases are increasing in Ohio as the range of blacklegged tick populations continues to expand in the state and as encounters with this tick occur more frequently, particularly in the forest habitats preferred by this tick." How much have these numbers risen? In 2012, Ohio reported 67 cases of Lyme Disease; in 2022, 535 cases, and 121 cases so far in 2023.
So, what are those four steps from the Ohio Department of Health? Protect • Check • Remove • Watch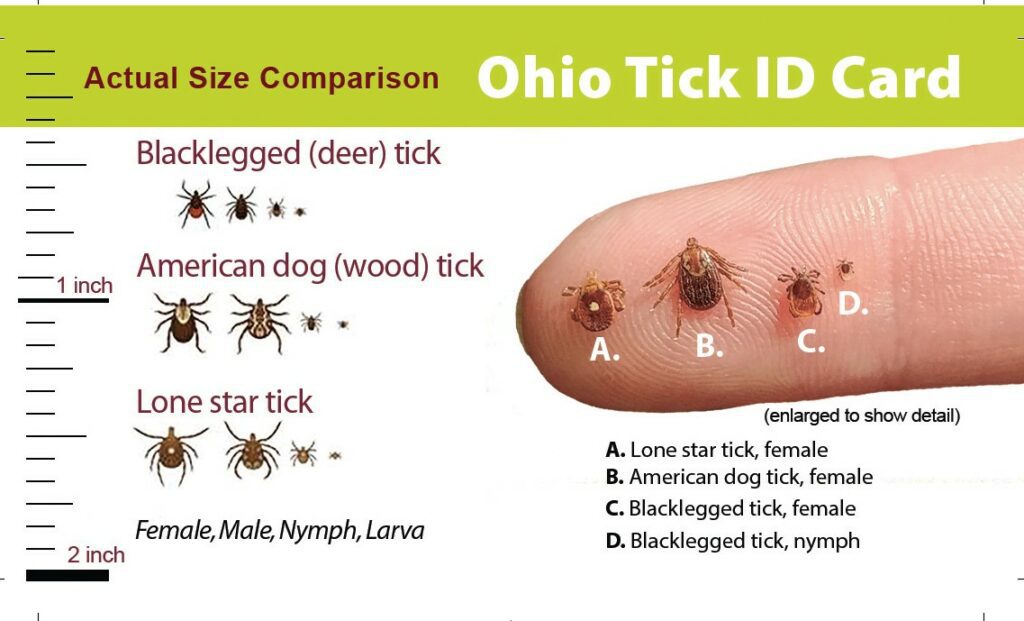 PROTECT against tick bites:
Avoid areas where ticks live like wooded and brushy areas with high grass and leaf litter. Walk in the center of trails. Take extra precautions in spring, summer and fall when ticks are most active.
Use tick repellents. Use insect repellents registered by the U.S. Environmental Protection Agency (EPA) labeled for use against ticks on exposed skin for protection that lasts several hours. Treat clothing and gear, such as boots, pants, socks, and tents with products containing 0.5 percent permethrin.
Cover up to keep ticks off your body. Wear long pants, long sleeves, and long socks. Tuck pant legs into socks or boots and tuck shirts into pants to keep ticks on the outside of your clothing. Light-colored clothing will help you spot ticks more easily.

CHECK for ticks:
Don't let ticks hitchhike inside on your clothing. Remove ticks from your clothes before going indoors.
Examine gear and pets. Ticks can ride into the home on clothing and pets, then attach to a person later, so carefully examine pets, coats, and day packs.
Tumble dry clothes in a dryer on high heat for 10 minutes to kill ticks on dry clothing after you come indoors. If the clothes are damp, additional time may be needed. If the clothes require washing first, hot water is recommended.
Check your whole body for ticks. Bathe or shower as soon as possible after coming indoors (preferably within two hours) to more easily find and wash off any ticks that may be crawling on you.
Conduct a full-body tick check using a hand-held or full-length mirror to view all parts of your body upon return from tick-infested areas.
WATCH for symptoms:
Many tickborne diseases can have similar signs and symptoms. The most common symptoms of tick-related illnesses are: Fever/chills: With all tickborne diseases, patients can experience fever at varying degrees and time of onset.
Aches and pains: Tickborne disease symptoms include headache, fatigue, and muscle aches. With Lyme disease, you may also experience joint pain. The severity and time of onset of these symptoms can depend on the disease and the patient's personal tolerance level.
Rash: Lyme disease, southern tick-associated rash illness (STARI), Rocky Mountain spotted fever (RMSF), ehrlichiosis, and tularemia can result in distinctive rashes.
The CDC has developed an online interactive tool that will guide you through the process of removing attached ticks and seeking healthcare, if appropriate, after a tick bite.
---
Public Park Spotlight
Blue Heron Preserve in Memory of Janet Franklin Foster
The Land Conservancy acquired the old Newbury Sand and Gravel surface mine in 2016 and reclaimed the mine, restoring the property to a more natural state. The old access roads around the ponds were converted into approximately 1.6 miles of looped hiking trails throughout the western portion of the property. The eastern portion of the property is dominated by 27 acres of Category 3 wetlands that are overlooked by an observation tower with a crow's nest. We have constructed new facilities that will be open to the public including a large first-come-first serve shelter, a water fountain, and fully operational restrooms.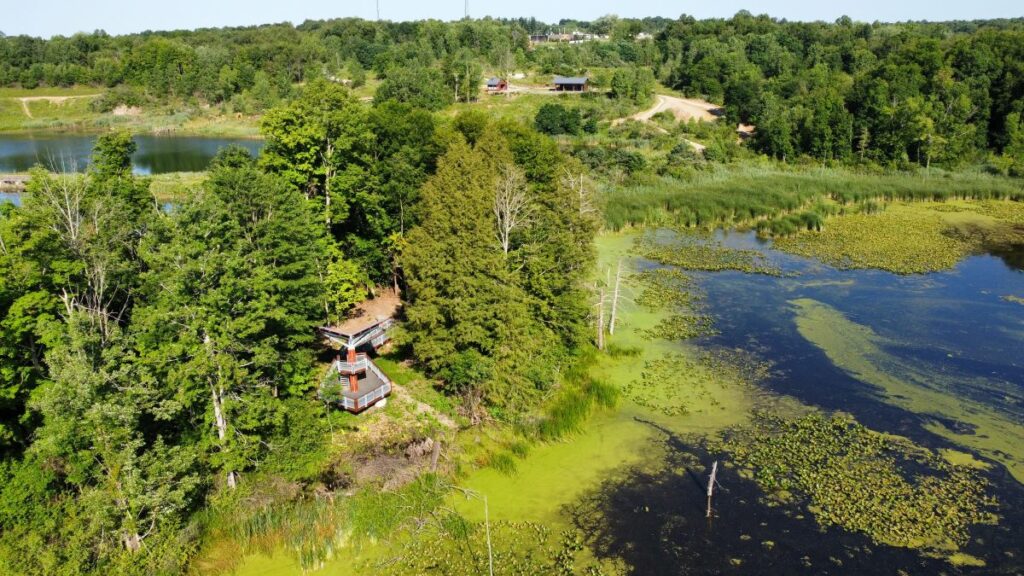 The land throughout the Preserve is still healing from its many years of being uses as a surface mine, and we still have years of habitat restoration ahead of us, but there are opportunities to see amazing plants such as turtlehead flowers, bur-reed sedge, and great blue lobelia, as well as seeing and hearing exciting birds such as seasonal warblers passing through, loons, swans, sandhill cranes, and bald eagles. An overlook hill provides incredible views to the east of the ponds left over from the mining, a large wetlands complex, the West Branch-Cuyahoga River valley, and Burton hill. Activities that can be enjoyed on the preserve include hiking, picnicking, bird watching, plant identification, and catch-and-release fishing.
We recently completed the installation of the entrance sign, front gate and associated landscaping that will automatically open and close allowing the public to access the park from dawn to dusk. Currently, the property is closed as we continue to complete the final grading surrounding the trails that has led to erosion issues. We are also working to add some additional topsoil and seed around the newly constructed office, bathrooms, and pavilion to provide a lawn to be used by the public. We are hoping to open the park permanently to the public in mid-August. Please continue to check our website for additional information on the opening of Blue Heron Preserve. Watch a short video about the history of Blue Heron Preserve.
For more information about other parks that you can explore that the Land Conservancy has helped protect and open, visit our Parks and Preserves website page.
---
Special Article
Regional Celebrations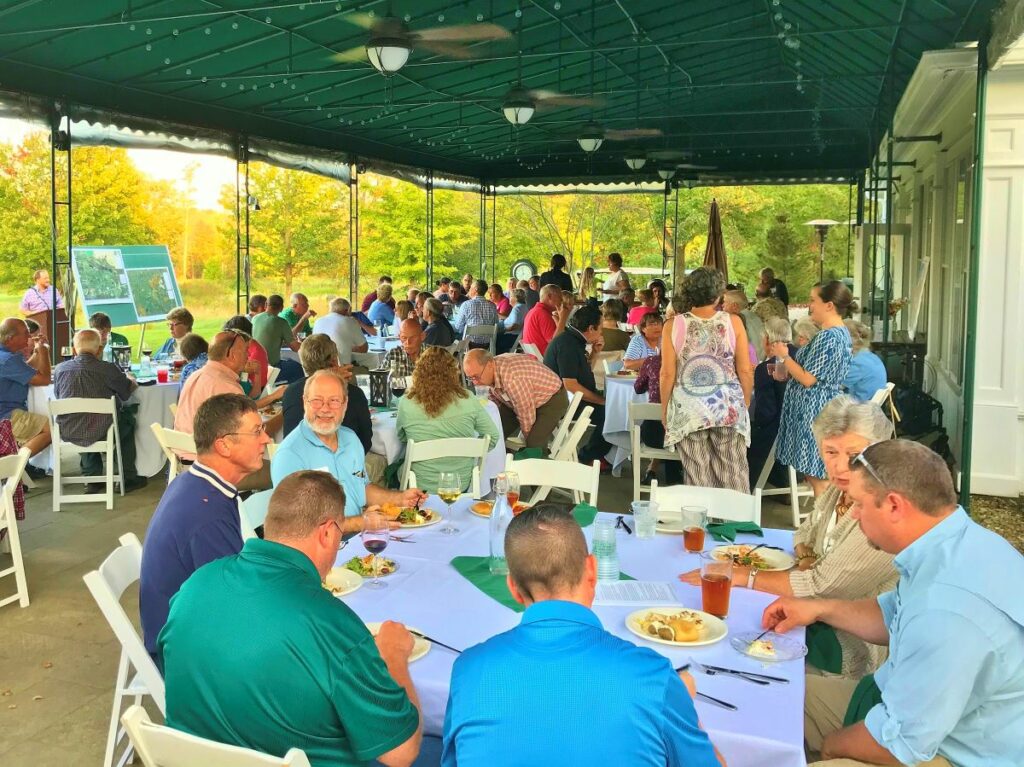 Every year we invite our landowners to a regional celebration for an opportunity to share our recent accomplishments with you and for you to meet and mingle with landowners like you who have protected the land that they love or have accepted the ongoing stewardship of a protected property. We host three different celebrations that cater to our western, southern, and eastern landowners. The celebrations include a wonderful dinner, presentations, and typically an activity such as a hike or tour at the celebration location.
This year we are pleased to announce that we will be hosting our western celebration on July 27th at the beautiful and serene Hawk's Meadow Preserve in Milan in Huron County, our southern celebration on August 9th at Compassion Church in Canton in Stark County which highlights our ongoing work to assist communities in protecting endangered green space, and our eastern celebration at the Blue Heron Preserve in Memory of Janet Franklin Foster, an old gravel mine that has been reclaimed and recently developed into a park by the Land Conservancy with funding by Richard Foster in Newbury in Geauga County.
We hope that you will join us for a night of wonderful kinship, inspiring stories, great food, and exploration! To register to attend one of the regional celebrations, contact our Community Relations Specialist, Maria Kaufman at mkaufman@wrlandconservancy.org or by phone at 440.528.4162. See you there!