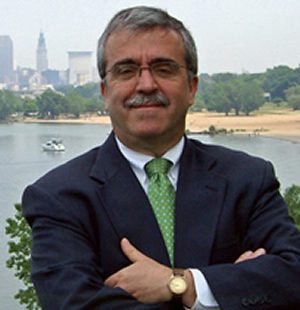 Rokakis applauds FitzGerald's 2014 proposal for demolition funding
February 21, 2014
The head of the nonprofit organization responsible for securing more than $182 million in demolition funding for Ohio cities is applauding Cuyahoga County Executive Ed FitzGerald's proposal to issue $50 million in bonds to raze homes in Cleveland and its suburbs.Jim Rokakis, director of Thriving Communities Institute and a nationally recognized expert on the foreclosure crisis, said he is pleased Cuyahoga County may be adding to the demolition funds already allocated by the federal government, Ohio Attorney General Mike DeWine, the City of Cleveland and others.  FitzGerald's bond issue proposal for Cuyahoga County would still need the approval of County Council.
FitzGerald made the proposal at his State of the County address on Wednesday. (Read the Plain Dealer's commentary on the speech here.)
"While vacant properties are especially troubling—and devastating to inner city neighborhoods—their impact is felt by property owners all over Cuyahoga County who are paying millions more in property taxes to cover the losses to the City of Cleveland tax base, " Rokakis said.
Thriving Communities Institute, a program of Western Reserve Land Conservancy, has led efforts to secure demolition funding for Ohio, including money from the federal Hardest Hit Fund and DeWine's Moving Ohio Forward program.  Thriving Communities also organized a broad coalition of civic organizations and public officials in an effort that is aiming to secure for Ohio $200 million in funds from the settlement of mortgage-fraud claims brought by the U.S. Department of Justice against JPMorgan Chase.
Rokakis, a former Cuyahoga County Treasurer and author of the state law enabling counties to establish land banks, said the county's participation in the demolition funding efforts would mean all levels of government – federal, state, county and local – are participating in the revitalization of Cuyahoga County's distressed neighborhoods.
"This commitment by the County Executive means the County recognizes the importance of this problem and its' impact on all of the citizens of Cuyahoga County—and are prepared to step up to help solve it.  I applaud him for it," Rokakis said.