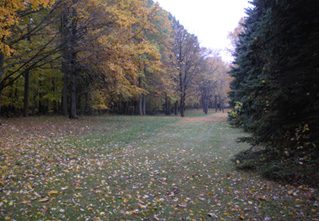 Retired judge makes case for conservation
March 8, 2010
Retired Summit County Common Pleas Judge Mary Spicer learned about Western Reserve Land Conservancy's work at one of the organization's events last summer in Bath Township.
Now Spicer has made her own mark in land conservation.
Spicer, who retired in 2008 after a 24-year career on the bench, has permanently protected 60 acres of forested land on Hemphill Road in Copley Township and Norton in Summit County. The land has been in Spicer's family since 1850.
Spicer preserved the land with a donated conservation easement, one that will be held by the Land Conservancy. A conservation easement permanently protects the natural, agricultural and scenic resources of the land while allowing the grantor to retain ownership.
"I feel most fortunate to own the only remaining acreage of the once Spicer Farm," Spicer said. "I love the land, the beauty of the woods and the wildlife. I am determined to preserve it in its natural state for posterity. This easement with Western Reserve Land Conservancy has made that possible."
Eddie Dengg, director of the Land Conservancy's Akron field office, said Spicer approached the nonprofit Land Conservancy about a conservation easement after attending "An Evening at the Historic Firestone Farm" in August. The event was sponsored by the Land Conservancy and held at Oak Hill Farm, formerly part of the Firestone estate.
"We are honored to be able to help Judge Spicer permanently preserve her beautiful property for future generations. She has done a wonderful thing for her family and our region," Dengg said.
The Land Conservancy, which seeks to preserve the scenic beauty, rural character and natural resources of northern Ohio, has preserved 333 properties and 21,402 acres. The nonprofit organization was formed in 2006 by the merger of eight local land trusts.