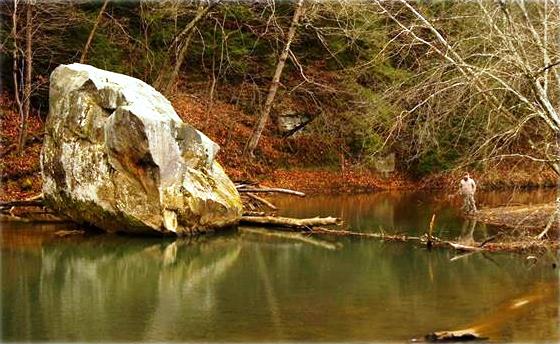 Preserving Standing Rock
August 5, 2015
A stretch of Yellow Creek containing a massive granite boulder called Standing Rock as well as one of the few remaining populations of Eastern Hellbenders in Ohio has been permanently preserved.
Beverley Christen, who owns a 134-acre farm in Jefferson County, has granted the nonprofit Western Reserve Land Conservancy a conservation easement permanently protecting the property. Christen's small cattle operation is in the Yellow Creek valley, 20 miles northwest of Steubenville.
It is the Land Conservancy's first protected property in Jefferson County.
Brett Rodstrom, vice president of eastern field operations for the Land Conservancy, said the Christen farm is locally known as the location of Standing Rock, the huge boulder the Yellow Creek channel. The boulder fell thousands of years ago from the towering cliff almost 300 feet above where it sits today. Standing Rock has a long history dating back to precolonial Native Americans; several Midwest tribes used it as a meeting place, and it remains part of Jefferson County's cultural heritage.
"We are so grateful to Bev for permanently preserving this special place," Rodstrom said. "Bev comes from a long line of farmers in that valley who are very passionate about their part of the world."
Christen said she wanted to make sure the land was permanently protected.
"Every farm along this creek is one owner away from being strip mined – a big, filthy hole in the ground," she said. "This (conservation easement) keeps the place from ever being stripped, thank God."
The property contains two-thirds of a mile of Yellow Creek, an Ohio River tributary that is designated an Exceptional Warmwater Habitat. It is an important stream because it contains one of last few populations of the Eastern Hellbender – a large salamander – in southeastern Ohio.
In 2014, the Christen farm was the site of a pioneering Eastern Hellbender reintroduction program lead by Greg Lipps of Ohio State University. In this groundbreaking program, fertilized hellbender eggs are harvested from known spawning sites in several Ohio streams and hatched at the Toledo and Columbus zoos; after two years, the juvenile hellbenders are released back into the wild in selected high-quality streams. Yellow Creek is one of those streams, and the specific pool behind Standing Rock on the Christen farm is the exact location of the release of these young hellbenders.
Rodstrom thanked Lipps, who made the Land Conservancy aware of the property, Yellow Creek Watershed Coordinator Mike Sisson and corporate supporter Access Midstream/Williams for making the project possible.
Rodstrom said the Land Conservancy has been doing more land-protection work in eastern Ohio and expects the interest in conservation will continue to increase.   Property owners interested in protecting their land can contact Rodstrom at brodstrom@wrlandconservancy.org or (440)867-6659.