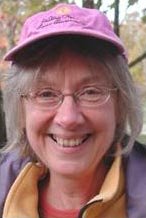 Peg Bobel – she puts everyone on the right path
February 1, 2009
Peg Bobel blazes trails rather than following them.
The Akron conservationist and her husband, Rob, helped found the all-volunteer Cuyahoga Valley Trails Council, which builds and maintains trails in the Cuyahoga Valley National Park. Then the former licensed social worker combined her love of writing and the outdoors to produce some of the most definitive publications on hiking in Northeast Ohio.
Peg is an active member of the Land Conservancy's Medina Summit Chapter and has been a regular volunteer at the annual cleanup of Adam's Run, a small Akron stream. The Land Conservancy is working to create an urban greenway in this region.
After developing several hiking-path publications, the Bobels wrote the Trail Guide Handbook: Cuyahoga Valley National Recreation Area, the official trail guide for CVNP. In 2007, Gray & Company of Cleveland published the third edition of the trail guide, now titled Trail Guide: Cuyahoga Valley National Park.
In 1998, the Bobels worked with the CVTC to publish The Nature of the Towpath, a natural history guide to the popular Ohio & Erie Canal Towpath Trail. In addition they produced the award-winning 2001 publication, Towpath Companion: A Traveler's Guide to the Ohio & Erie Canal Towpath Trail and subsequent updated editions.
From 1989-2001, she was executive director of the Cuyahoga Valley Association, a nonprofit citizens group that supported the CVNP programs and projects. Under her direction, the organization, in partnership with the National Park Service, established the highly respected Cuyahoga Valley Environmental Education Center.
The Bobels, who live in West Akron, volunteer with local conservation and preservation groups such as the Ohio & Erie Canalway Coalition and the Land Conservancy. They enjoy bird-watching, backpacking, hiking, cross-country skiing, canoeing and bicycling.