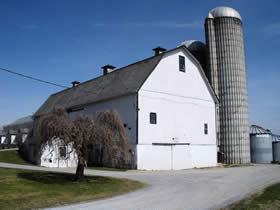 Parkman Township farm is permanently preserved
January 24, 2012
A 285-acre working dairy farm with one of the most scenic views in Geauga County has been permanently protected by an agricultural easement barring future development.
The Weedon Reservation Farm located at the corner of Route 528 and Hosmer Road in Parkman Township, is now permanently preserved for agricultural use under an easement held by the Geauga County Commissioners and the Land Conservancy.  This working dairy farm was preserved under the state's Agricultural Easement Purchase Program, a statewide, farmland-protection initiative administered by the Ohio Department of Agriculture.
Farm owner Mildred Weedon said, "This was my dream of my senior years … now I can rest in peace."
Brett Rodstrom, northeastern field director for the Land Conservancy, said his organization worked with the Weedon family, ODA and the Geauga County Planning Commission to preserve the farm, which was first owned by Henry Parkman, for whom the township was named.
"The family felt strongly that this farm must be protected in perpetuity to preserve not only the history of Parkman Township, but also the agricultural heritage and scenic beauty of Geauga County," Rodstrom said.  "It's always so rewarding to help protect someone's family land but it's especially gratifying when it's a farm that has such a breathtaking view and dedicated owners like the Weedon family."
The Land Conservancy, which works to preserve the scenic beauty, rural character and natural resources of northern Ohio, was formed in 2006 by the merger of eight local land trusts.  The organization grew again in 2009 when it merged with Grand River Partners.