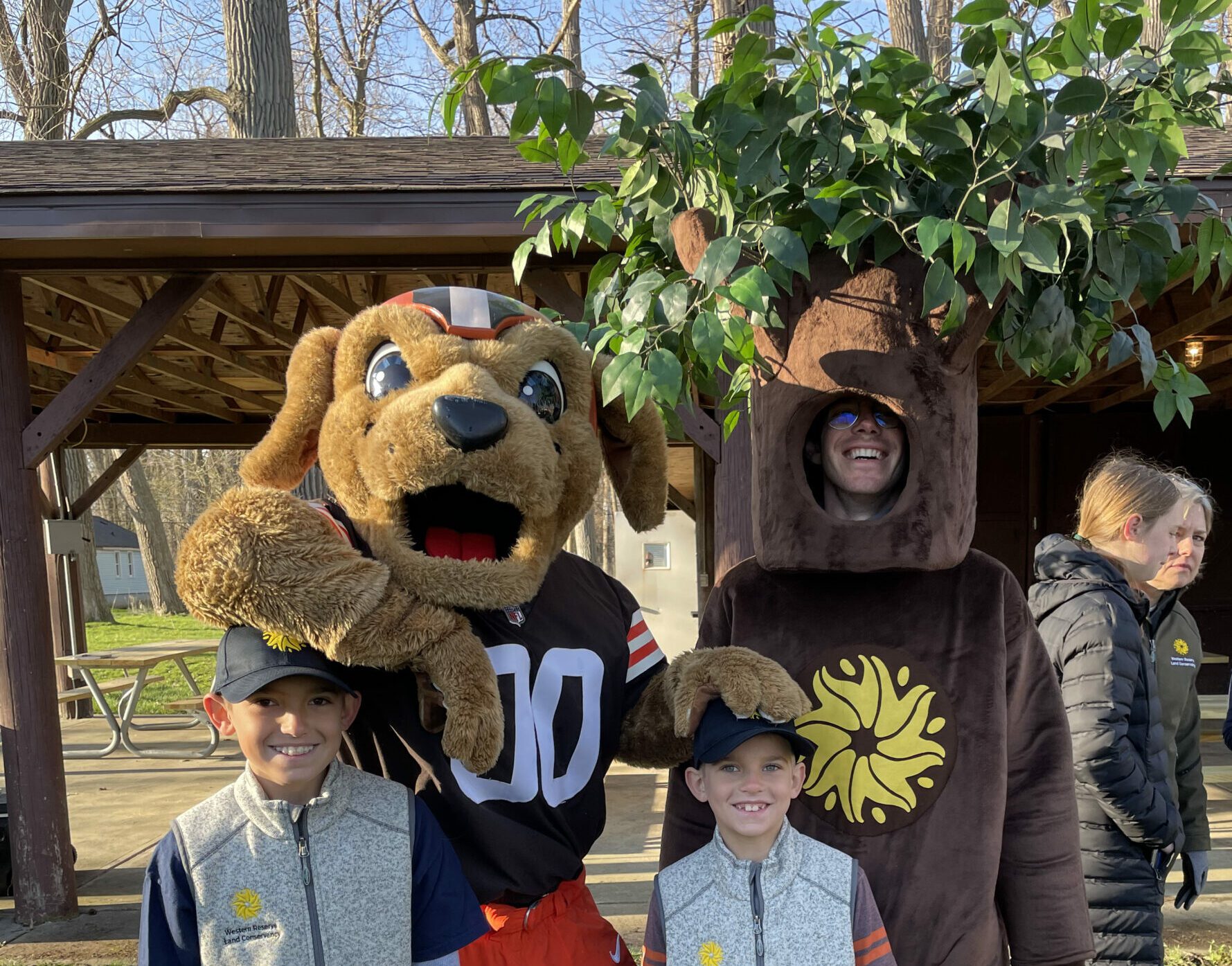 On Earth Day: Cleveland Browns, White Claw, City of Eastlake & Local Nonprofits Set World Record for People Watering Plants & Trees Simultaneously
April 22, 2022
Volunteers with the Cleveland Browns, White Claw, the City of and Port Authority of Eastlake, Ohio, Chagrin River Watershed Partners (CRWP), Holden Arboretum and Western Reserve Land Conservancy have helped set a new Guinness World Record for Most People Watering Plants Simultaneously as part of an Earth Day celebration hosted by NBC's The Today Show.
The world record setting event coincided with a tree planting sponsored by the Browns, White Claw, Eastlake, CRWP, Holden Arboretum and the Land Conservancy. The groups planted 80 trees and shrubs on Earth Day at Chagrin River Landing, an 11-acre property located along the bank of the Chagrin River in Eastlake, Ohio. At precisely 8:35am 74 volunteers joined 725 other volunteers from Texas, Michigan, Virginia and California and with watering cans in hand proceeded to water hundreds of trees, plants and shrubs for 20 seconds.
"This was an incredible way to celebrate Earth Day, one that I'm sure none of us will forget," said Elizabeth Grace, director of urban fundraising at Western Reserve Land Conservancy, Ohio's largest land trust. "Planting trees in and around Cleveland is a big priority for us. When we can partner with great organizations that are as committed and passionate about trees as we are, more trees are planted and the benefits expand. To have the added opportunity to participate in a national effort and set a world record is truly an amazing experience."
"Volunteerism is the cornerstone of our Browns First and Ten movement, and today was an exceptional opportunity to engage our staff members and partners together onsite in support of the Western Reserve Land Conservancy," said Browns Vice President of Community Relations Jenner Tekancic. "Whether it is planting a tree, coaching an athlete, giving blood, working with a local non-profit or simply helping a neighbor, we all have the ability to give back by volunteering our time and to inspire others to do the same to make a significant impact in our community."
"Public parks and greenspaces are critical to the health and well-being of our community," said Eastlake Mayor Dennis Morley. "Eastlake and its residents benefit when we have preserved spaces for outdoor recreation and enjoyment. It's been amazing to see so many anglers using the park and pulling in big steelhead trout this season. Turning a defunct marina into a public park with greater accessibility to the Chagrin River and Lake Erie is a great use of a space that was once a graveyard for old and abandoned boats and watercraft."
"Adding vegetation to this area along the river will provide many ecological benefits, such as preventing soil erosion, improving water quality, and providing shade and shelter for wildlife, that will positively impact the Chagrin River and Lake Erie," said Olivia Drabiak, AmeriCorps Member serving as Education & Outreach Specialist with Chagrin River Watershed Partners.
Background on Chagrin River Landing
In October 2020, Western Reserve Land Conservancy, in cooperation with the City of Eastlake and CRWP, finalized the acquisition of 11 acres and transferred ownership of the land to the City. This project generated significant support from various public and private funding sources due to the importance of protecting this vital piece of Chagrin River shoreline. The project was partially funded through the Clean Ohio Conservation Fund, the Arbor Day Foundation, First Energy Foundation and the Cleveland Museum of Natural History Trout Club.
The property, formerly operated as a private commercial marina, serves as a public destination point and connector piece for the Chagrin River corridor and Lake Erie trail plan in Western Lake County. It will help provide the missing linkage between Chagrin River Park – Lake Metroparks' most visited park – and the City of Eastlake's Erie Road Park and Woodland Parks. The property will be open for public recreation and enjoyment, providing world-class steelhead fishing along the Chagrin River shoreline. So far the groups involved have demolished a dilapidated home, removed abandoned watercraft, planted dozens of trees and shrubs and removed invasive species. Future improvement plans for the property include a parking area, walking trails, expanded fishing access and planting native trees and wildflowers.