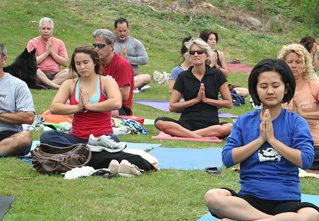 More than 300 people celebrate yoga, conservation
August 26, 2009
More than 300 people attended an Aug. 23 event featuring an outdoor yoga practice session at a local park.
"Practicing on the Preserve: A Celebration of Yoga and Conservation," which was co-sponsored by Western Reserve Land Conservancy and Cleveland Yoga, was held at the Geauga Park District's Orchard Hills Park in Chesterland. Cleveland Yoga teachers were on hand to teach attendees of all skill levels. A special class for children was included.
About 80 people attended a hike before the yoga session. The hike was led by Chris Szell, the Land Conservancy's Regional Land Protection Associate, and Pete McDonald, Director of Stewardship for the organization.
The Land Conservancy helped the park district purchase the 246-acre parcel on Caves Road after the former Orchard Hills Golf Course ceased operations at the end of 2006. The Land Conservancy, which works to preserve the scenic beauty, rural character and natural resources of northern Ohio, has preserved more than 240 properties and more than 15,000 acres.