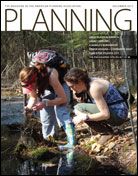 Magazine highlights work of Thriving Communities
July 9, 2015
The work of Thriving Communities Institute, the urban arm of Western Reserve Land Conservancy, is featured in the July edition of Planning magazine, a publication of the American Planning Association.
In the story, "Conservation Comes to the City:  It's a whole new day for these land trusts," author Daniel McGraw outlines how the Land Conservancy and other land trusts are now "blurring the lines" between their traditional land-protection work and the need to help revitalize urban areas.  Jim Rokakis, director of Thriving Communities Institute, Land Conservancy President and CEO Rich Cochran and Cleveland Councilman Tony Brancatelli are among those quoted in the piece.
You can read the entire story here.