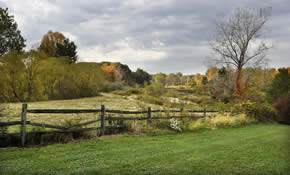 Legislators praised for introducing landmark conservation measure
July 11, 2011
Private landowners – and especially family farmers – will be the beneficiaries of legislation, co-sponsored by U.S. Reps. Betty Sutton, D-13, Jim Renacci, R-16, Tim Ryan, D-17, Robert Latta, R-5, Marcy Kaptur, D-9 , and Steve LaTourette, R-14 , to make permanent the federal tax incentive for donations of conservation easements, according to the state's largest land conservancy.
Rich Cochran, president and CEO of Western Reserve Land Conservancy, applauded the introduction of the landmark tax incentive bill.  The incentive, which is slated to expire at the end of 2011, has helped the Land Conservancy work with willing landowners in our community to conserve more than 15,000 acres of agricultural land and natural areas since it was first enacted in 2006.
The Conservation Easement Incentive Act (H.B. 1964), and its Senate companion, S. 339, will aid in the protection of millions of acres of the nation's agricultural lands and open spaces by making permanent an expiring incentive that allows landowners to receive significant tax savings for donating conservation easements that permanently protect important natural or historic resources on their lands.
"We thank representatives Sutton, Renacci, Ryan, Latta, Kaptur and LaTourette for their leadership in co-sponsoring the bills to make permanent this incentive," Cochran said.  "Without this measure, landowners across northern Ohio would not be stepping forward right now to work with us to conserve their land."
"This legislation will ensure that thousands of acres of land in our area will remain scenic and preserved for generations to come," Sutton said. "I am proud to stand by the many Ohioans who have advocated for and will benefit from the protection of our land."
Latta said, "This incentive is a win-win opportunity for family farmers, ranchers, and conservationists in our community.  I am proud to support private, voluntary land conservation, and I am committed to making this incentive permanent."
"Conservation easements have become an essential component of the national effort to protect land and natural areas so they might be enjoyed by future generations," Kaptur said. "Providing incentives for such protection has proven successful throughout the state of Ohio and throughout the nation."
When landowners donate conservation easements to the Land Conservancy, they maintain ownership and management of their land and can pass the land on to their heirs, while foregoing their rights to develop the land in the future.  A permanent incentive will help more families afford to save their land, choose conservation over land development, and, by so doing, protect our community's clean air and water, scenic and historic landscapes, recreational places and wildlife habitat.
The incentive, which applies to a landowner's federal income tax, will:
Raise the deduction a donor can take for donating a voluntary conservation easement from 30 percent of their income in any year to 50 percent;
Allow farmers and ranchers to deduct up to 100 percent of their income; and
Increase the number of years over which a donor can take deductions from six to 16 years.
According to the Land Trust Alliance, the national organization that provides a voice for land trusts in Washington, DC, a majority of the House and a quarter of the Senate has already co-sponsored legislation to make the incentive permanent.  This legislation is supported by American Farm Bureau Federation, Ducks Unlimited, National Cattlemen's Beef Association, Rocky Mountain Elk Foundation, the Association of Fish and Wildlife Agencies, and many conservation organizations.