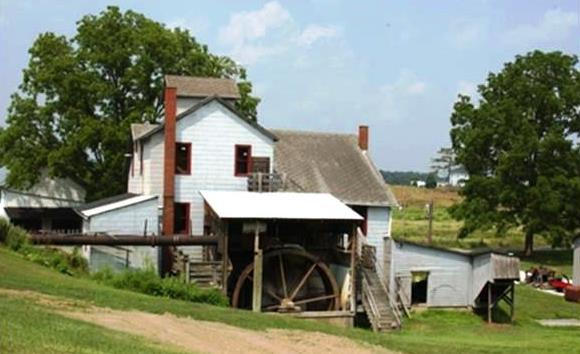 Kister Water Mill acquired, restoration set to begin
July 15, 2018
Small water-powered mills once dotted the early American landscape. Few remain operational today, but thanks to the work of Western Reserve Land Conservancy and many partners plans are underway to restore, improve, and open one of the nation's oldest working water-powered mills to the public.
The Land Conservancy recently acquired Kister Water Mill and 15 acres of surrounding natural area, including the mill raceway. The property is located in Wayne County's Clinton and Plain townships, eight miles southwest of Wooster.
Kister Water Mill was built in 1816 and is listed on the National Register of Historic Places.
Over the past two centuries, it has operated as a woolen mill, sawmill, gristmill, cider press, woodshop and planing mill. All operations are powered by a waterwheel that measures 18-feet in diameter.  "This mill is unusual because of the ability to perform multiple operations, most historic mills specialized in making a single product," explained Andy McDowell, vice president of western field operations for the Land Conservancy. Additionally, the mill has unique machinery for creating custom-made parts used in mills across the country.
Remarkably, the mill is almost fully functional.  The Land Conservancy has begun making the necessary improvements so that Kister Water Mill can be opened to the public as an operating history and education center. The restoration and renovation will be undertaken with funding from the State Capital Budget and a continued donation campaign.
In addition to the historic preservation component, the Land Conservancy permanently conserved 15 acres of surrounding natural area as part of the project. The natural areas on the property contain a fragile, rare wetland ecosystem. Biologists who have surveyed the property have found several rare plants including the carnivorous sundew plant and queen of the prairie. The property's close proximity to the 5,000+ acre Killbuck Marsh Wildlife Area influences a diverse bird population, particularly during peak migratory seasons.
Funding for the project was generously provided through a Clean Ohio Conservation Grant administered by the Ohio Public Works Commission, the State of Ohio Capital Budget, in addition to significant gifts from the Donald E. and Alice M. Noble Charitable Foundation, J. M. Smucker Company, Gayle and David Noble, Ralph R. and Grace B. Jones Foundation, and many individual donors. Western Reserve Land Conservancy thanks Sen. Frank LaRose for his leadership in securing state capital funds.
"We are extremely grateful for the many project partners and generous donors that have supported this complex project over the past six years," McDowell said. "We look forward to celebrating the restoration and opening of Kister Water Mill with the community in the near future."
Please consider making a donation in support of Kister Water Mill restoration: