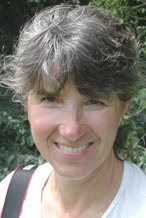 Judy Semroc – her field work helps our mission
March 1, 2011
The outdoors has always been Judy Semroc's classroom.
Semroc, a former middle school science teacher who is now a conservation specialist with the Natural Areas Division for the Cleveland Museum of Natural History, has a passion for the natural world that she shares through guided hikes, interpretive programs and photography.
"I always enjoy seeing someone's face when they discover something and get excited about it," Semroc says.
Before coming to the history museum, Semroc, who lives in Uniontown, was a petroleum geologist and a teacher, working at The Academy in Canton and then at Canton Country Day School, where she taught sixth-, seventh- and eighth-graders. Today, she spends much of her time outdoors, conducting surveys, leading hikes and organizing field trips, including one for Walsh University botany classes.
"I certainly like the interaction with people who enjoy natural history and want to know more about it," she says.
Semroc and colleague Larry Rosche have helped the Land Conservancy preserve numerous properties in northern Ohio by conducting species surveys that show what birds, insects, snakes, plants and other animals live on the parcels. The discovery of rare or threatened species on a property can help make it eligible for conservation funding.
Semroc is the founder of Operation Botanic Rescue, a volunteer plant-rescue group, Quail Hollow Land Conservancy, and Chrysalis in Time – the first Ohio chapter of the North American Butterfly Association In 2008, Judy was a co-author of the 2nd edition of "Dragonflies & Damselflies of Northeast Ohio," along with Rosche and Linda Gilbert.
Semroc says she views land conservation as vital to our future. "The idea is to save it," she says, "so someone else can learn from it."