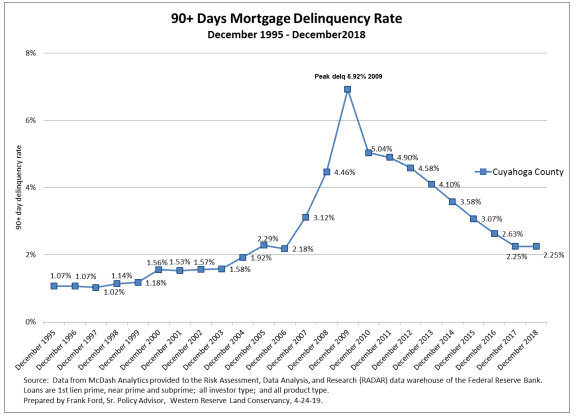 Housing Market Recovery in Cuyahoga County: Will Cleveland's East Side Be Left Behind?
July 31, 2019
New research about the ongoing housing market recovery in Cuyahoga County has been released in a report by Western Reserve Land Conservancy's Thriving Communities Program.
Results show median home sales across Cuyahoga County have increased, and vacancy and abandonment rates across Cuyahoga County continue to improve. However, the East Side of Cleveland remains in stark contrast having only recovered 34 percent of its median home sale price and upward momentum in the East Side is now threatened – funding to sustain the unfinished job of blight removal will run out in 2020.
Frank Ford, senior policy advisor at Western Reserve Land Conservancy, has led research on this topic since the housing crash that ravaged Northeast Ohio, in addition to the entire state.
"There's no question we are seeing positive housing market trends in Cuyahoga County," said Ford. "With that said, we are only as strong as our weakest links — and the East Side of Cleveland and some neighboring East suburbs are in desperate need of our help. We must continue to help communities dig out of the dark hole of the housing crash. With funding running out, the Cuyahoga County Land Bank is at capacity and cannot take on new properties requiring demolition. Continued funding to protect our residents, communities and overall socio-economic stability is critical."
Summary
Ohio cities were ravaged by the foreclosure crisis. Statewide, the presence of as many as 100,000 vacant and abandoned homes reduced neighborhood property values and became magnets for criminal activity. Our communities needed help, and Western Reserve Land Conservancy was there for support. This report is the fourth in a series of housing trends reports published previously in 2016, 2017, and 2018.
Based on the research in this report, it is evident the upward trend in home sale prices seen over the past several years is continuing. This trend is strongest in the areas that have been least impacted by foreclosure and property abandonment: the Outer Suburbs, the West Inner Suburbs and the West Side of Cleveland. There is also evidence that blight removal efforts are paying dividends in the form of stronger home sale prices in the two areas that have been hit hardest by subprime lending, foreclosure and property abandonment: the East Inner Suburbs and the East Side of Cleveland.
In the East Inner Suburbs, applications for demolition funding from the Cuyahoga Demolition Fund have diminished significantly, to the point where the housing market is strong enough to support a shift from demolition to renovation as the primary response to vacancy and abandonment.
Even the East Side of Cleveland, the region hardest hit by abusive lending and foreclosure, shows signs of recovery, as documented by a recent study conducted by Western Reserve Land Conservancy that found that between 2015 and 2018 blight decreased while median home sale prices increased. But the recovery in the East Side of Cleveland is now threatened – funding to sustain the unfinished job of blight removal will run out in 2020.
The investment of county, state and Federal resources in blight removal is working to restore housing markets, though the funds are running out before the job can be finished in the most vulnerable markets — and there is a critical and urgent need for that investment to continue.
Ford notes the top issues and challenges found in his analysis:
The East Side of Cleveland stands in stark contrast to other regions of Cuyahoga County by only having recovered 34% of its prior median home sale price.
The upward momentum in the East Side of Cleveland is now threatened – funding to sustain the unfinished job of blight removal will run out in 2020. Current blight removal funding is expected to run out in 2020, leaving thousands of blighted homes to undermine a housing market that is still struggling to recover. But the problem is more immediate than 2020 – due to funding constraints, the Cuyahoga Land Bank has already reached its capacity to take on new blighted properties, and as a result, has stopped taking properties that require demolition.
There is continued evidence of disproportionate negative impact on majority African American regions of Cuyahoga County with respect to every metric analyzed in the report: mortgage foreclosure, property tax delinquency, vacancy and abandonment, home sale price and access to mortgage lending.
African American borrowers seeking home purchase loans are denied more than twice as often as Caucasian borrowers. Even more troubling, high income blacks are denied loans more often than moderate and middle income Caucasians.
There is good news too, though: 
Mortgage foreclosure filings are now down to 1995 (pre-foreclosure crisis) levels
Vacancy and abandonment continue to decline in all neighborhoods, suburbs and regions of Cuyahoga County
An upward trend in median home sale prices is continuing in virtually all neighborhoods, suburbs and regions of Cuyahoga County
Even in the areas that have seen the greatest abandonment and housing market collapse, removal of blighted structures is paying dividends in the form of stronger home sale prices
In the West Side of Cleveland, and in most suburbs, market recovery is strong enough to support a shift from demolition to rehab as the primary response to housing abandonment