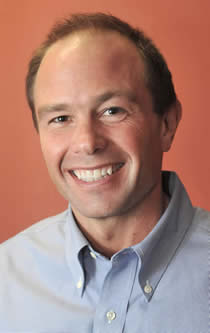 Happy New Year: A note from Rich Cochran
December 31, 2015
Rich Cochran, Western Reserve Land Conservancy President and CEO, shared the following message with our staff and trustees – and you, our supporters – on December 31, 2015. 
Dear trustees and colleagues:
Ten years ago today we legally merged 8 land conservancies to form a new organization called Western Reserve Land Conservancy. To our knowledge then and now, this was the largest ever simultaneous merger of nonprofits in the US. Today I take my hat off to the many people who made that unprecedented collaboration happen. There are too many to name. In retrospect, after ten years of observation, the merger was a brilliant strategic move that created a nationally significant organization and dramatically increased the region's land conservation capacity. Before the merger all of the little land trusts had preserved less than 9,000 acres during a twenty year period. Since the merger, in only ten years, the new entity has preserved an additional 40,000 acres! Our conservation land area is now larger than the Cuyahoga Valley National Park holdings plus all of the Cleveland Metroparks holdings! As one land trust leader from Boston once said to me: "Never has so much been done with so little."
And what is perhaps even more extraordinary is the progress we have made by adding urban revitalization to our work. Since we hired Jim Rokakis and many others with whom he works, we have literally changed the world. We've led an effort to establish more than 25 new county land banks, which in and of itself is an amazing feat. We also led the effort to raise an astounding amount of state and federal funding for cities in Ohio: today we believe this number to be approximately $350 million, all of which provides essential capacity for cities to remove abandoned homes in blighted neighborhoods. We've launched an innovative urban reforestation program called Reforest Our City. We've acquired many new urban parks and greenways, such as Adams and Haleys Run and the Henninger property in Cleveland. And the list goes on and on.
I have been involved in this work for more than 20 years now, first as a volunteer and then as an employee. When I was hired by Chagrin River Land Conservancy in 1996 it was already viewed as a major land trust in Ohio, and yet it had preserved less than 500 acres. Today, as we close in on 50,000 acres, I feel like we are just getting started. The character of our work has evolved. There was a time when our work, virtuous as it was, benefitted relatively few people, most of whom were affluent. Today we serve a breathtaking diversity of people and places, providing essential natural assets that improve lives and create whole and healthy communities. Just in the last few days we've closed on many conservation projects that exemplify this diversity. Huge farms in places like Trumbull County. Biodiverse natural areas in Chagrin Falls. Urban parks and preserves that are small but mighty in how many people they touch and in how much value they add. These deals involve donations, federal funding, state funding, re-sales, and many other creative revenue sources. We truly leave no stone unturned when it comes to securing conservation funding.
So, today, on the final day of 2015, on the beginning of the year in which we will celebrate the 10th anniversary of our merger, I want to take a moment to thank all of you who quite literally make all of this good work possible. I want to also recognize the thousands of people who have come together, in support of our leadership, to create such an amazing organization that has provided so much value to so many. And value that will last and last. Value that will only increase and compound with time. Imagine the breathtaking forests that will provide shade for our great grandchildren when the trees in those forests will have been protected against the chain saw by us for generations. Imagine a region that is filled with thriving, prosperous communities nourished by vibrant natural areas, working farms and healthy cities. That is what we do. Together we do it. #TeamworkMakesTheDreamWork. With my deepest and most sincere gratitude, I wish all of you and yours a healthy and happy New Year! And, happy anniversary to Western Reserve Land Conservancy!
Sincerely, Rich