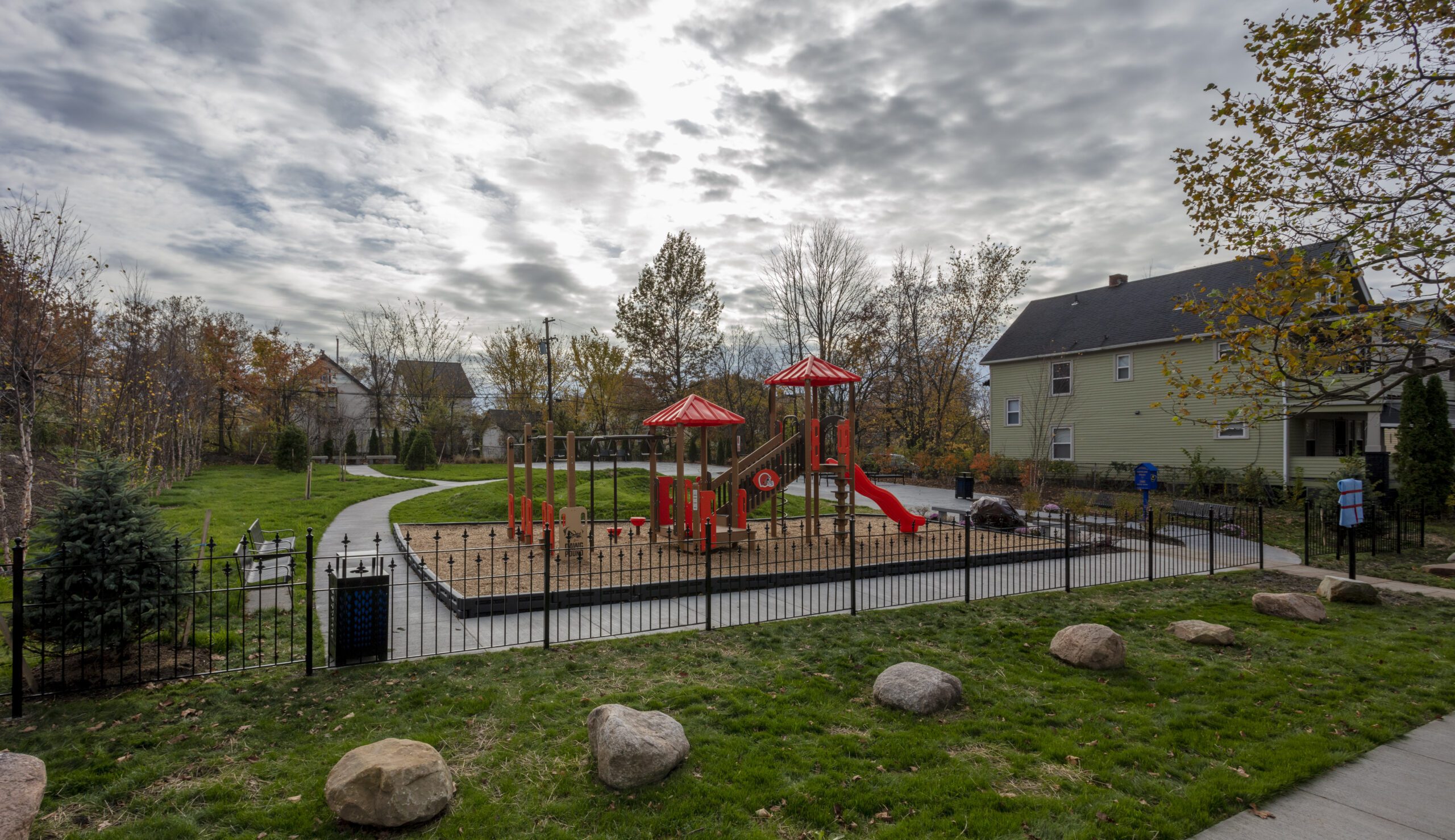 Ground Work Project
December 16, 2019
Ground Work – A Land Preparation Platform from Western Reserve Land Conservancy
Imagine if your street had no trees. Imagine vacant lots and abandoned homes next door. Imagine more crime, lower property values, poorer health. Neighbors might smile and say hello, but nothing more. Imagine warm summer nights where the street is dark and quiet, where no children are playing outside and no grills are cooking dinner. Imagine cold winter mornings where the block is silent. No one is out walking their dog, there are no kids making snow angels or building snowmen. For many neighborhoods in Cleveland, this imagined scene is a daily reality.
If we combined all 30,000 vacant and abandoned lots in Cleveland into one space, it would be big enough to build more than 115 football stadiums for the Browns. Each of these properties is a massive burden on neighbors, police departments, city agencies and more. The cost of this blight is one we all are forced to bear.
Western Reserve Land Conservancy and our Thriving Communities initiative see this challenge as a tremendous opportunity. Through partnerships with neighbors, community organizations, state and local governments, business owners and more, we are working to turn these properties into vibrant spaces that respond to the neighborhood's needs and reconnect the fabric of Cleveland communities.
Last year, we interviewed dozens of residents, planning experts, business owners, NGOs and government officials to understand how best to tackle this massive challenge. What we learned has become the foundation of a new, ongoing project we call Ground Work.
With a project of this scale, we learned early on that one size does not fit all. Each lot, each neighborhood has different needs. The key to success is to work closely with all stakeholders. We do not arrive with a determination; we arrive with questions: What will work best for this community? How can we accomplish this goal? Who can help? Some properties may become community gardens; others might be open green space; still more could become parks, landmarks, memorials and more. But none of this would get done without close partnership with all involved.
Now imagine if your street was lined with trees, creating a shady canopy that cooled the block down during a sticky summer day. Imagine people outside, kids playing tag and neighbors tending gardens. Imagine a community where everyone knows and looks out for each other, where you're all invested in the health and well-being of your community. Imagine a Cleveland that is safer, stronger and healthier.
At Western Reserve Land Conservancy, we are not just imagining this future, we're making it a reality.
But we cannot do this work alone. Each lot needs funding for fences, benches, trees, ground cover, soils and so much more.  Your contribution today will mean a better future for Cleveland. We believe in the value of partnerships and hope you do too. Join us with a gift of financial support and help rebuild the fabric of our community.