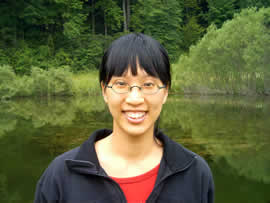 Friend from Hong Kong visits future headquarters
June 21, 2011
A Land Conservancy member who lives half a world away from northern Ohio paid a visit to the organization's future home on Tuesday. Ting Fong Lee, a former Firelands Land Conservancy intern who resides in Hong Kong, toured the Moreland Hills house and property that will become the Land Conservancy's new headquarters sometime in 2012.
Lee, who goes by the name Flora, visited friends from her days as an undergraduate student at Oberlin College and intern at the Firelands Land Conservancy, one of eight land trusts that merged in 2006 to form Western Reserve Land Conservancy. Flora, a talented watercolor artist, then toured the Moreland Hills property to get a feel for the headquarters project, for which she will be doing a series of conceptual renderings.
"It is a beautiful home and property," she said.
Flora visited the site with Firelands Associate Field Director Kate Pilacky, her supervisor when she interned from 2001 to 2005. Flora, who holds an environmental studies degree from Oberlin, recently accepted a position in the Office of Sustainability at the Chinese University of Hong Kong. She was also the illustrator for "Whale Fables," a newly released children's book written by Bonny Jacobson of Canal Fulton in Stark County.