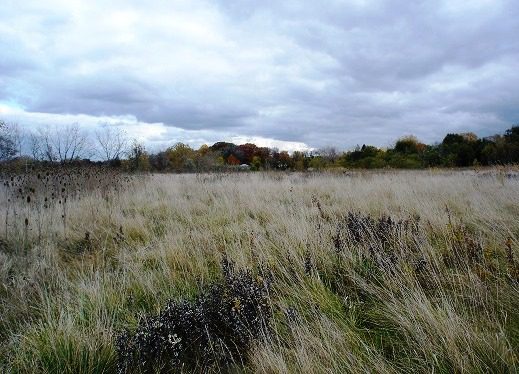 Former landfill becomes part of Big Creek's green corridor
August 19, 2015
The nonprofit Western Reserve Land Conservancy has acquired a 28-acre former landfill in Cleveland's Old Brooklyn neighborhood and plans to make it part of a growing green corridor that includes the Cleveland Metroparks Zoo, Brookside Reservation and the Ohio & Erie Canal Towpath Trail.
The Land Conservancy has secured a Clean Ohio Conservation Fund grant to acquire the former Henninger Landfill and adjacent properties along Big Creek, just east of the zoo and West 25th Street. The parcel could eventually become a key link between the zoo property and the Towpath Trail.
Plans call for public use of the property, and project partners are working together to make the vision a reality.
The project protects 1,015 linear feet of Lower Big Creek, and improving its water quality will support the improvement and ultimate delisting of the Cuyahoga River as an Area of Concern (AOC).
"For over 40 years – since the closing of this old landfill – community leaders in Old Brooklyn have struggled with how to repurpose this land," said Jim Rokakis, director of the Land Conservancy's Thriving Communities Institute.  "Western Reserve Land Conservancy has taken the critical first steps by finding the grant money to but this and identifying the dollars to do the minor clean up that is required.  Now we can begin the planning process in earnest."
Jeff Verespej, executive director of Old Brooklyn Community Development Corporation, said, "This greenway corridor, which has roots with the Treadway Creek Trail connecting to the Ohio and Erie Canalway, now extends to the core of Old Brooklyn and its great anchors, further highlighting a neighborhood that is a great place to grow."
The Land Conservancy has placed a conservation easement – a legal document that permanently restricts any development – on the property.  Land Conservancy representatives said preserving the property will also protect water quality in Big Creek, a tributary of the Cuyahoga River.
Acquisition of this property could also lead to possible future restoration work along Lower Big Creek, including erosion and water quality improvements, native plantings, invasive plant removal, native tree reforestation and reestablishment of native grasses and native woodland wildflowers.
The project is located within the Cuyahoga River Watershed, which drains a total of 812 square miles and flows through all or part of six counties.  Much of the lower Cuyahoga River watershed is an internationally designated Great Lakes Area of Concern, a designation for the worst polluted tributaries to the Great Lakes. To delist the Cuyahoga River as an AOC, identifying and protecting natural areas to address the loss of fish and wildlife habitat within its watershed is an essential step; in a developed urban area, this project does just that.