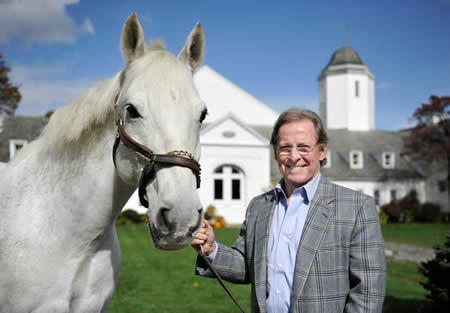 Family's passion saves an iconic place
December 2, 2010
Five years ago, historic White North Stables faced a bleak future.
The place – where as many as 8,000 spectators once gathered to watch polo matches – needed a lot of attention.  The buildings needed repairs, as did the grounds.  So it probably was not surprising that a developer proposed buying the land and building homes there.
Michael Shaughnessy and his family had other plans.
Michael, wife Marian and daughters Kate and Anne are equestrians with a deep love of White North and the collective will to preserve it.   Michael Shaughnessy's quiet persistence led not only to the preservation of the 75-acre White North property but to a major rehabilitation of its structures, including the stables and Ohio's oldest indoor arena.
"White North has really been a special place, and it is truly rewarding to see it restored," says Shaughnessy, a Gates Mills resident and president of ColorMatrix.  "We have gotten a very favorable response from the community, and not just the government officials."
In June, Shaughnessy, a Land Conservancy trustee since 2004, was named the 2010 recipient of The Stephen C. Morris Sugar Maple Award, the organization's highest honor.  The proclamation says Shaughnessy "emerged as the transforming leader of our most complex and significant project ever:  the acquisition, preservation and restoration of White North Stables."
Since January 2006, Shaughnessy has served as president of the board of White North, which is located at Chagrin River Road and Shaker Boulevard in Hunting Valley.  Along the way, he has helped turn the stables into a profitable operation and helped fund approximately $800,000 in building and grounds improvements.  Thirty-five horses are now boarded there, including Michael's beloved Seamus O'Rourke – the Irish-born horse who revived Shaughnessy's interest in riding after he was seriously injured in a 2002 fall – and four others owned by his family.
Shaughnessy has a deep passion for the pastoral landscape of the Chagrin River valley, one that was sparked when he first moved to the Cleveland area in the late 1960s and started looking for homes.
"I ended up out here and said, 'Wow, this is incredible,'" he says. "I decided in my own mind that I would move (to the Chagrin Valley) as soon as I could.  And that's what we did."
Today, the valley is a better place because of it.