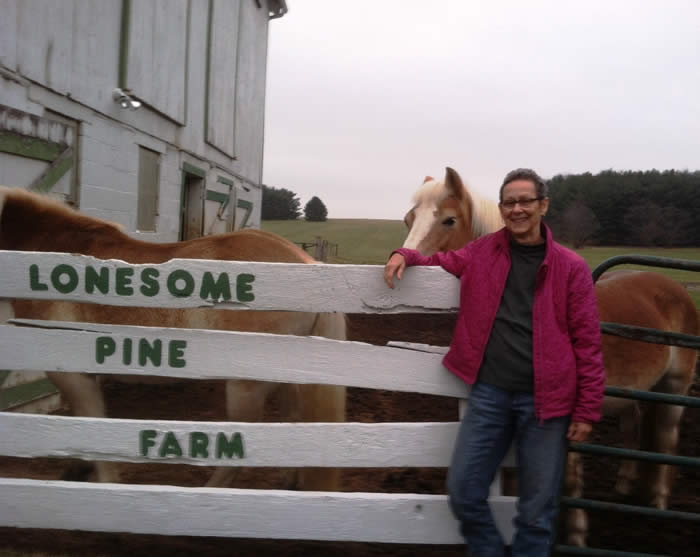 Family permanently preserves Copley Township farm
January 30, 2015
The largest remaining farm in Copley Township has been permanently protected.
Lonesome Pine Farm, a 119-acre tract in western Summit County, has been permanently preserved with a conservation easement granted to the nonprofit Western Reserve Land Conservancy by owners Sally Gamauf and her daughter, Darcy Brandel. The farm, which has been in the family for 92 years, is on Cleveland-Massillon Road, about a half-mile south of Copley Circle.
"Darcy and I wanted to see it remain farmland forever," said Gamauf, a retired University of Akron psychologist and former member of the Land Conservancy's Medina Summit Chapter.  "We also wanted preserve the farm in honor of my father and my grandparents."
Gamauf's grandparents purchased the land in 1923 and farmed it their entire lives.
Lonesome Pine has been an organic farm for about 25 years, and its prime agricultural soils produce hay, corn, soybeans and sunflowers. The farm also has two separate woodlots on the southern portion of the property.
With the recent sale and residential development of a farm off state Route 18, Lonesome Pine is now the largest remaining farm in Copley Township.  The property is less than two miles from two other Land Conservancy conservation easements totaling 73 acres.
"We are extremely grateful to Sally and Darcy for preserving this beautiful farm, particularly in a community that has seen so much growth and development," said Andy McDowell, vice president of western field operations for the Land Conservancy.  Jeff Holland, a Land Conservancy trustee and Medina Summit Chapter member who attended the easement signing, said, "Sally is an old friend of the Land Conservancy.  It is exciting to know that she and her family are instrumental in preserving the largest remaining farm in Copley Township."
Lonesome Pine is the first farm the Land Conservancy has preserved in Summit County.
Sally Gamauf said it was very much a decision she and her daughter made together to permanently preserve the property. She said even though her daughter is now an English professor at Marygrove College in Detroit, "Darcy is really a farm girl gone to the city.  She knows how to work the ground.  She knows farming."
Gamauf has three horses "and I really enjoy riding them on the property."
So what is the story behind the name of the farm?
"Well, my father used to sit in his chair and look out over the farm in the evening," Gamauf said.  "In one place, there is a single pine in the middle of the field, all by itself.  My dad would say, 'That's a lonesome pine.'  The name stuck."
The Land Conservancy preserves farms, natural areas and coastal land throughout northern and eastern Ohio and does urban revitalization work statewide.  To date, the Land Conservancy has preserved 558 properties totaling 41,954 acres and has led efforts to form new county land banks, of which there are now 22 in the state.
In 2014, the Land Conservancy, which is based in Moreland Hills and has field offices in Cleveland, Akron, Medina, Orrville, Oberlin and Chardon, permanently protected 42 properties totaling 3,786 acres.