Inviting Biodiversity into Our Gardens – Virtual Symposium
January 12, 2022 @ 1:00 pm

-

March 9, 2022 @ 4:00 pm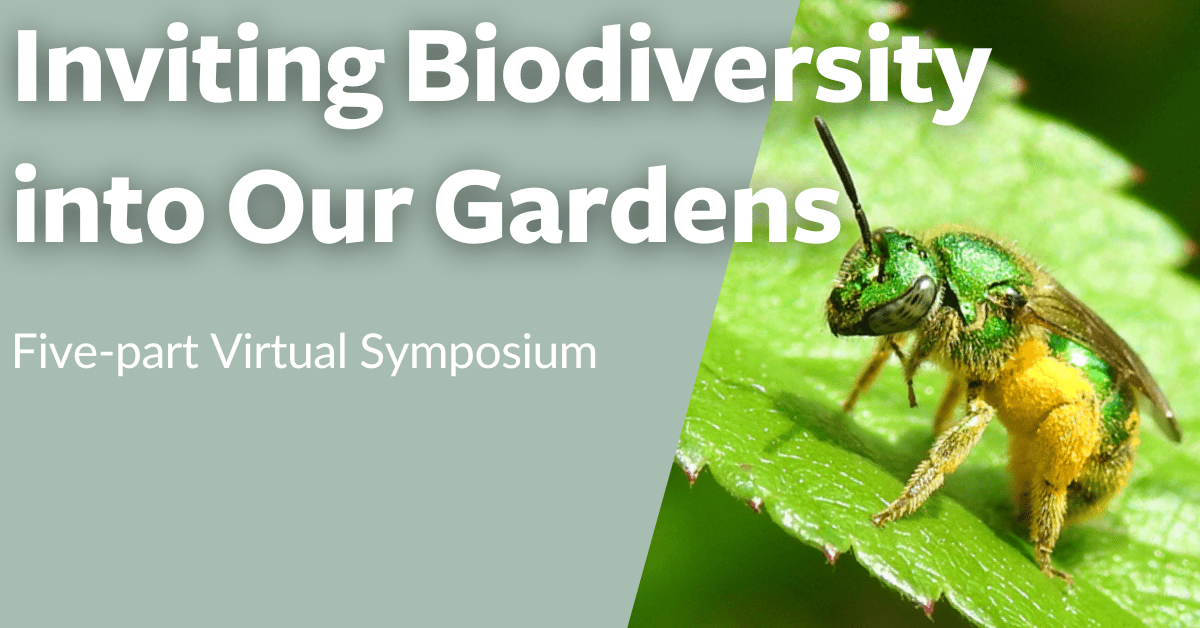 Inviting Biodiversity into Our Gardens will educate and inspire homeowners, horticulturists, botanists, naturalists, landscape architects and designers, educators, conservationists and anyone eager to learn about creating pollinator and wildlife habitats using native plants and trees to promote biodiversity, species richness and ecological resilience.
The free webinar series will feature five sessions intended to guide you from start to finish in creating gardens that benefit pollinators and other wildlife. Join us and explore the importance of restoring our increasingly fragmented and disappearing native habitats beginning in our own backyards—whether small or large.
Each webinar will feature national and regional experts who will guide you on a path towards building and maintaining a healthy, native garden.
Sessions will be offered every other Wednesday, starting on January 12 through March 9, 2022 from 1:00 – 4:00 pm ET. Each will be recorded and available to those who register for 30 days following the live event. Links will be sent to registrants.
Book Recommendations
We've collaborated with local bookstore, Loganberry Books, to set up an easy-to-use, one-stop bookshop to find and purchase all the titles. This includes pre-ordering our Session 1 presenter Uli Lorimer's The Northeast Native Plant Primer: 235 Plants for an Earth-Friendly Garden, which is scheduled to ship on May 10.
Continuing Education Units (CEUs)
Ohio Master Gardeners – Self-report
Pennsylvania Master Gardeners – Self-report
Association of Professional Landscape Designers – Applying for credits
Ohio Certified Volunteer Naturalist:
Self-report
Cleveland Pollinator and Native Plant Symposium as lead organization/sponsor
City offered, date, title and one brief line of description and total hours
In the future, attendees can count lunch and breaks if In-Person
Inviting Biodiversity into Our Gardens is brought to you through a collaboration between the Cleveland Pollinator and Native Plant Symposium, Nature Spark and Western Reserve Land Conservancy.
Click here to register for Session Five
Advanced registration is required, a link for the virtual program will be sent upon registration.
Missed a session?
Click here to watch Session One
Click here to watch Session Two
Click here to watch Session Three
Click here to watch Session Four
Sincere Thank You to our Symposium Sponsors: