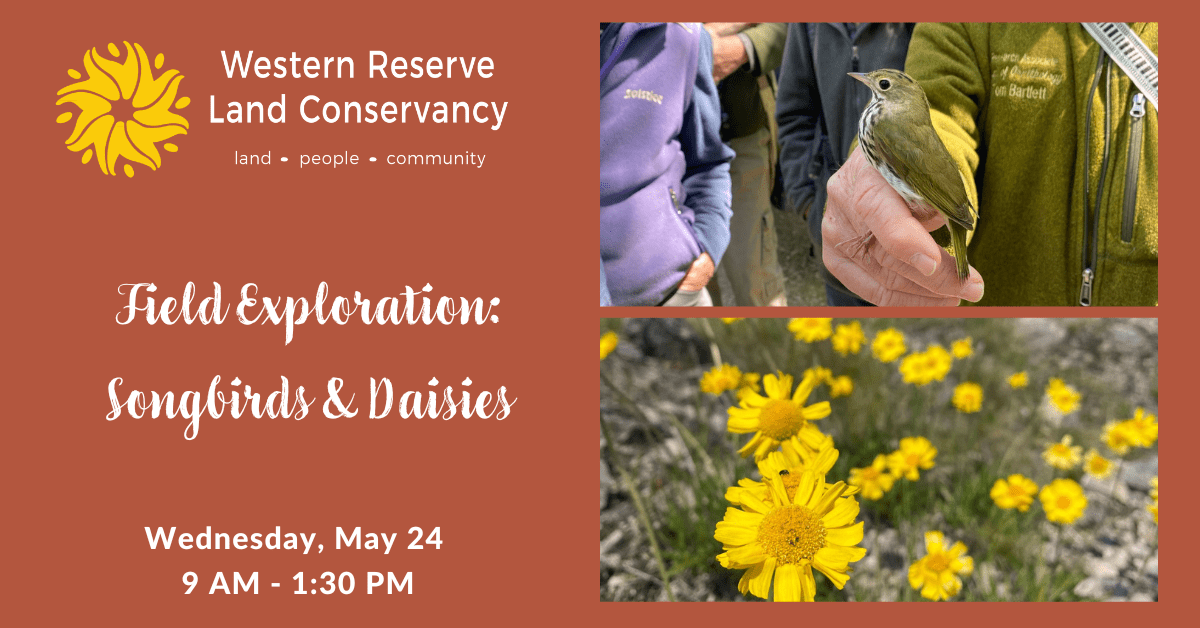 Join us for a morning of songbirds and daisies on Kelleys Island. We'll hop on the 9:00 am ferry from Marblehead, arriving on Kelleys at 9:30 am. First stop is a visit with Master Bird Bander Tom Bartlett at this long-term migratory bird banding station. We'll walk the mist net route with Tom and hopefully have an opportunity to observe bird banding. Afterwards we'll visit properties conserved by the Land Conservancy to check on populations of the Federally Threatened Lakeside Daisy (Tetraneuris herbacea). Participants will provide their own transportation to and on the Island.
Price includes the field trip portion of the event. Participants must pay for the ferry and provide their own transportation to and on the Island.
Kelleys Island Ferry information.
Event details:
Wednesday, May 24 at 9:00 am to 1:30 pm
Leaders: Judy Semroc, Naturalist & Field Biologist; Kate Pilacky, Associate Field Director at Western Reserve Land Conservancy
Fee: $20/person
Limit: 12 people
Location: Directions will be sent to registrants. Kelleys Island is in Erie County, OH, just north of Marblehead.
Register here:

Organizer: Renee Boronka, rboronka@wrlandconservancy.org, 216-533-8761
PLEASE NOTE: You may be photographed or recorded by the Western Reserve Land Conservancy during this event. Your image or words may be used in materials prepared by or for the Land Conservancy, including marketing related materials.