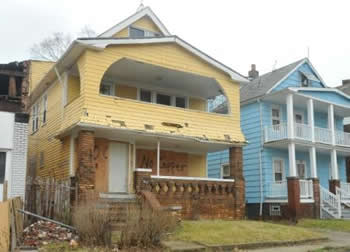 Cuyahoga Co. foreclosures may hit 10-year low, study shows
September 24, 2013
Foreclosure filings are down significantly in Cuyahoga County and may reach a 10-year low if the trend continues through the end of 2013, according to a new report done by Frank Ford, Senior Policy Advisor for Western Reserve Land Conservancy's Thriving Communities Institute. But in spite of this dramatic drop, foreclosures are still double the rate they were before the crisis began, the report said, and vacant and blighted properties are still at record-high levels, posing a major threat to the real estate market in the county.
This report looked at foreclosure and vacant property trends in Cuyahoga County between 1995 and Aug. 31, 2013, with an emphasis on the past six years since the foreclosure crisis peaked in 2007.  Based on current trends, the report provides an estimate of foreclosure counts at the end of 2013.
In the report, Ford states that "if this downward trend were to continue it could represent an opportunity for market stabilization, i.e., a slow-down of the incoming pipeline of new vacancy and blight could give Cleveland and its suburbs a chance to 'catch-up' and address the existing inventory of market-crippling blight. That would lead to the recovery of home values, and more importantly, the recovery of home equity which is the single largest asset for many struggling families in Cuyahoga County."
You can read the full report here.