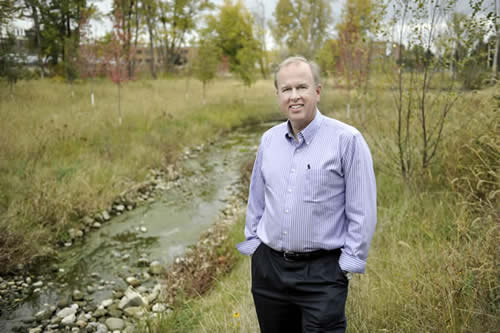 Creating a community asset
December 2, 2010
Lockheed Martin Corp. could have done the minimum to clean up a polluted ditch in southeast Akron and fulfill all environmental standards.  But the company and its project manager, David Gunnarson, left, were not content to simply replace the soil and toss down grass seed.
They turned Haley's Run into a showcase for urban conservation.
Under the leadership of Gunnarson, Lockheed Martin and its partners restored the PCB-laden channel to a natural, free-flowing stream, installed a scenic walking trail and planted native trees, shrubs and grasses.  This beautiful urban greenway is now a true asset for the surrounding low- to moderate income neighborhood and those who work nearby.
The Land Conservancy helped Lockheed Martin by acquiring the additional property needed to transform the area into a park.  Gunnarson says the firm and the Land Conservancy "have a great cooperative partnership. It's hard to imagine how Lockheed Martin could have completed the Haley's Run project without the Land Conservancy's assistance, and hopefully Lockheed Martin has helped the Land Conservancy achieve its mission."
The Land Conservancy hopes to complete a similar transformation at nearby Adam's Run, which is fed by Haley's Run.  The two projects together could eventually provide a link to the Towpath Trail in downtown Akron.  For now, Gunnarson, an environmental engineer, says he is pleased that Haley's Run has become an asset to the community.
"I'm surprised and happy with how quickly nature has returned," he says.  "Already I've watched a pair of ducks raise ducklings, and I've seen small fish in Haley's Run.  Frogs and birds seem to be abundant.  I look forward to returning to Haley's Run in the future to see how the 1,000 trees we planted have grown and to hopefully walk along Haley's Run to Adam's Run and beyond."
Gunnarson says he is proud to have contributed to "the marvelous urban park system in Akron. "Haley's Run is one part of what I see as a great master plan to connect communities and provide access to nature in an urban setting," he says.