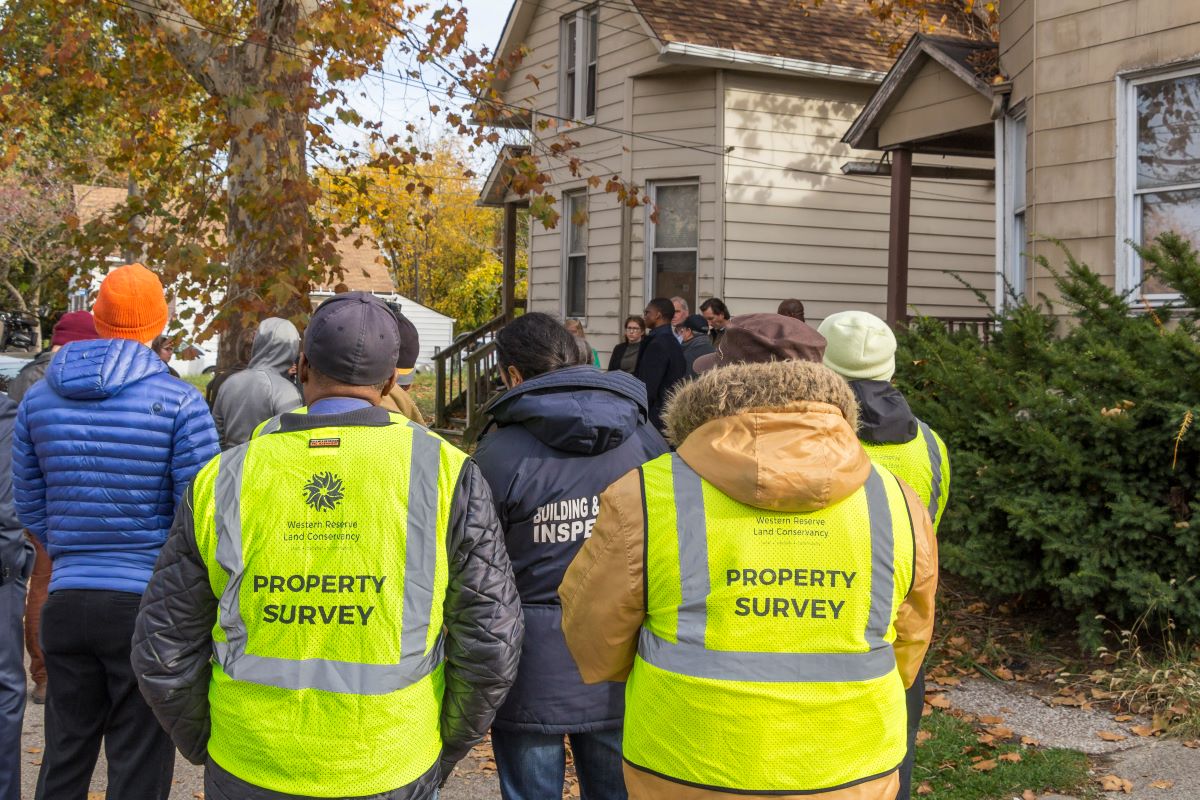 Cleveland Property Inventory Reveals Important Data on 162,000 City Parcels
June 16, 2023
The City of Cleveland and Western Reserve Land Conservancy released the results of a months-long comprehensive property inventory that surveyed more than 162,000 parcels in Cleveland. An ARC/GIS StoryMap with all the relevant data is available online.
"The data won't solve our challenges with vacant structures and lots but it will help us identify where we can apply City resources to ensure the worst ones are dealt with first and foremost," said Cleveland Mayor Justin M. Bibb. "I am proud of our city workers and Western Reserve Land Conservancy for this important project that will inform where we can best direct city services to demolish vacant structures and repurpose vacant lots in Cleveland."
The survey was conducted between October 2022 and April 2023. In teams of two, surveyors from the City of Cleveland and the Land Conservancy used mobile devices to inventory tens of thousands of parcels. Collectively, the teams walked over 1,400 miles during the winter and early spring.
Using baseline data from local sources such as existing city and county data, utilities data and the parcel-level data tool Regrid, surveyors visually inspected properties to determine if a structure exists on the property, if it is occupied or vacant and/or abandoned, and then assessed the property on an A to F scale. Surveyors collected data on conditions of sidewalks, street trees, ADA ramps, fire hydrants, illegal dumping, and lead contamination. All data will be available through the NEOCANDO database managed by Case Western Reserve University.
According to the data:
66.6% of structures in the City of Cleveland are occupied.
The number of vacant structures decreased from 8% in 2015 to 5.7% in 2023.
As a result of demolishing vacant structures, the proportion of vacant lots increased. 20.7% of Cleveland parcels are vacant lots.
94% of occupied structures are in the "A – Excellent" to "C – Fair" condition. This is a decrease from 98% in 2015.
52% of vacant structures are in "D – Deteriorated" to "F – Hazardous" condition. Less than 6% of occupied structures are "D – Deteriorated" or "F – Hazardous."
While out-of-state owners only own 7% of parcels in Cleveland, they are not giving the same level of care to their properties as in-state owners. Out-of-state owners have fewer "A" and "B" properties, but more "C", "D", and "F" graded properties than in-state owners.
More than 80% of vacant lots in the city have no trees in the tree lawn.
Anthony T. Hairston, Cleveland City Councilman, Ward 10: "This survey will help the city and council focus in on areas that need immediate work – both in terms of demolition but also where we need to apply resources for rehabilitation of vacant homes to put them back into productive use and to provide homeowners with financial help for property improvements and renovations."
Sally Martin O'Toole, Director of Building and Housing, City of Cleveland: "Conducting the property survey was a critical priority for the Department of Building and Housing. Using a data driven approach, the department will identify and address the worst properties, while working with residents to provide access to the unprecedented amount of home repair dollars soon to be available through the city's ARPA allocation. This will help increase property values, rebuild wealth for residents, and ensure a better quality of life for all Clevelanders. Building and Housing is in the process of converting our operations from being solely complaint driven to implementing a proactive approach to code enforcement. Residents should not have to call to complain about properties in their neighborhoods. Completing this survey was the first step towards implementing that new approach."
Isaac Robb, Vice President of Planning, Research and Urban Projects at Western Reserve Land Conservancy: "Cleveland's commitment to revitalizing neighborhoods hit hard by the housing collapse and financial crisis continues with this property inventory. Vacant land in Cleveland is disproportionately concentrated in communities where historical redlining and predatory lending have led to foreclosures, abandonment and blight. Knowing the location and condition of these structures gives us a map of where we can make the biggest impact."
Cleveland city workers and Land Conservancy staff collectively walked over 1,400 miles during the survey of 162,000 parcels (Credit: Western Reserve Land Conservancy, hi-res available upon request)
For the first time, properties surveyed were also assessed for potential lead hazards by looking at risk factors such as the condition of porches, windows and doors, and noting whether the property has exposed bare soil. In addition, the survey results will help multiple city departments deploy resources proactively. The condition of sidewalks, curbs, fire hydrants and streets were also assessed so that proactive maintenance can be prioritized. The goal of the survey is to triage the needs in each neighborhood and proactively address conditions to deploy resources strategically to achieve the most benefit.
The support of the Rocket Community Fund, the Local Initiatives Support Corporation (LISC) and the Cleveland Foundation was instrumental in starting, sustaining and completing the survey.
In 2015, the first Cleveland property inventory found that of the 112,897 parcels containing occupied structures in the City of Cleveland, over 84 percent were graded A (Excellent) or B (Good). These structures are considered to need only minor improvements, if any, and appeared to be cared for and well maintained. Of the 12,179 parcels containing vacant structures in the City of Cleveland, 37 percent were graded D (Deteriorated) or F (Unsafe or Hazardous). These structures may exhibit characteristics including major cracking, rotting wood, broken or missing windows, brick and siding, and open holes.