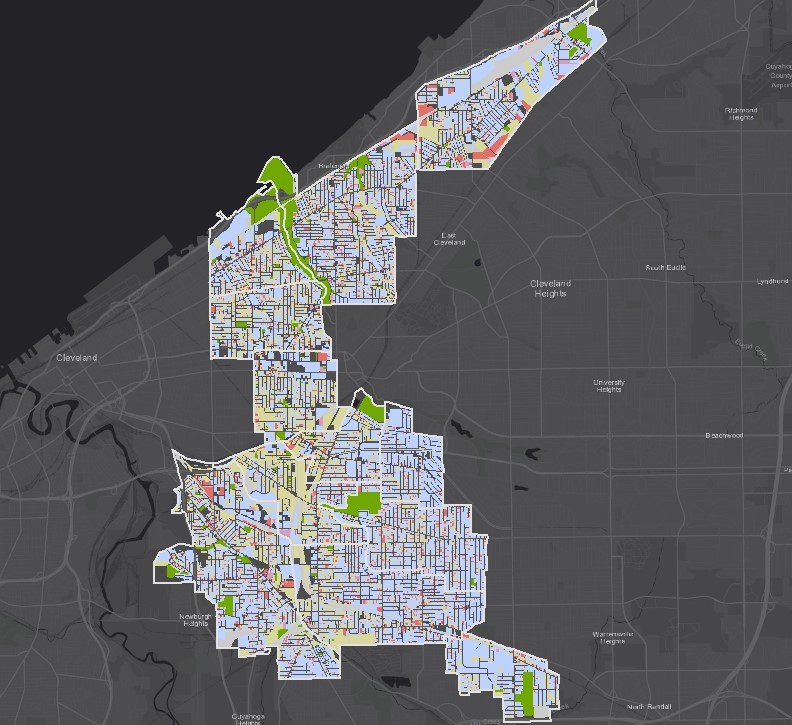 Cleveland Neighborhoods by the Numbers: 2018 Update
March 20, 2019
A new report issued by Western Reserve Land Conservancy shows a significant reduction in the number of vacant and distressed structures in 13 of Cleveland's east side neighborhoods, as well as improving home price appreciation as a result. The report was funded by a $100,000 grant from the Quicken Loans Community Fund.
"Cities need data concerning vacant properties and building conditions to make informed community development decisions," said Jim Rokakis, Vice President of Western Reserve Land Conservancy and director of its urban program, Thriving Communities. "By preparing and conducting property inventories, Western Reserve Land Conservancy's Thriving Communities program provides municipalities with information to most effectively target their limited resources for rehabilitation and demolition."
The report, Cleveland Neighborhoods by the Numbers: 2018 East Side of Cleveland Update, provides a parcel-by-parcel analysis of housing conditions captured through the Land Conservancy's complete property inventory program in 2015 and includes the 2018 update.
In 2015, the Land Conservancy surveyed more than 158,800 parcels within the City of Cleveland. After strategic analysis, the Land Conservancy targeted and completed an update of the data in 13 of the most at-risk neighborhoods on Cleveland's east side, which included more than 78,000 parcels in: Broadway-Slavic Village, Buckeye-Shaker Square, Buckeye-Woodhill, Collinwood-Nottingham, Fairfax, Glenville, Hough, Kinsman, Lee-Harvard, Lee-Seville, Mount Pleasant, St. Clair-Superior and Union Miles.
The update was sponsored by the Quicken Loans Community Fund, the philanthropic arm of the nation's largest mortgage lender, Quicken Loans.
"At Quicken Loans, we know that the first step toward solving any problem is understanding it, which is why it was so critical for us to support Western Reserve Land Conservancy in refreshing our data around blight in Cleveland," said Bill Emerson, Vice Chairman of Quicken Loans. "Now, as a community, we can work together intentionally to preserve our historic housing stock, repurpose vacant land and attract businesses to continue moving our city forward."
Quicken Loans and its affiliated companies, including the Cleveland Cavaliers and JACK Entertainment – who are both proudly headquartered in Cleveland – are committed to Cleveland's future and routinely engage in collaborative partnerships with private and public stakeholders to help shape the best path onward. Additionally, Quicken Loans and its affiliated companies have provided tens of thousands of volunteer hours from its 4,800 team members since 2015, and have invested nearly $2 billion in downtown Cleveland and the surrounding neighborhoods in the last ten years.
The Land Conservancy is hoping to utilize the 2015 and 2018 inventory as a benchmark for strategy for the City of Cleveland's existing and future infrastructure.
"In order to truly maximize the power of the 2015 inventory, the conditions of these structures and vacant lots need to be reassessed and evaluated," explained Isaac Robb, manager of urban projects for the Land Conservancy. "In conjunction with continued efforts to stabilize the housing market, the resurvey of these neighborhoods provides critical insight into how the city continues to deal with population loss and a diminished demand for rapidly-aging housing."
To access the results, and specific neighborhood snapshots, please visit: https://www.wrlandconservancy.org/clevelandpropertyinventory2018/