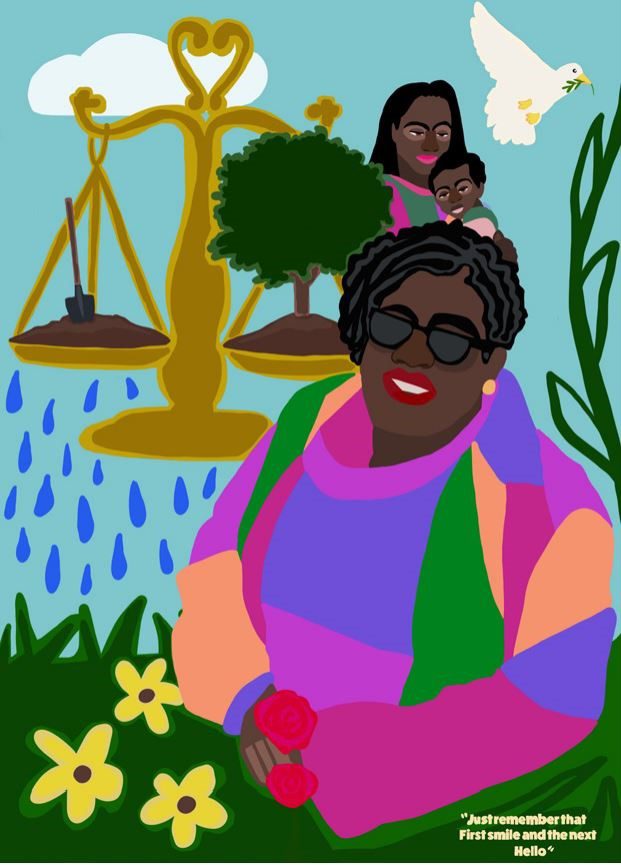 Cleveland Gathers to Celebrate Life of Jacquie Gillon
October 24, 2022
Black Environmental Leaders (BEL), Western Reserve Land Conservancy, and dozens of neighbors, family and friends will gather at 11601 Kinsman Rd. on October 24th at 10AM for a Legacy Mural Dedication Ceremony to celebrate the life and accomplishments of Jacqueline E. Gillon. Ms. Gillon passed away in August 2021.
The mural was created by accomplished local artist, Antwoine Washington. He will join members of Jacquie's family, her pastor, representatives from BEL and others in offering remarks about Jacquie and her work at the unveiling ceremony.
Jacquie attended Shaw High School and then went on to Hiram College where she graduated in 1978 with a degree in communications. She knew immediately how she could put her education and experience to work. She dove into local advocacy, appointed to the former East Cleveland City Commission at just 23. She went on to serve three terms on East Cleveland City Council focusing on community development, youth, environmental policy, and safety and law enforcement.
Jacquie then spent 19 years with Neighborhood Centers Association and Neighborhood Leadership Institute, co-facilitating and mentoring 29 classes of Neighborhood Leadership Cleveland. Partnering with Environmental Health Watch and the Earth Day Coalition, she was involved in environmental education through the Sustainable Cleveland Partnership. She joined Western Reserve Land Conservancy in 2014 and served as the manager of community engagement and diversity, leading the organization's DEIJ Committee. Jacquie's work focused on urban projects throughout Cleveland.
In 2019, Jacquie told Freshwater Cleveland that, "I want to make sure that people recognize that a leader is only as important as the people who are working with them, and we endeavor to be a collective and not a hierarchy. And for African-Americans, it's particularly important. The civil rights movement was not successful because Martin Luther King was the leader. There were many leaders with him. So yes, ideally you always have that one person who convenes everyone as a focus, but we have got to come together and work collectively in Cleveland."
In 2020, Jacquie was chosen as one of Crain's Cleveland Business' Women of Note. In 2017, she received the Trailblazer Award from the Cuyahoga County Section of the National Council of Negro Women. Gillon furthered her green-friendly cause as a leader at Elizabeth Baptist Church in Slavic Village, where she spearheaded tree plantings and blight removal.