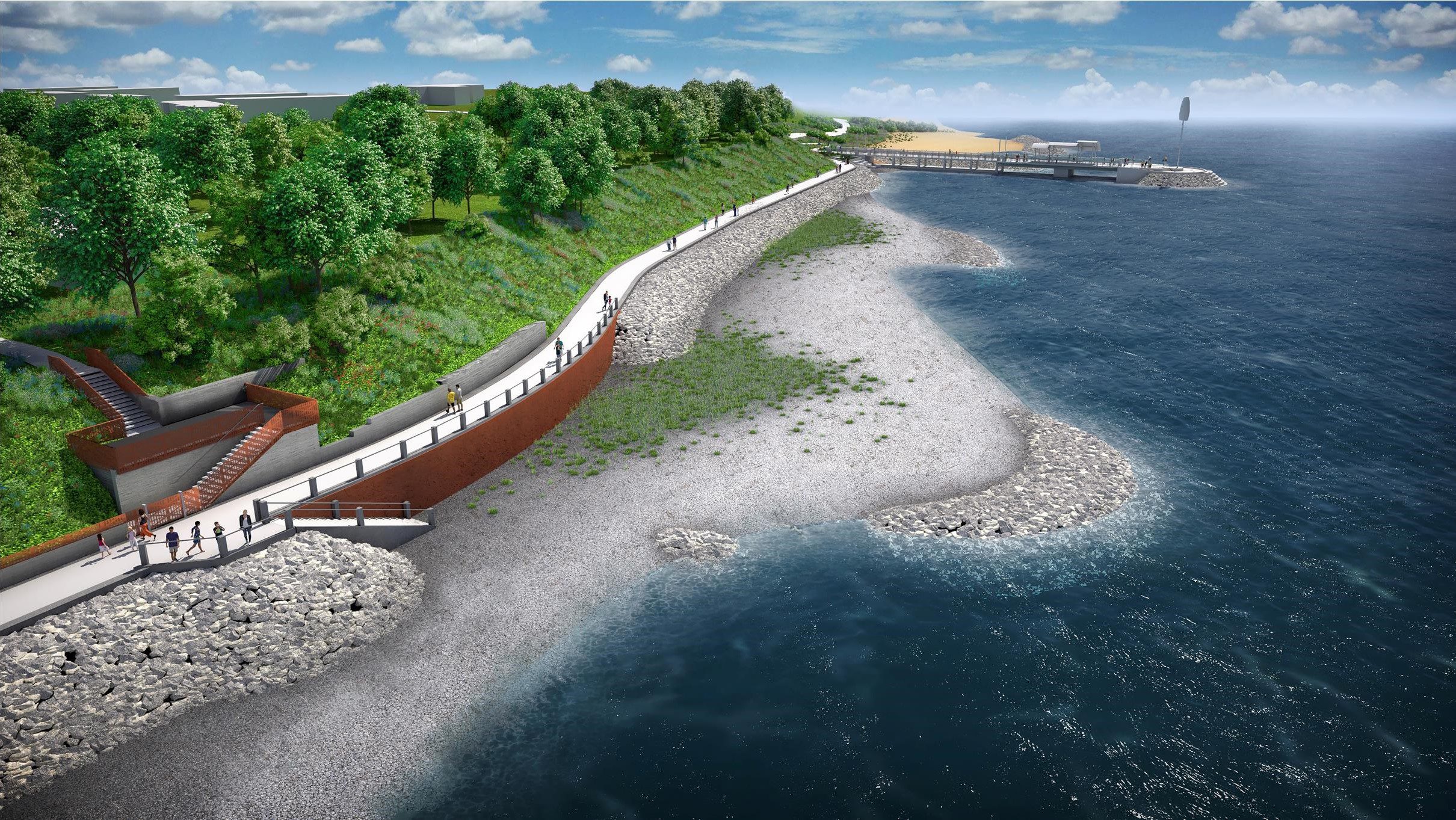 City of Euclid selects Western Reserve Land Conservancy to conduct Euclid Waterfront Improvement – Phase II Feasibility Study
April 25, 2019
The City of Euclid announced in April that the nonprofit Western Reserve Land Conservancy was selected to conduct a fundraising feasibility study to assist the city in navigating available funding sources to meet the City's goal of raising $3.6M to complete Phase II of the Euclid Waterfront Improvement project.
The Land Conservancy will leverage its land conservation, urban planning and fundraising expertise to interview key stakeholders and determine the feasibility of a fundraising campaign to support the Euclid Waterfront initiative.
"We are thrilled to embark on this new partnership with Western Reserve Land Conservancy," said Euclid Mayor Kirsten Holzheimer Gail. The Land Conservancy was chosen by City officials through a competitive request for proposals process. The feasibility study is funded through a generous grant by the Cleveland Foundation.
"We're proud to work with the City of Euclid in support of this visionary Euclid Waterfront Improvement Project that will connect more people to our Great Lake," said Stella Dilik, chief development officer for the Land Conservancy.
Euclid is fortunate to be one of only six communities in Cuyahoga County with lakefront access, however over 94% of its shoreline is privatized and inaccessible to its nearly 48,000 residents. The Euclid Waterfront Improvement Plan established a $30M vision for the City of Euclid's Lake Erie shoreline in 2009.
The Plan's broad vision was developed through an extensive public consensus-building process to be implemented incrementally. In 2013, Phase I was completed through the reconstruction of the Joseph Farrell Memorial Fishing Pier. In Fall 2018, the City of Euclid broke ground on Phase II, a three-quarter mile, multi-modal public access trail along Lake Erie's shoreline. This precedent-setting project is a result of the public-private partnership of nearly 100 property owners within the project area seeking a solution to mitigate catastrophic erosion.
The cost for Phase II, including construction and construction administration costs, is anticipated to be $14M, not including contingencies and alternates to enhance the project. To date approximately $10.4M has been secured for Phase II from federal, state and county grantors as well as a $2M City bond issue. The City seeks to raise approximately $3.6M over the next year to achieve unprecedented lakefront public access in accordance with the project schedule.
Western Reserve Land Conservancy's work will help determine the feasibility of a fundraising campaign to raise the remaining funding needed to complete Phase II of the Euclid Waterfront Improvement project. The feasibility study will be completed during the summer of 2019. At the conclusion of the study, the City will determine whether or not to pursue a joint fundraising campaign.
About the City of Euclid:  The City of Euclid is one of the thirty largest cities in the State of Ohio with a population of just under 50,000. Euclid is an inner-ring suburb of Cleveland with a culturally diverse population, strong neighborhoods, increasing lakefront amenities, a growing Downtown, and a robust industrial core that makes Euclid the City with the 3rd highest number of manufacturing jobs in the County. The Township of Euclid—part of the Connecticut Western Reserve—was established by Moses Cleaveland in 1809. The City of Euclid was incorporated in 1930 and subsequently experienced significant residential and industrial growth in the 20th century as a bustling, residential suburb that is unique among Cleveland suburbs. For more information, visit: www.cityofeuclid.com
About the Cleveland Foundation: Established in 1914, the Cleveland Foundation is the world's first community foundation and one of the largest today, with assets of $2.5 billion and 2018 grants of more than $100 million. Through the generosity of donors, the foundation improves the lives of residents of Cuyahoga, Lake and Geauga counties by building community endowment, addressing needs through grantmaking and providing leadership on vital issues. The foundation's program areas include: arts and culture, economic and workforce development, education, environment, neighborhoods, and youth development and social services. For more information, visit www.ClevelandFoundation.org and follow us on Facebook, Twitter and Instagram.
About Western Reserve Land Conservancy: Western Reserve Land Conservancy provides the people of our region with essential natural assets through land conservation and restoration. The Land Conservancy preserves natural areas and working farms in 23 counties in northern and eastern Ohio; its urban program, Thriving Communities, works statewide to eliminate blight and create healthier environments in cities devastated by the foreclosure crisis. To date, the Land Conservancy has permanently preserved more than 750 properties totaling 56,000+ acres; worked with municipalities to create more than 170 public parks and preserves; led the efforts to create 55 county land banks across Ohio; and planted more than 6,000 robust trees in the City of Cleveland. For more information, visit: www.wrlandconservancy.org.
###