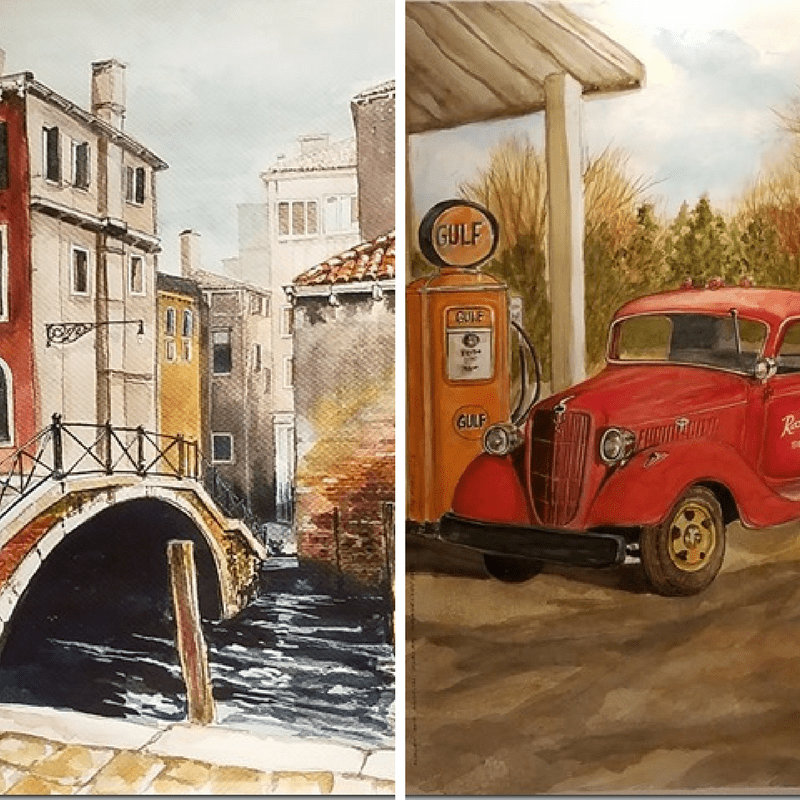 Chuck Delpapa Art Show now on display
April 11, 2018
Works by Cleveland-based artist Chuck Delpapa are now on display at Western Reserve Land Conservancy's Conservation Center in Moreland Hills.
An opening reception with the artist will take place from 5:30 to 7:30 p.m. on Wednesday, April 11. The event is free and open to the public.
With a background in art education and a passion for art and design, Delpapa was spurred by mentors and educators into a long career in interior design, home furnishings trend merchandising, home trend research, and product design/development. Early in his career, he worked for two major department store corporations as Director of Home Fashion Merchandising.
In 1988, Alsy Lighting, then the nation's largest manufacturer of residential lighting, brought Delpapa to New York City as VP of Creative Development, where he controlled all product design and advertising; he also designed and maintained company showrooms throughout the nation. His trend-setting collections were sold in most major retail venues, including Home Depot, Costco, Target, Crate & Barrel, JC Penney, and many other outlets. He also designed exclusive lighting products for many well-known companies including Disney, Looney Tunes, and Coca-Cola.
In 2012, the prestigious High Point University's School of Art and Design asked for Delpapa's 50-year archive which included original drawings, trend reports, and photos. Delpapa's donation to the North Carolina institution provides a glimpse at design history from the 1960s through the present, including sketches of his furniture and lighting designs and trend presentations he delivered to major customers.  The University, at the presentation of the archives, noted that this work documents the creation process of products that heavily influenced American design.
Delpapa's current show includes a collection of new watercolors, featuring his favorite places, events, and "things" that to him have meaning.  Delpapa says "it is, in effect, revisiting and recording former or recent memories, sights, and events. The eclectic presentation includes paintings inspired by photographs of people and places from the 1980s; others depict nostalgic glimpses of life events, journey's and pleasurable experiences."
The Land Conservancy's Conservation Center is open to the public Monday through Friday from 8:30 a.m. to 5:00 p.m. Delpapa's show will be on display through the Monday, June 25.