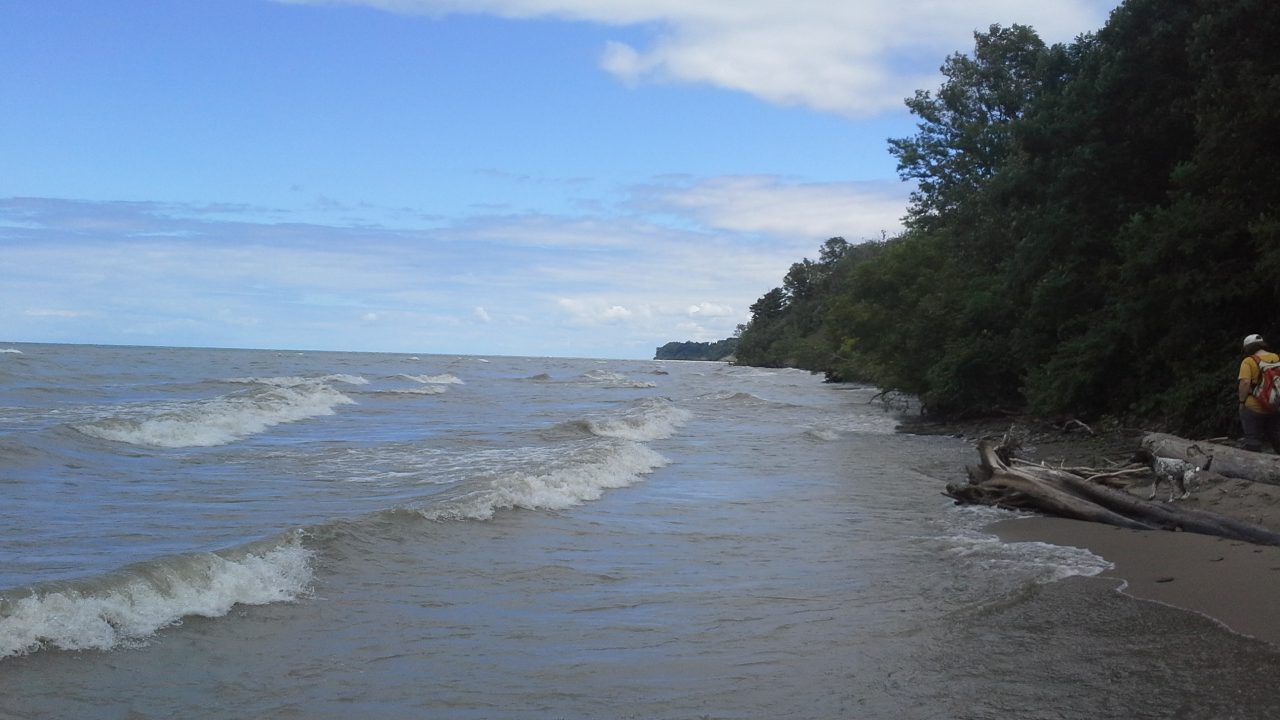 Ashtabula County Metroparks and Western Reserve Land Conservancy partner on regionally-significant conservation project
August 1, 2017
Ashtabula County Metroparks recently partnered with Western Reserve Land Conservancy to purchase and permanently conserve 602 acres in the City of Conneaut.
The impressive property boasts nearly one mile of undeveloped Lake Erie shoreline, a natural estuary, and more than 230 acres of high-quality wetlands. Moreover, the acquisition, adjacent to the 3,400-acre Roderick Wildlife Preserve (in PA) and the 85-acre Ohio State Conneaut Wildlife Area to the south, creates a regionally-significant wildlife, outdoor and recreation area.
The new public park, Turkey Creek Metropark, owned and managed by Ashtabula County Metroparks, will eventually offer outdoor recreational and educational opportunities including hiking, birding, angling and wildlife observation.
"The Turkey Creek Estuary property is remarkable in many ways," added Brett Rodstrom, vice president of eastern field operations for the Land Conservancy. In addition to the 3,050 linear feet of streams that fill and flow through 236 acres of wetlands, nearly one mile of Turkey Creek can be found on the property. The creek flows directly into a naturally-occurring, cold-water estuarine environment, not often seen along the shores of Lake Erie. The wetland and estuary areas provide critical habitat to a number of species.
As a result of a two-day survey conducted by naturalists from the Cleveland Museum of Natural History, nearly 400 native plant and animal species were observed, including three moth species identified for the first time in Ashtabula County; 60 bird species, including nesting migratory birds; and numerous other rare, potentially-threatened, and state-threatened species.
Larry Frimerman, executive director of Ashtabula County Metroparks, noted, "This wild and relatively inaccessible property is large enough to support rare species of plants and animals and will make a terrific nature preserve. We also are excited to have the opportunity to provide public access to the scenic bluffs rising high above Lake Erie."
Turkey Creek Metropark will provide public access to almost one mile of undeveloped Lake Erie shoreline. Approximately 80 percent of Ohio's Lake Erie shoreline is developed or in private ownership which makes this project even more important. Rodstrom added, "Western Reserve Land Conservancy is grateful to have assisted Ashtabula's growing park system in the permanent preservation of this tremendous community asset along the shores of Lake Erie. We anticipate this park becoming a coastal destination for outdoor enthusiasts throughout the region, including birders, hikers, and kayakers, hopefully supporting Conneaut's blossoming ecotourism industry."
Funding to purchase the land was generously provided by the Ohio Environmental Protection Agency through the Water Resources Restoration Sponsorship Program (WRRSP) and the North American Wetlands Conservation Act (NAWCA) Program.
The goal of WRRSP is to counter the loss of ecological function and biological diversity that jeopardize the health of Ohio's water resources. Entities, like the Northeast Ohio Regional Sewer District (NEORSD) which sponsored the Turkey Creek Estuary project, can pursue low-interest rate-loans from the Ohio EPA Water Pollution Control Loan Fund for planning, design or construction of wastewater, sewer and storm-water infrastructure projects. These municipalities have the opportunity to further improve water quality by sponsoring a WRRSP project that addresses nonpoint source pollution through the protection or restoration of streams and wetlands.
NAWCA is a federally funded source of revenue to support wetland conservation projects for the benefit of waterfowl, migratory birds, and other wildlife that live in wetland habitat. The Land Conservancy successfully applied for project funding in partnership with the Cleveland Museum of Natural History, Ducks Unlimited, Lorain County Metroparks, and the Ohio Division of Wildlife. Special appreciation is given to Representative David Joyce for his assistance in securing the NAWCA award as well as to Senators Sherrod Brown and Rob Portman for their support.
As part of the funding requirements, the park district granted a passive park conservation easement to Western Reserve Land Conservancy to permanently conserve the land.
"We are grateful to Western Reserve Land Conservancy, the federal government, and the State of Ohio for making this project a reality," emphasized Frimerman. Ashtabula County Metroparks and the Land Conservancy appreciate the support of project partners including the Cleveland Museum of Natural History, Ducks Unlimited, Lorain County Metroparks Northeast Ohio Regional Sewer District, Ohio EPA, Ohio Division of Wildlife, and the U.S. Fish & Wildlife Service.
A comprehensive access plan is currently being developed by Ashtabula County Metroparks who hopes to provide public access to the site in the near future.