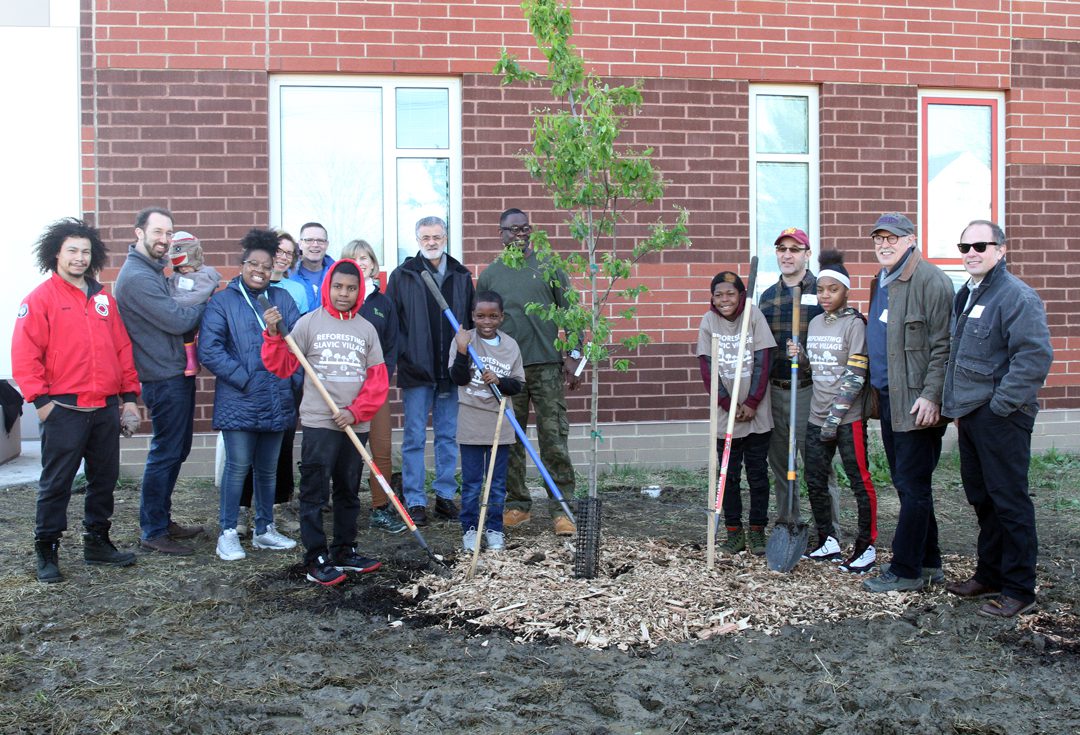 Arbor Day Celebrations Branch Out
May 1, 2019
As a leading member of the Cleveland Tree Coalition, Western Reserve Land Conservancy continues to lead the effort to grow Cleveland's leafy tree canopy to get us back to our roots as the Forest City for which we were once known.
"Trees make us healthier, happier and are a critical piece of our community infrastructure," said Rich Cochran, President and CEO of the Land Conservancy. "We are invested in and proud to collaborate with community partners to ensure a stronger community through more greenspace and a heartier tree canopy."
Toast to Trees
On Arbor Day Eve, Western Reserve Land Conservancy hosted Toast to Trees, a reception sponsored by Market Garden Brewery to celebrate Arbor Day and the importance of trees. More than 100 guests attended the event and enjoyed the Cleveland Canopy IPA, a tree-themed beer made especially for the Land Conservancy and aptly named through a social media contest.
At the event, Western Reserve Land Conservancy debuted two exciting arbor art displays! The Land Conservancy recently with two Cleveland artists to fabricate unique tree art designed to draw attention to the importance of trees in our community.
Lindsay Parker is a painter, a sculptor, a seamstress, a craftsman. With an appreciation for arts, science, and the natural world, Parker created a new tree mascot for the Land Conservancy that steals the show with its leafy tree canopy.
With a grant from Cuyahoga Arts & Culture, Western Reserve Land Conservancy commissioned artist and Kent State University Professor of Printmaking, Michael J. Loderstedt, to build an impressive 8-foot tall tree display.
Tree Seedling Adoption
Five hundred tree seedlings were adopted on Arbor Day by loving plant parents. For the fourth year in row, the Land Conservancy teamed up with Mitchell's Ice Cream to distribute the complimentary tree seedlings to customers. Throughout the day, Land Conservancy staff members and volunteers chatted with customers about the benefits of trees and proper planting techniques. Special thanks to Mitchell's Ice Cream, Bartlett Tree Expert Company, the Northeast Ohio Regional Sewer District, and the Northeast Reintegration Center for their support of this event!
Arbor Day Block Party
Western Reserve Land Conservancy joined Cleveland Tree Coalition Partners for an Arbor Day Block Party in Cleveland's Slavic Village neighborhood. The celebratory event highlighted how to best plant and care for trees in communities across Cleveland – from public lands to private yards.
Together, more than 75 community partners and volunteers planted nearly 50 robust trees at the newly-built Fullerton School and on nearby vacant lots. This year, the Reforesting Slavic Village group was also able to partner with the Arbor Day Foundation to offer free trees to residents in Slavic Village through the Cleveland Community Canopy program. Over 100 trees were distributed at no cost to residents during the event!
We sincerely thank the Third Federal Foundation, ArcelorMittal, the Davey Tree Expert Company, and the Northeast Ohio Regional Sewer District for sponsoring the Arbor Day Block Party.
Special thanks to AmeriCorps City Year, Bartlett Tree Experts – Cleveland, Boys & Girls Clubs of Cleveland, Cleveland City Councilman Anthony Brancatelli, Cleveland Metroparks, Cuyahoga Community College, Cleveland Metropolitan School District's Fullerton School, Holden Forests & Gardens, Slavic Village Development, and Sustainable Cleveland 2019 for partnering on the event!