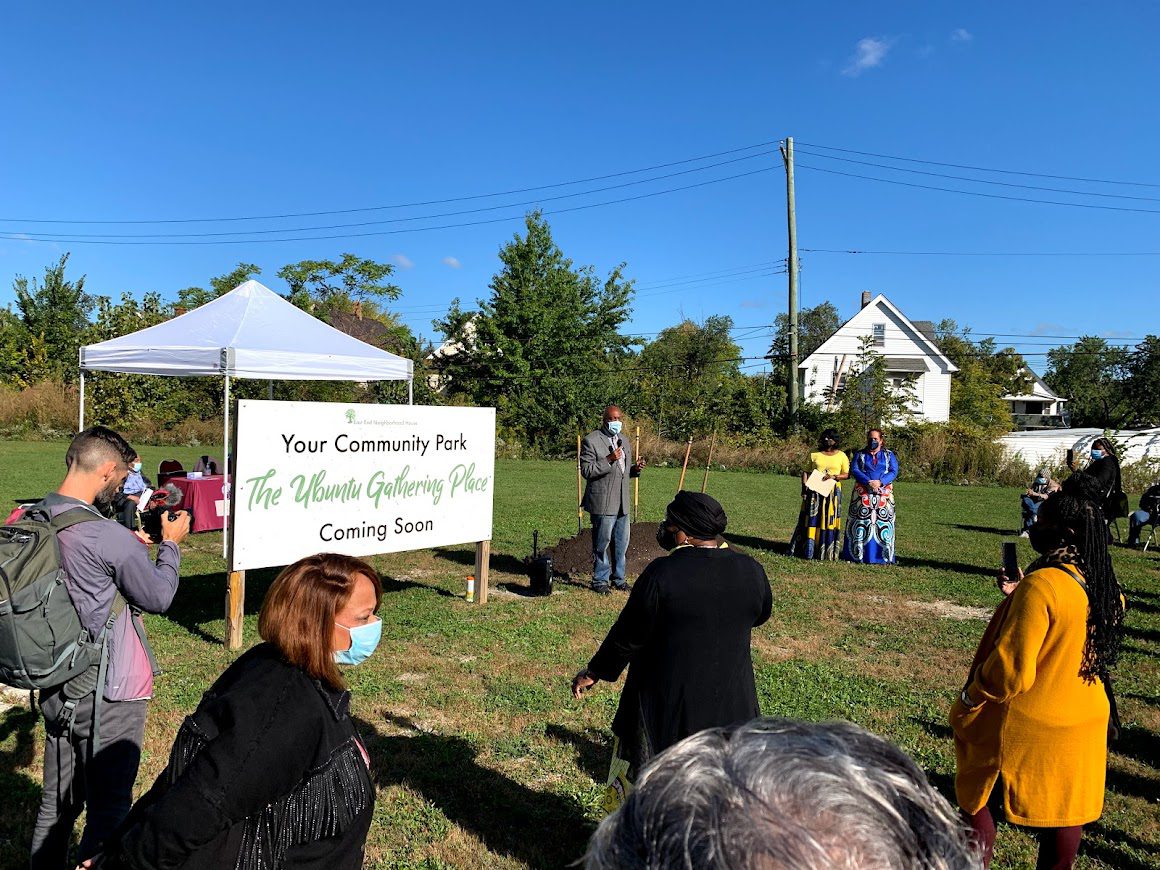 $75,000 Grant Awarded for Creation of a Community Gathering Space in Buckeye-Woodhill
August 5, 2021
East End Neighborhood House, Burten, Bell, Carr Development, Inc., Western Reserve Land Conservancy, and the City of Cleveland's Mayor's Office of Sustainability received $75,000 from Partners for Places, a program of The Funders Network, for the construction of the Ubuntu Gathering Place, a new community park in Cleveland's Buckeye-Woodhill neighborhood. The grant is in addition to funding from the Saint Luke's Foundation, which exceeded the required match by donating $200,000 towards the project.
"Ubuntu is a Nguni Bantu term meaning 'humanity', sometimes best translated as 'I am because we are.' It symbolizes the powerful connection that can exist between people who are open to seeing each other in each other. What we can accomplish for our community in this state of understanding can be magnificent," said Zulma Zabala, executive director of East End Neighborhood House. "This new gathering space embodies the spirit of Ubuntu. The organizations involved in the project are coming together for one common goal: to improve the health and lives of our community. This has been a vision for quite some time and I am so excited to see our fundraising goals getting closer."
The Ubuntu Gathering Place will repurpose an abandoned lot adjacent to East End Neighborhood House where an auto dealer once operated into a community park and gathering space, while also mitigating stormwater and flooding issues. Situated at the corner of Shaker Blvd. and E. 103rd St., the park will include trees, a plaza, bioretention cells, a green infrastructure outdoor education space and locally-commissioned art walls. The community has faced tremendous challenges with high poverty rates, unemployment, poor health outcomes, crime, and racism. More than 95% of the neighborhood is African-American, more than 58% of residents live below the poverty line, and the median household income is $15,000.
"For too many years, our communities have been challenged," said Joy Johnson, executive director at Burten, Bell, Carr Development, Inc. "Public greenspaces like the Ubuntu Gathering Place and the Garden of 11 Angels are projects that will heal and empower our community to make our streets, our environment and our lives better. We are a proud partner in this important project."
The Partners for Places funding moves the project closer to its total budget of $409,000. Phase I of construction is expected to begin later this year, while Phase II is scheduled to begin in 2022. The City of Cleveland City Planning Commission approved the design of the park in October 2017.
"A healthy community must have healthy places," said Christie Manning, senior programming director at the Saint Luke's Foundation. "The Ubuntu Gathering Place will be a space where residents can learn, relax and connect. An investment in this project is an investment in the Buckeye-Woodhill neighborhood, one that will yield dividends now and for future generations."
The Buckeye-Woodhill neighborhood, on the city's east side, has evolved tremendously over its history. An anchor of the community throughout these changes, however, has been East End. East End was founded in 1907 as part of the settlement house movement when the neighborhood was predominately populated by Hungarian immigrants. From the 1940s through the 1970s, the neighborhood transitioned to predominately African-American families as whites moved outside the city limits, largely the result of unjust housing policies and redlining. Over time, as poverty increased, housing stock in Buckeye-Woodhill deteriorated and violence became prevalent. The effects of these historically discriminatory housing practices are still felt in the neighborhood today. Historic disinvestment is apparent in the lack of high-quality green space and parks in Buckeye-Woodhill. By creating the Ubuntu Gathering Place to promote sustainability and social capital, the team hopes that pathways of opportunity will be created in a Cleveland neighborhood that has been overlooked for too long.
"Building thriving, healthy neighborhoods is a critical component of our Climate Action Plan in Cleveland, and the incorporation of so many sustainable elements into the Ubuntu Gathering Place helps us get there more quickly" said Jason Wood, Chief of the Mayor's Office of Sustainability. "The Ubuntu Gathering Place is a positive change for this community and beyond, and we are excited to partner with so many organizations who are committed to advancing these important objectives."
The team's vision for the space is to create a place for community events, green infrastructure education and job training, and improved climate resiliency. Through design, the power of strong community engagement intertwined with a functioning ecological system honors the philosophy of Ubuntu – becoming greater as one.
"We believe that people and their community are connected to the land and their environment wherever they live," said Isaac Robb, vice president of planning and urban projects. "The Ubuntu Gathering Place will be an anchor for the neighborhood. We hope the transformation of this property from abandoned lot to healthy greenspace will inspire others to commit to positive change in their communities."