Great Dixter is an historic house, a garden, a center of education, and a place of pilgrimage for horticulturists from across the world. Great Dixter was the family home of gardener and gardening writer Christopher Lloyd – it was the focus of his energy and enthusiasm and fueled over 40 years of books and articles. It is now under the stewardship of Fergus Garrett and the Great Dixter Charitable Trust.
The garden at Great Dixter is known for the way in which it merges the natural and the cultivated world. Its long grass, scattered ponds, old walls and changing flower borders provide a rich environment for all manner of fauna and flora.
In 1993, at the age of 27, Fergus Garrett joined the Great Dixter team and worked very closely with Christo, as he was known, until his death in 2006. Garrett helped to bring back the energy to the planning and planting design, as well as, techniques for accomplishing the work.
From 2017-2019, Great Dixter undertook an extensive biodiversity audit of the buildings and grounds realizing their great potential to be a model for the integration of biodiversity conservation within the heart of horticulture, gardening and grounds maintenance. The results compiled by a professional team of archeologists, ecologists, entomologists, naturalists and many more specialists have yielded an astonishing amount of information highlighting the richness of the pollinator community. Fergus says, "The process has connected us deeper with the abundance of life that surrounds us and encourages us to act more sensitively as we go into the future."
Event details:
Tuesday, November 21, 2023
10:00 – 11:00 AM Eastern Time
FREE
Virtual program – zoom link will be sent upon registration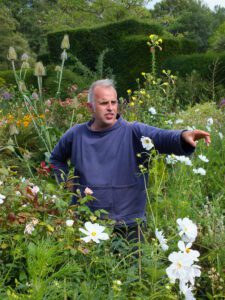 About the Presenter
Fergus Garrett, CEO and Head Gardener
Great Dixter House & Gardens
Fergus Garrett was born in Brighton to an English father and Turkish mother, he spent his formative years in Istanbul Turkey. On returning to the UK, he went to school in Brighton and then studied horticulture at Wye College, University of London. He joined Christopher Lloyd as his Head Gardener in 1993.
Mr. Garrett is a Victoria Medal of Honor awardee and is regarded as one of the most influential garden designers and horticultural educators in Great Britain today.
Register here: