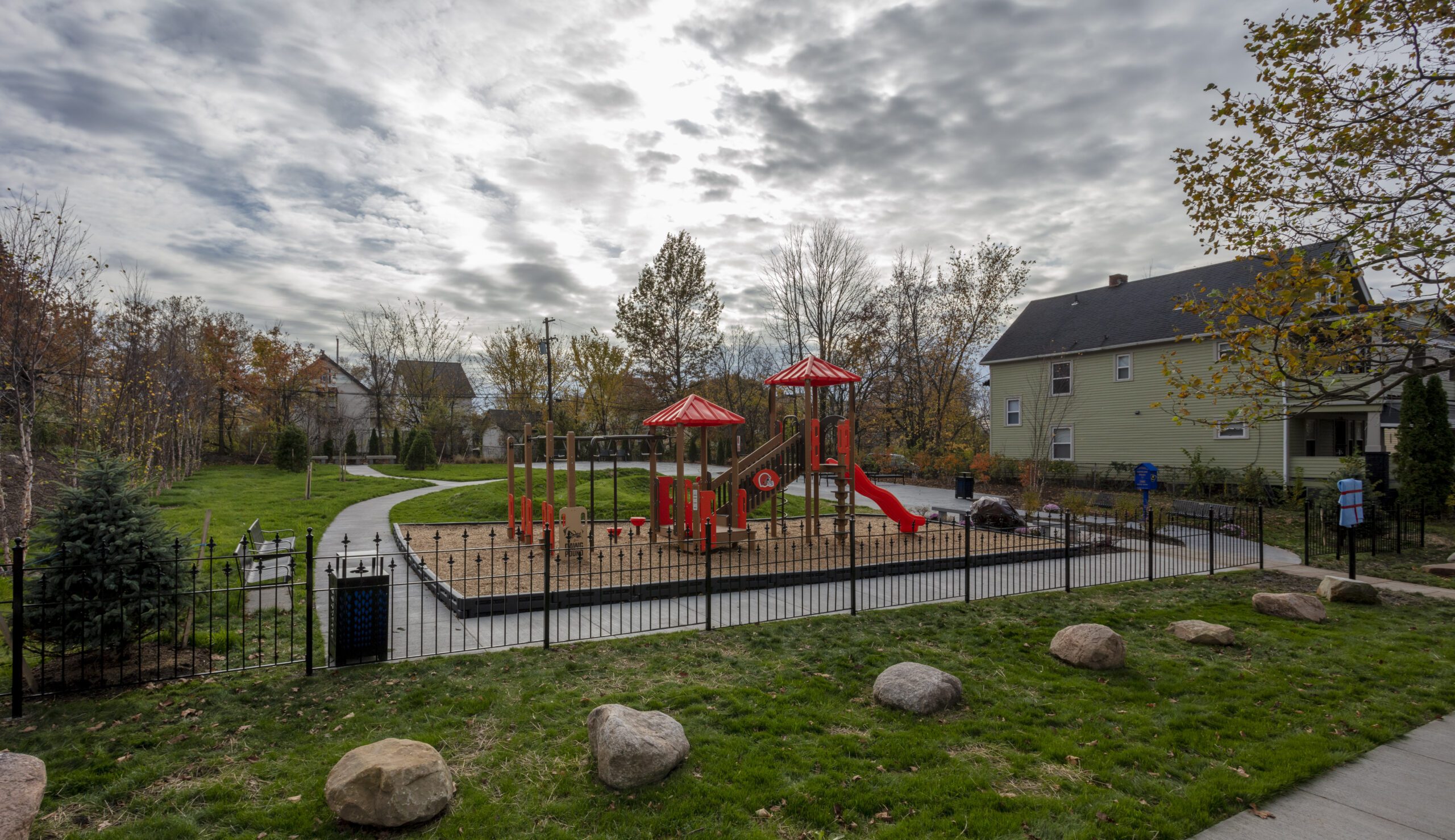 Derek Owens' Memorial Park to open Spring 2020
October 31, 2019
A crowd of approximately 150 people gathered on Saturday, November 9 for a dedication of a new a public park on Cleveland's east side, Officer Derek Owens' Memorial Park. Family members of Officer Owens and representatives of the Cleveland Police Foundation, Western Reserve Land Conservancy, Saint Luke's Foundation, Cleveland Foundation, LAND studio and other project partners were present to celebrate the 18,000+ sq.ft. park that will offer a place for the community to gather, relax and reflect.
Officer Owens was shot and killed in March 2008 while responding to a dispatch to investigate some men gathered in the vacant garage of an abandoned house at 10410 Parkview Avenue. Officer Owens loved serving his community and leaves behind his wife, Ericka, his two children Sydni and Chandler, his parents, Wayne and Barbara, and his sister Dawn.
"It's a memorial to Derek, something that will stand here over a long period of time," said Wayne Owens, Derek's father. "When I think about Derek I think about him in a sense that he was a son, he was a father, he was a husband, also he was a brother to his little sister. He was a son-in-law, he was a friend, he was a partner, and most of all, he was a child of God."
The Cleveland Police Foundation played a pivotal role in creating the park and will maintain it in the future. Dozens of local businesses donated materials, labor and other resources to make the project a reality.
"Although this park isn't big, it is mighty and has a ton of personality," said Capt. Keith Sulzer, Cleveland Division of Police. "This project has been four years in the making and the Cleveland Police Foundation, local business owners and the entire community are proud of what we've accomplished together to remember Officer Owens and his family."
Many community members, partners and organizations came together to make the Officer Derek Owens' Memorial Park possible. Features of the new park include reflective walking paths made from the sandstone foundations of demolished neighborhood structures, new plantings and trees- including favorites of Officer Owens- and a play set, courtesy of the Cleveland Browns. The collaborative project will serve as a beautiful public gathering space.
"Officer Owens was a part of this community, and although he gave his life in the line of duty, his memory and sacrifice will never be forgotten," said Rich Cochran, president and CEO of Western Reserve Land Conservancy. "Throughout Cleveland, more than 30,000 abandoned properties sit on neighborhood streets just like this one. Today, we see what can happen when we all work together."
The Land Conservancy was one of the primary project partners that helped consolidate the three parcels of land that now form Derek Owens' Memorial Park. Additional primary project partners include the family of Cleveland Police Officer Derek Owens, Cleveland Police Foundation, Saint Luke's Foundation, Cleveland Foundation, LAND studio, and the Cleveland Browns.
Contributing project partners include neighborhood leader Kim Fields, Turner Construction, Cleveland Police 4th District, Cleveland Police Community Relations Unit, Cement Masons Local 404, Down to Earth Landscaping, International Union of Painters and Allied Trades, The Brotherhood of Carpenters, Ironworkers Union, Ozanne Construction and many other community partners who contributed time and resources to the project.
The $180,000 project is anticipated to be complete, with the park to open to the public, in Spring 2020. The Cleveland Police Foundation is the owner in perpetuity and will provide the maintenance and upkeep of the park.