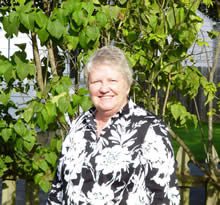 Western Reserve Land Conservancy Mourns the Passing of Robin Darden Thomas, Ohio's most significant land bank leader
June 12, 2020
Western Reserve Land Conservancy is saddened by the sudden passing of Robin Darden Thomas, Land Bank Program Director, on June 4. She was 66 years old.
Robin was a pillar of the Cleveland community, serving Cuyahoga County for over 28 years in various capacities including Director of Operations (Auditor's Office), Chief Deputy Treasurer, and Interim County Treasurer. She joined Western Reserve Land Conservancy's Thriving Communities team in 2011 where she helped establish 58 county land banks in the State of Ohio. These land banks helped counties strategically acquire blighted properties and return them to productive use through demolition, rehabilitation, and creative community utilization. Through her leadership more than $450 million has been invested by county land banks to revitalize towns and cities all across Ohio.
"Our entire organization is in mourning," said Rich Cochran, president and CEO of Western Reserve Land Conservancy. "Robin was a tremendous colleague. She was always willing to dive right into a project and lead the team from start to finish. Robin leaves behind an extraordinary legacy of service and accomplishment."
In 1997, Robin was hired to be Deputy Treasurer of Cuyahoga County and chief of staff to County Treasurer Jim Rokakis. According to Jim, who now heads the Thriving Communities Initiative at Western Reserve Land Conservancy, Robin was crucial in the passage of Ohio Senate Bill 353, which authorized counties to establish land banks and spurred the efforts to rebuild cities carrying the burden of vacant properties. Cuyahoga County established the first land bank in Ohio, and Robin was a key player in its development.
"Robin was the go-to person for counties large and small around land bank issues," Rokakis said. "Her work early on in Cuyahoga County laid the groundwork for the other 58 County land banks that have been established in the state of Ohio. When the Land Conservancy raised state and federal money for demolition, Robin was on the ground implementing all the practices that help those communities spend that money wisely and legally."
Robin organized nine statewide land bank conferences in Ohio where hundreds of attendees would spend a few days together learning and networking on the best ways to make their counties better. She was actively involved in organizing the 10th conference that was scheduled to be held in Cleveland when the global pandemic hit. She pivoted fluidly, moving the conference from an in-person event to a virtual one that will occur this September. Event organizers are planning to dedicate this year's Land Bank Conference to Robin and her legacy.
"Not only did Robin work in counties across Ohio, she traveled to many other states to share her knowledge and experience establishing land banks," Cochran said. "She was loved and respected by all and her unexpected passing has left a huge void we are all struggling to fill. She was without peer in this field."
Robin was in the very first graduating class of The Glen Oak School in Gates Mills, Ohio (1972). She then went on to University of Virginia where she graduated with a Masters of Education in Special Education and Teaching and, subsequently, obtained a Master's in Business Administration and Management from Cleveland State University. Robin was an exemplary public servant, serving Cuyahoga County for over 28 years in various capacities including Director of Operations (Auditor's Office), Chief Deputy Treasurer, and Interim County Treasurer.
Robin is survived by four siblings, four children, and two grandchildren.