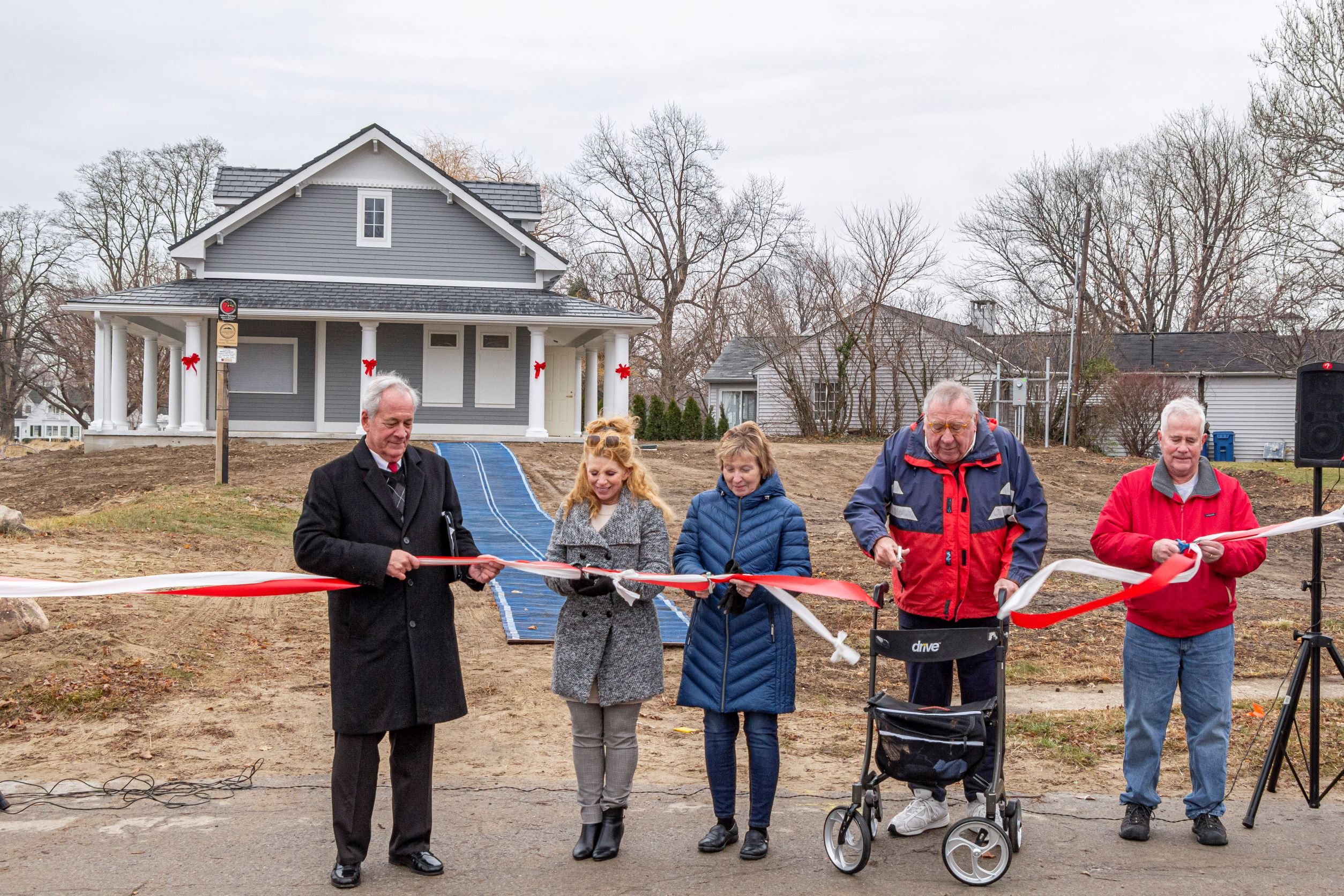 Vermilion Opens New Comfort Station at Main Street Beach
December 8, 2022
(VERMILION, OH) December 8, 2022 – The City of Vermilion and Western Reserve Land Conservancy celebrated the grand opening of a new comfort station at Vermilion's Main Street Beach, part of a comprehensive plan to upgrade and revitalize the area's main attraction and provide greater access for our region's greatest asset: Lake Erie.
Local residents have asked for a new comfort station at the beach to replace the shack and the portable restrooms previously on site. The attractive new comfort station building has upgraded men's and women's restroom facilities, changing rooms and changing tables, outdoor showers, and a new home for Main Street Vermilion's Shore Thing. Sanitary system connections will be completed in time for next year's beach season, completing Phase II of the Main Street Beach Revitalization project.
"First class formal restrooms have been at the top of resident survey we've ever done regarding development of the Main Street Beach & Park," said Vermilion Mayor Jim Forthofer. "Our Parks Board and Committees gave us a very attractive building that reflects surrounding Harbourtown Neighborhood historic architecture. Our beachfront is at the heart of Vermilion's beginnings as a fishing and boat building community 200 years ago. It is a special place for our residents and the many visitors we have from around the country.
"We're ready to head into the next phase of this project: improved walkways and parking, and park amenities. At all costs, future development of this precious piece of Vermilion history must preserve the natural beauty of this waterfront setting," the mayor added.
Public access to Lake Erie is in short supply. According to the Ohio Department of Natural Resources, only about 20 percent of Lake Erie shoreline is publicly accessible. Vermilion's coastal access is a treasure for the entire community.
"By building on our community asset of the Main Street Beach, I foresee that it will increase our economic environment and attract new businesses and increase tourism," said Sandra Coe, executive director of Vermilion's Chamber of Commerce. "It will also bring people together to create a sense of community."
Since 2006, Western Reserve Land Conservancy, the City of Vermilion, the Vermilion Parks and Recreation Department, and dozens of public and private supporters have been working on transforming Main Street Beach. Phase I involved acquisition and demolition of the Wakefield Mansion and Inland Seas Museum and two private homes along the shore and adding protections to ensure it will remain a natural public park for future generations. Phase II involved the construction of the comfort station, and Phase III will focus on creating a passive park and improving beach access.
"Revitalizing Vermilion's Main Street Beach is a priority for the Land Conservancy because we know how valuable this area is to residents and visitors of Vermilion," said Jared Saylor, director of communications and public relations for Western Reserve Land Conservancy. "Our shared vision of a safe, publicly-accessible beachfront is now becoming a reality. The Mayor and his staff, the Parks Department, the neighbors, and the entire community of supporters and donors are vital partners in the success of this project and we are proud to be working with them all."
Both public and private donors have provided funding for the beach revitalization. The Ohio Department of Natural Resources, Erie MetroParks, the City of Vermilion, the State of Ohio and the Vermilion Parks Board Capital Fund provided public funding while the Randolph J. and Estelle M. Dorn Foundation, the Erie County Community Foundation, the Mylander Foundation and dozens of individual donors provided private funds.
"Vermilion's Main Street Beach is a beautiful public park that so many residents and visitors will enjoy now and for future generations," said Marc Weisenberger, Vermilion Park Supervisor. "The things that can be accomplished when folks get together with a shared goal and a determined spirit is truly amazing."
To learn more about the park amenities and improvements, please visit www.wrlandconservancy.org/Vermilion.
###