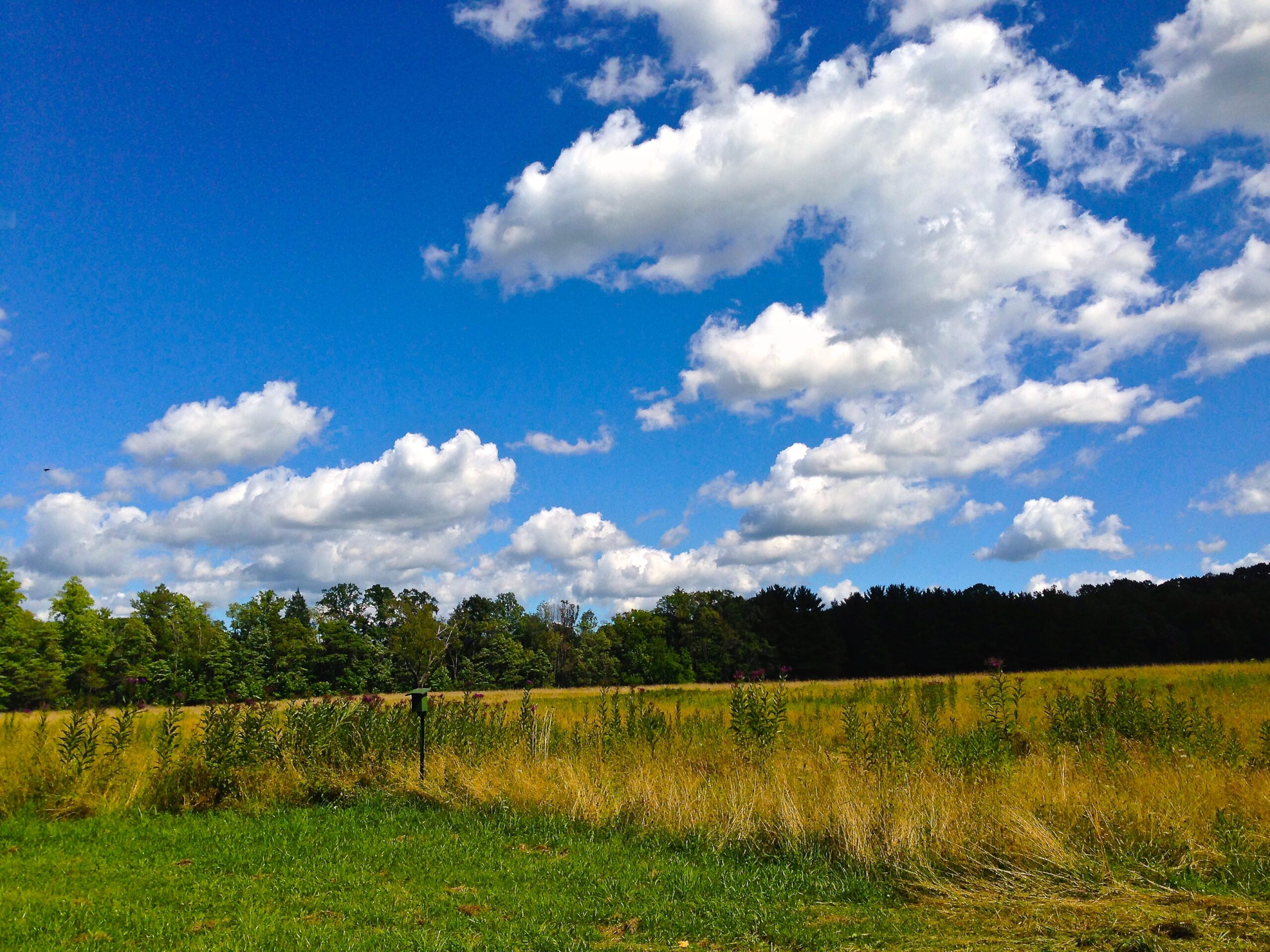 Stewardship Messenger – April 2023
April 25, 2023
Conservation Spotlight
Conservation Easement Landowners Dee and Bill Belew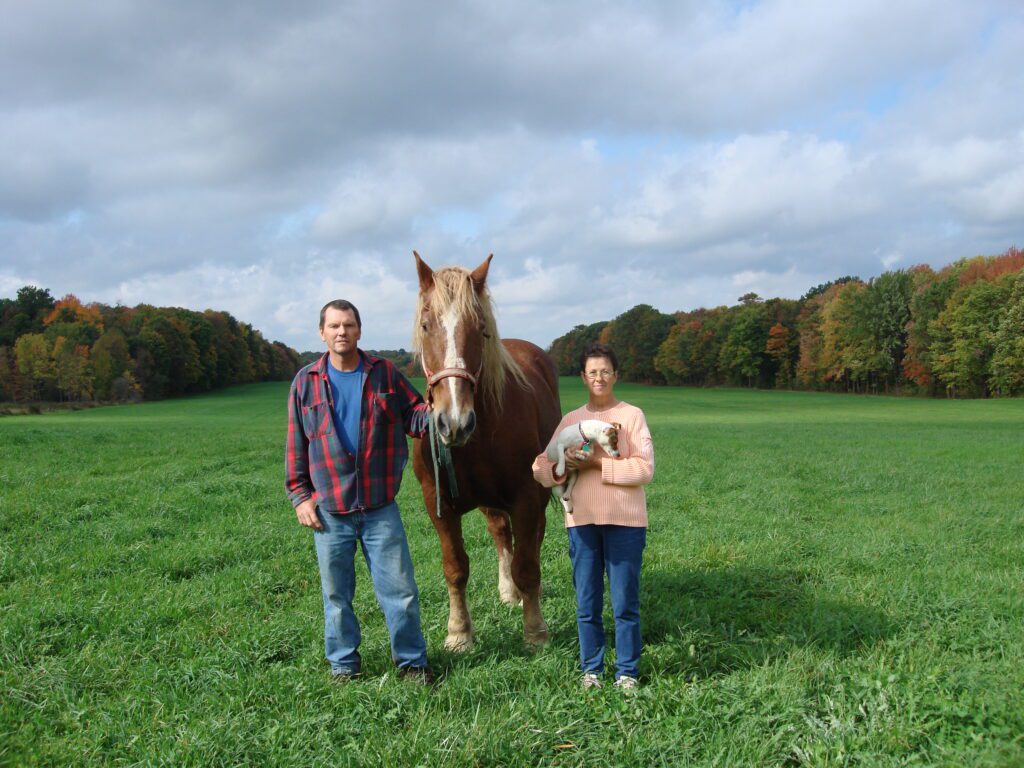 In 2007, Dee and Bill Belew donated a conservation easement on their 68 acre Messenger Century Farm in Auburn Township, Geauga County to Western Reserve Land Conservancy. The Belews' deep love for the land and the Messenger family motivated them to protect their property in perpetuity. Dee and Bill grew up in Bedford and Solon, respectively, but they raised their family on Messenger Road in Auburn Township on 12 acres of land. They still remember Helen and Lewis Messenger, who owned the historic farm down the road, pulling into their driveway to welcome them to the community. They hit it off immediately and developed a very special relationship over many years. After helping the Messengers on the farm, in 1992 they purchased the property and continued to cherish their time with Lewis, learning from him while he continued to live there until his passing in 1997.
Together, Dee and Bill have taken on many farm endeavors over the years. They ran a horse boarding operation for many years and made hay in the fields. The Messenger family made maple syrup on the farm as far back as the 1850s and the Belews have continued the tradition since 1993, at that time using buckets and draft horses. Now, they collect sap with a tubing system and use all of the modern sugaring equipment in a smaller efficient sugarhouse next to their century home. Dee and Bill also started a pick-your-own blueberry operation, planting and tending to thousands of blueberry bushes.
The Belews feel so fortunate and grateful that their children's families live close to the farm and are very involved in many aspects of what they do. They have tried to set up their farming endeavors so that they are profitable and the farm operations can be passed on to the next generation.
Messenger Century Farm is a Geauga County gem with a century home, historic barn, spring-fed pond, rolling horse pastures, rows of blueberries, a hay field framed by mature trees, and a majestic forest with large oaks, maples, tulip, hickory, and other hardwoods. Dee and Bill work tirelessly to share the farm and their love of land conservation with family, friends, and the public. They are heavily involved in the Maple Producers of Northeast Ohio organization and the annual Maple Tours throughout the region. They participate in the Harvest Host program where RV travelers can sign up to park at the farm, stay the night, tour the farm, and purchase farm goods directly from the farmer. Of late, they are getting more involved in community initiatives to showcase local history, especially the history of the farm, and local art as well.
Dee and Bill have been invaluable to spreading the word about the Land Conservancy's work as well. They have hosted sugaring tours and blueberry picking events for us, and they let people know about our work every chance they get. For years, Dee has also volunteered her time at the Land Conservancy's Conservation Center in Moreland Hills, helping with administrative tasks, gardening, and decorating for the holidays. We can't thank them enough for what they do for the Land Conservancy.
Dee and Bill have been married for 56 years. Their daughter Kellie and her husband Jeremy live down the road from the farm, and their son Bill and his wife Amy live on a property connected to the farm. They have six wonderful grandchildren.
---
Know Your Conservation Easement
What are General and Major Reserved Rights?
Conservation easements (CEs) are excellent tools for land protection. They make a case that your land is worth conserving, run with your property in perpetuity, and are defensible in court if needed. They are also legal documents containing important language to get the job done. When reviewing a CE, we typically refer to your reserved rights as the "meat and potatoes" of the document. They list key rights to your land that you have retained in the CE agreement. Though every CE is unique, reserved rights are typically broken down into General Reserved Rights and Major Reserved Rights.
General Reserved Rights are typically not property specific. The same list is contained in most CEs and often includes:
Ordinary Rights and Privileges of Ownership – Although you have granted a CE, you still own and manage your land, including selling or leasing the property in accordance with your CE.
Use of Fertilizers and Herbicides – You can typically use fertilizers and herbicides, but any use must meet government regulations and may not have an adverse impact on the conservation values of the land.
Tree Planting – Any native or non-invasive plant can be planted on your property.
Tree Removal – Dead, extremely diseased, significantly damaged, and imminently dangerous trees can typically be removed.
Major Reserved Rights are specific to each property. Most CEs require you to notify and/or receive approval to exercise a Major Reserved Right because the activities permitted under this section of your CE typically involve major changes to the property. By working with us prior to making changes, we can ensure that your plans meet the terms of your CE. The terms of this section are negotiated with the landowner and may include any combination of the following examples:
Agricultural Uses – Grantors of agricultural easements or those with a defined Agricultural Area on their property can utilize the property for agriculture. Typical agricultural uses such as row crops, livestock, and orchards are included.
Maple Sugaring – Some landowners reserve the right to create trails, install limited infrastructure, and tap trees to collect sap for making maple syrup.
Reservation of Forestry Management – Landowners with forestry language can manage their woods and sustainably harvest forest products in accordance with their forest management plans.
Existing Structures and Improvements – Most CEs allow landowners to maintain, repair, replace, and expand existing infrastructure within the Existing Building Area. Many CEs also allow for new structures associated with residential or agricultural uses.
Reserved Building Area – Some landowners, especially those without a house already onsite, will choose to reserve a building area for a future home and associated buildings.
Limited Management Area or Habitat Restoration Area – Some landowners decide to set aside an area for management or restoration including stream and wetland restoration, seasonal mowing to promote ground nesting bird habitat, or prescribed burning to encourage native plant species.
Oil and Natural Gas Well Activities – Some landowners decide to allow limited oil and natural gas infrastructure with a small, localized impact on their property away from sensitive habitat areas.
Wind Turbine or other Renewable Energy Infrastructure – Some landowners decide to allow limited renewable energy infrastructure with a small, localized impact on their property away from sensitive habitat areas.
Overall, every CE is different and you should refer to your CE to determine the General and Major Reserved Rights specific to your property
---
Nature Notes
Vernal Pools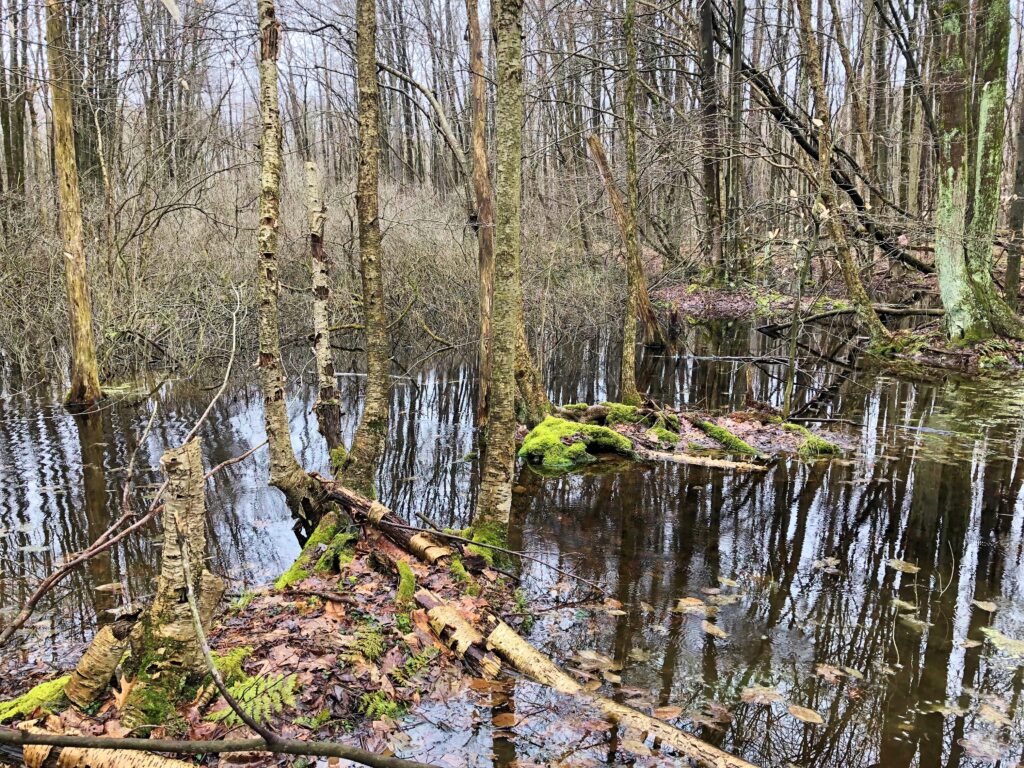 As winter slowly releases its icy grip, there is one place where nature is preparing for those long, hot summer days—in the cold, shallow vernal pools left scattered throughout the woods by melting snow and early spring rains. Vernal pools – also called ephemeral pools – are seasonal pools where water collects in a depression just long enough to provide an essential breeding and hatchery habitat for certain amphibians. Since vernal pools are temporary, drying up in the heat of the summer, they are free of fish that would otherwise prey on amphibians and their eggs, making them the perfect place for amphibians to go through their early life cycle from eggs, to larvae, to adults.
Some of the first to make their way into the pools, sometimes with ice still frosting the surface, are the large mole salamanders, including spotted, small-mouthed, and Jefferson, which are just waking up from their winter hibernation. They typically make the move at night from their underground burrows to the ponds during the first substantial spring rain with the temperature hovering above 40 degrees. After breeding, the female lays her eggs in large gelatinous clumps underwater, often anchoring them to a submerged branch or tree trunk, or hiding them among the leaf litter. The salamanders do not stay to care for their young and quickly return to the forest, leaving the hatching larvae to fend for themselves until they are old enough to leave the drying pool in about two to four months.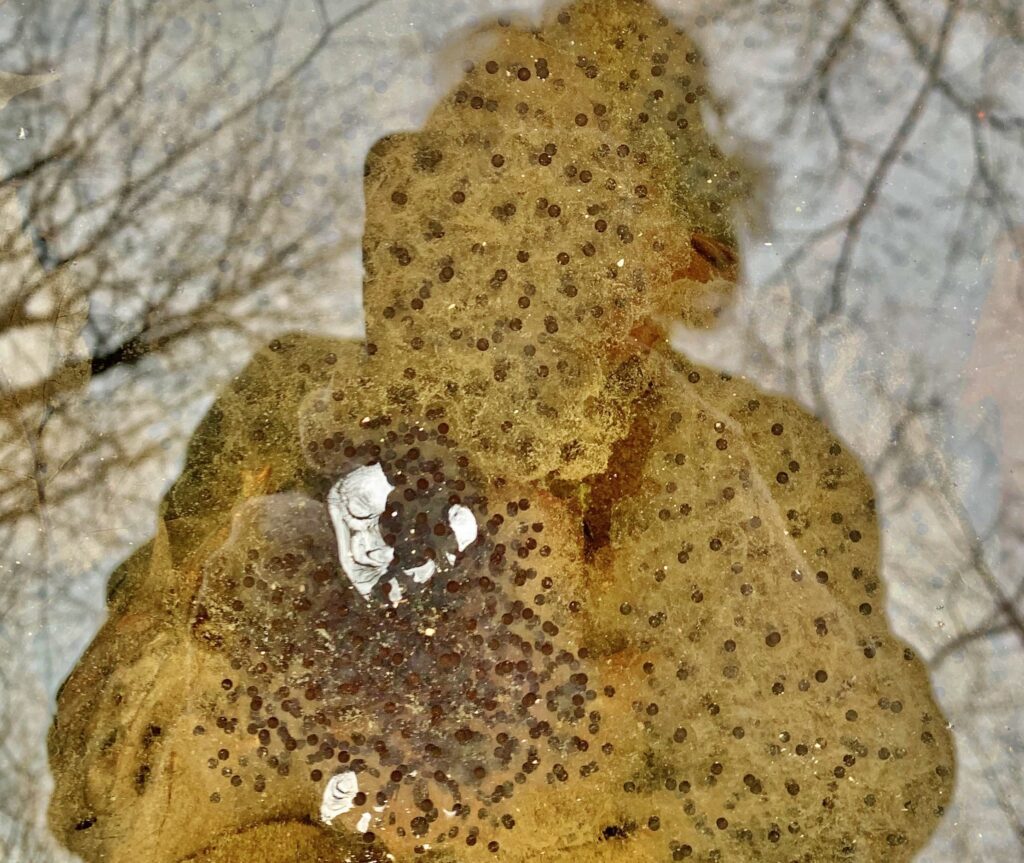 Frogs also make an early appearance, with spring peepers trilling in the vegetation around the ponds and wood frogs clacking and quacking in the water at the pond's edge. The warmer the night, the more vocal the frogs and the closer to the pond's edge they travel. Colder nights will find them huddled quietly in the center of the ponds. Like salamanders, frogs are there to mate and lay their eggs. Some of their egg masses look very similar to the salamander's eggs, but there is any easy way to tell them apart: Frog eggs extend to the outer edge of the egg mass, so you can easily see the contour of each individual egg. Salamander eggs, on the other hand, are embedded within a thick gel, suspending the eggs in the middle of a gelatinous mass, making it harder to see the edges of each individual eggs.
So the next time you are enjoying a spring hike through the woods, take a moment to pause at the edge of a vernal pool, crouch down quietly, and see what creatures you can find waking up from their long winter slumber to begin another cycle of life and the changing of the season.
---
Public Park Spotlight
Lake Erie Bluffs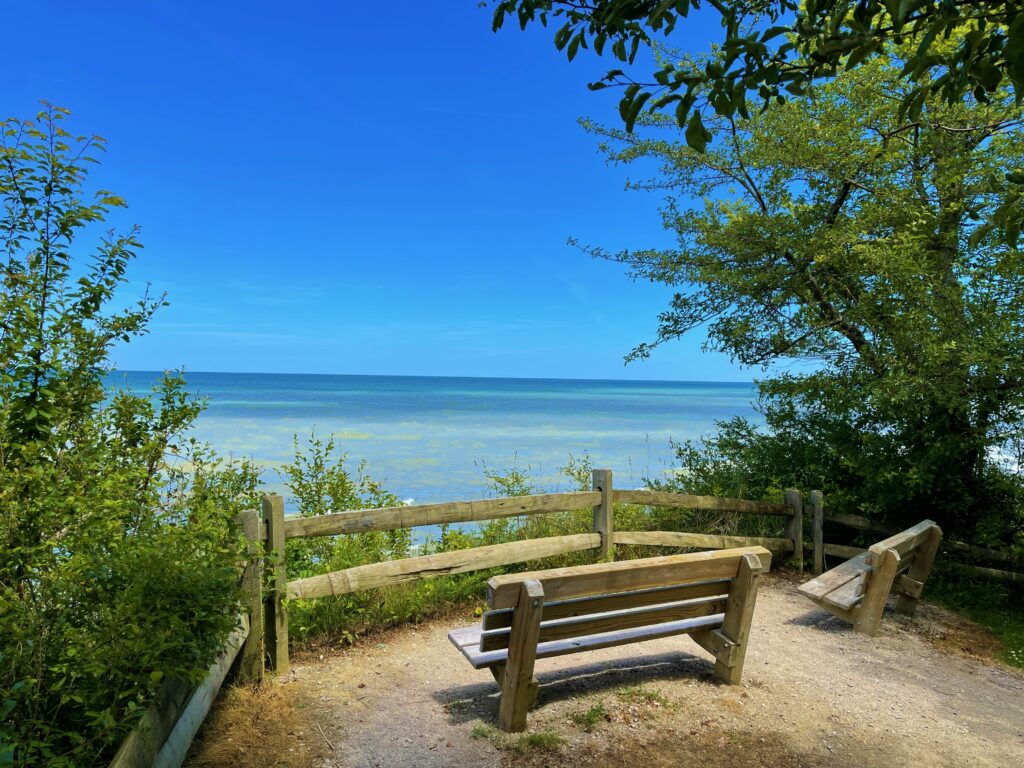 Lake Metroparks has worked closely with Western Reserve Land Conservancy over the years to protect important habitats and greenspaces throughout Lake County, including Pleasant Valley Park, a portion of Riverview Park, a portion of Indian Point Park, and a portion of Hell Hollow Wilderness Area, but the crown jewel of our collaboration has to be a large portion of 650-acre Lake Erie Bluffs in Perry Township. Situated on a sandy beach bluff that extends up to 40 feet high, the park overlooks over 1 mile of a sand and cobble shoreline, with sections of beach that can be walked and explored. The bluff provides a beautiful panoramic view of Lake Erie that can be particularly breathtaking at sunset.
The park incudes two parking areas, one off the end of Lane Road and one on Clark Road. The park includes over 3 miles of easy gravel walking trails, many of them loops, that extend through typical shoreline forest, along the beach, and through restored scrub-shrub and meadows that provide the perfect habitat for all kinds of amazing birds including rare White-eyed Vireo, Least Flycatcher, Bohemian Waxwing, Willow Flycatcher, and Yellow-breasted Chat. Keep your eyes to the skies for Bald Eagle and Merlin as well. Be sure to visit the park during the spring or fall bird migrations to see even more incredible species as they take a much needed break either before making the big crossing over the lake to Canada in the spring, or arriving from Canada in the fall on their way south!
The parking lot off Lane Road provides access to an enclosed reservable three-season shelter suitable for large family gatherings in all weather conditions and two reservable rustic campsites that sit at the edge of the bluff. The parking lot off Clark Road provides access to an incredible 50-foot metal observation tower that gets park patrons above the tree canopy, providing them with a 360° view that includes the lake, the shoreline, and the surrounding woods, fields, and wetlands.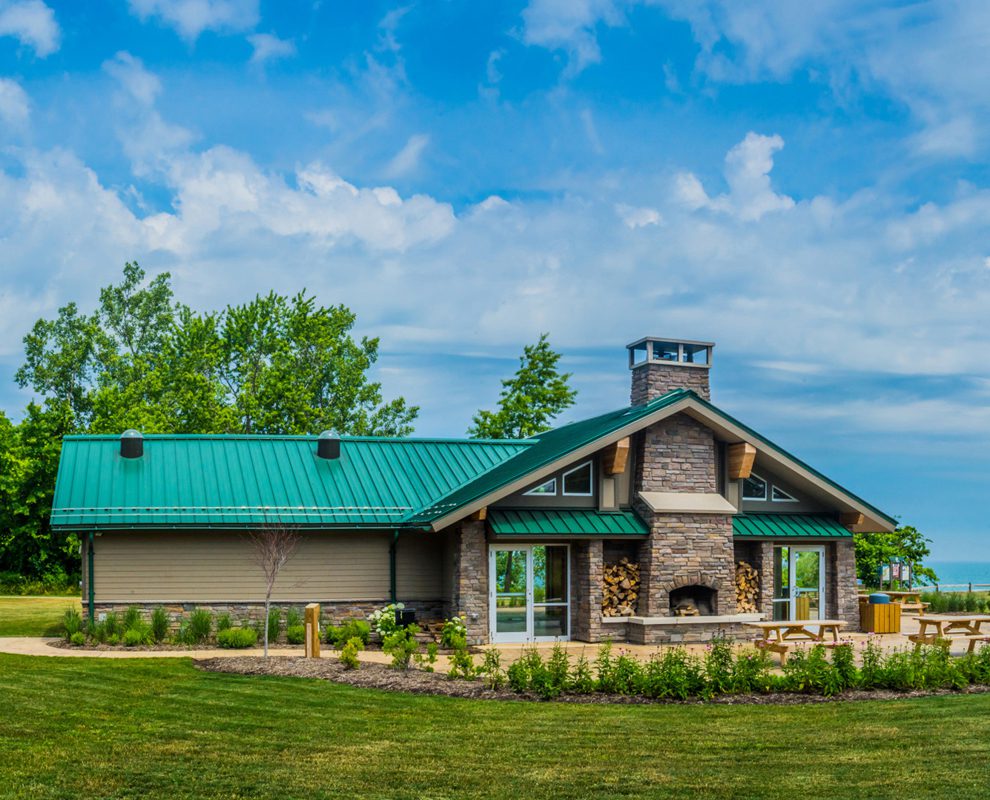 The park is open from 6 a.m. to 11 p.m. and is a perfect place to hike, bike, canoe/kayak, camp, fish, picnic, bird watch, boat watch, cloud watch, and sit in quiet contemplation. Both parking areas have restrooms and access to the trail system and the beach. Parking is located at 3301 Lane Road and at 2901 Clark Road, Perry, Ohio 44081.
---
Special Article
Sugar Island Preserve Restoration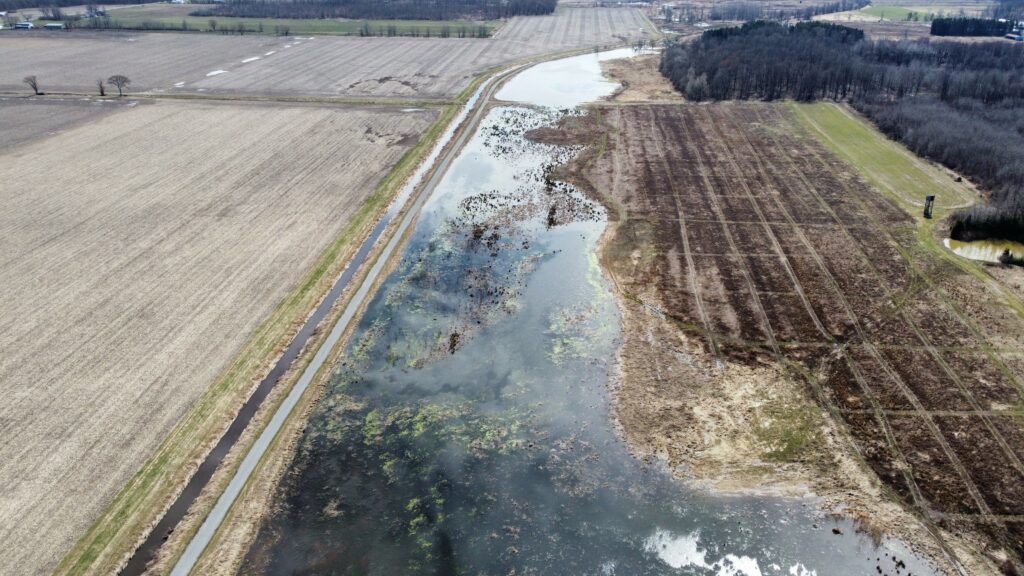 Sugar Island Preserve, located in Orwell and Bloomfield Townships is comprised of approximately 1,200 acres of streams, upland forest, forested wetlands, scrub-shrub wetlands, emergent marshes, and old field habitat. Between 2012 and 2016, the Land Conservancy purchased the six properties which today form the Sugar Island Preserve, the second largest Signature Preserve owned and managed by the Land Conservancy.
The area included in Sugar Island Preserve was once known as the "Tamarack Swamp" and later known as "Bloomfield Swamp." It's not known exactly what type of wetland occurred here prior to the 1913 draining of the wetland by a 7-mile ditch known as Snyder Ditch, but it is assumed that a bog or fen was the dominant wetland type. The Bloomfield Swamp was drained in order to provide ground for farming operations. The soil left behind after draining the wetland is peat soil formed by the decomposition of organic matter mostly derived from plant material. This soil is very conducive for growing vegetables and between 1913-1975, that is exactly how the land was used.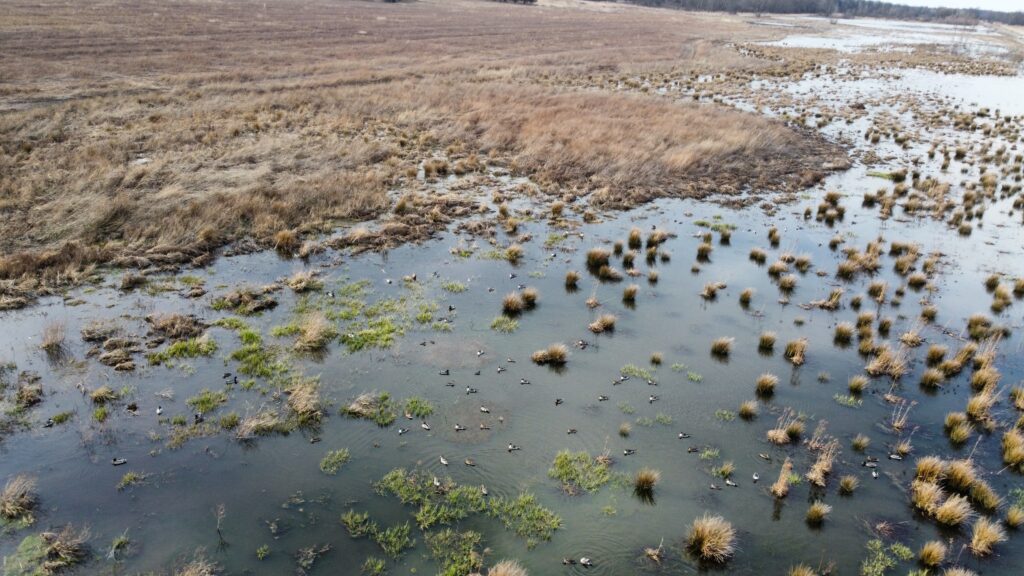 Reutenik Gardens was the main truck farm operation, and they grew dry and green onions, head and leaf lettuce, carrots, celery, cabbage, spinach, parsnips, cauliflower, and turnips. Between 1975 and 2008, the area saw various operations which included a Christmas tree farm, peat mining, a fish farm, and more recently, the Grand Valley Hunting Ranch which operated as a private hunt club, but also was open to the public for various shooting sports.
Between 2016 and 2019, various funding sources including Ducks Unlimited, U.S. Fish and Wildlife Service, Ohio Public Works Commission, and the Ohio E.P.A. contributed funds to help restore the heavily impacted property. In 2021, restoration on Sugar Island Preserve began. The goal of the restoration was to restore some of the current wetlands but also create new wetlands. The hydrology had been altered to a point where it was impossible to restore the landscape to a bog or fen since that would require damming Snyder Ditch, resulting in flooding neighboring properties. In order to restore existing wetlands and create new wetlands, invasive species were sprayed and the thatch and accumulated biomass was managed via controlled burns. The next step was to grade the wetland areas into a flatter landscape. This involved removing soil piles, flattening berms, and filling deep water ponds. Also, all of the drain tiles found throughout these areas needed to be crushed to keep the water on the landscape instead of reaching Snyder Ditch. At the same time as the grading, construction crews created an approximate 3.5-mile gravel road the length of the restoration area to provide access to the various parts of the property. The next step was to stop all tributaries from draining directly into Snyder Ditch and allow the tributaries to flow north along the landscape which allows for sediments and nutrients to settle out within the wetlands instead of flowing directly to Snyder Ditch. The final step of the restoration was the installation of two large water control structures. These structures were placed on the outflows of each of the two separate wetland complexes. The structures allow for manipulation of water levels to help create different habitat types.
As of today, there are approximately 400 acres of newly created or restored wetlands on the property. Sugar Island Preserve continues to host a variety of impaired species of shorebirds, waterfowl, and multiple flora types. In the month of March, the Land Conservancy purchased an additional 30 acres of forested wetlands adjacent to Sugar Island Preserve in Orwell Townships.
---