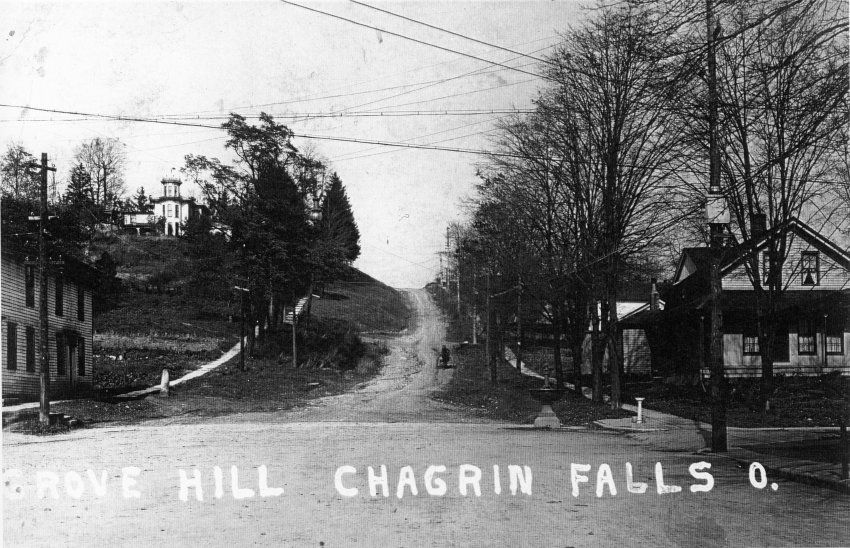 Saving Chagrin Falls' Grove Hill
December 2, 2021
Chagrin Falls is a special place. Like many small towns, traditions endure and neighbors celebrate the history that unites them. The passion and generosity of the Chagrin Falls community – led by local residents Jaclyn and Brian Drum, Bill Weber, Debbie and Billy Weber, Katie and George White, Susan and Todd White, Darby and Bryan Schwartz, Beth and Jim Lorentz, and Chantel and Matt Michalek – shined brightly as nearly 1,000 residents came together to partner with Western Reserve Land Conservancy to Save Grove Hill. Thanks to a shared vision and vast professional expertise, the rich character of Chagrin will persevere through preservation of the historic Bancroft House and the creation of a new public park at Grove Hill.
Since the successful conclusion of the campaign in May 2020, Western Reserve Land Conservancy established permanent protections for the one-acre property, guaranteeing that Grove Hill will remain undeveloped now and for future generations. The Land Conservancy sold the Bancroft House to a buyer committed to restoring the property and preserving its historical significance and transferred ownership of the Grove Hill property to the Village of Chagrin Falls. Plans are already underway to create a park on the lower half for residents and visitors to enjoy Chagrin's cherished neighborhood atmosphere.
The new Grove Hill Park Commission has included a vote to place Grove Hill Park into the Conservation District. The group enlisted the help of the Village arborist, who immediately assessed the property in an effort to protect the remaining healthy trees and minimize removal of unhealthy or damaged trees. The group also discussed park accessibility, bench locations, the process for public input on the park creation process, and the elimination of invasive species on the site. The Grove Hill Park Commission will begin conducting public meetings in Spring of 2022.
The Save Grove Hill project took commitment and perseverance from start to finish. We are proud to have come together with you to achieve this important goal. Thank you for your support.