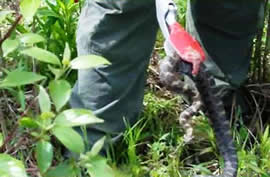 Our search for endangered rattlesnakes
May 26, 2011
Rattlesnakes live in northern Ohio – a fact  that surprises even some longtime residents.
The endangered Eastern Massasauga Rattlesnake, a venomous snake whose bite is rarely fatal to humans, can be found in the Grand River Lowlands.  Herpetologist Greg Lipps, who has done extensive research on the Massasauga and has worked closely with Western Reserve Land Conservancy, recently led a group in search of these snakes.  Also participating in the search were Brett Rodstrom of the Land Conservancy and Paul Pira of Geauga Park District.
These rattlesnakes are 18-30 inches long and typically feed on small animals like moles and voles.  Lipps' group spotted two Massasaugas; both were captured, measured, tagged, photographed and returned to the exact spot where they were found.
To view footage of the search, check out the video link below.