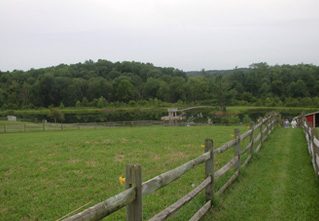 More than 170 attend Land Conservancy get-together
August 9, 2009
Western Reserve Land Conservancy's "Evening at the Historic Firestone Farm" on Friday, Aug. 7 drew a crowd of more than 170 people to the Bath Township property.
The event, which introduced the regional land-protection work of the Land Conservancy, took place at Oak Hill Farm, which was formerly part of the Firestone estate. Raymond Firestone, son of Firestone Tire and Rubber Co. founder Harvey S. Firestone, began building the 1,500-acre estate in the 1940s. Today, more than 400 acres of the original estate has been permanently protected as the Bath Nature Preserve.
The Land Conservancy's Medina Summit Chapter sponsored the get-together.
The Land Conservancy, which works to preserve the scenic beauty, rural character and natural resources of northern Ohio, has preserved more than 240 properties and more than 15,000 acres. The Land Conservancy works with private landowners, park systems and other government entities to preserve natural areas in a 14-county region.
Land Conservancy projects in this area have helped create parks in Medina, Summit and Portage counties, including a nature preserve on Route 303 in Richfield, a new township park in Hinckley and a parcel in Medina Township that is expected to become a Medina County park. In addition, the organization holds conservation easements on dozens of privately owned parcels. Conservation easements are voluntary restrictions that owners can place on their land to permanently protect the property.
Event hosts were Dedee and Rory O'Neil of Seville, John Farber of Hudson, Elaina E. Goodrich of Bath, Grant G. Goodrich of New York, Teresa and Mark Davey of Bath and Dick and Sue Abbott of Kent.