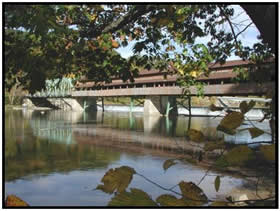 Meetings will focus on Grand River plan
August 30, 2011
Residents of Ashtabula and Geauga counties will have a chance to voice their opinions about the future of the Grand River watershed at a series of public meetings scheduled by the Land Conservancy and the Grand River Partnership, which includes groups working in the watershed.
The sessions will allow the public to discuss the creation of a Watershed Action Plan – a locally based document that represents the needs of the watershed's residents – for the Upper Grand River.
The first meeting will be at 6:30 p.m. Sept. 1 at the Ashtabula County Soil & Water Conservation District, 39 Wall St., Jefferson. Residents within the following communities are encouraged to attend: Austinburg, Cherry Valley, Denmark, Dorset, Jefferson, Harpersfield, Lenox, Morgan, Richmond, Sheffield and Trumbull townships plus the Village of Jefferson in Ashtabula County; and Thompson and Montville townships in Geauga County.