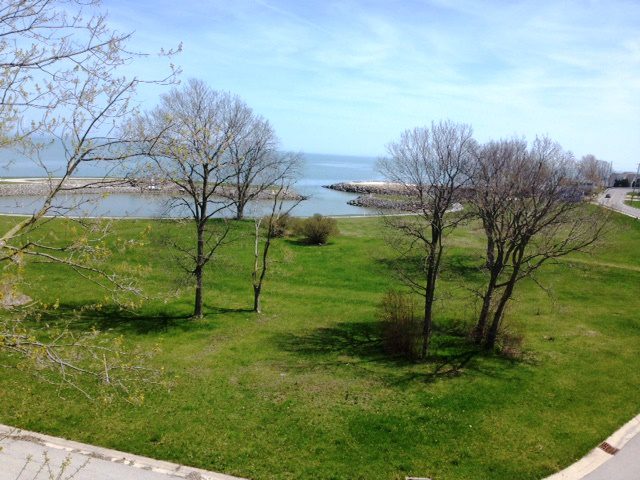 Lucien M. Clemons Park one step closer to opening
October 28, 2016
Western Reserve Land Conservancy has officially acquired and transferred ownership of the former Lifeboat Station subdivision to the Village of Marblehead. The land will be soon be opened by the village as a coastal park, named after prominent local Coastguardsman Lucien M. Clemons. It will offer public access for fishing, bird watching and other passive recreation.
"This is a monumental day for the Village of Marblehead. With the leadership and guidance of Western Reserve Land Conservancy, the acquisition of Lucian M. Clemons Park has made a long awaited dream, a reality," said Village of Marblehead Mayor Jacqueline Bird. "This acquisition gives our administration great pride in knowing a village park with access to the shores of Lake Erie has been secured for our residents, visitors and future generations. The Marblehead community and many visitors to our peninsula have been behind this project from the start and we are ever so thankful for their support and patience. Lucian M. Clemons Park is a gem on the shores of Lake Erie in the Village of Marblehead."
The park property, once owned by the Clemons family, is nestled near Clemons Cemetery, not far from Marblehead Lighthouse State Park and the current Coast Guard Station. The park boasts more than 2 acres of open green space and nearly 3 acres of submerged land creating a serene inlet that will be permanently preserved and utilized as a public park. The park will provide Marblehead residents, vacationers and tourists with non-motorized boat access to Lake Erie, ideal fishing and birding opportunities, as well as a place to relax and enjoy the Lake Erie scenery.
Rich Cochran, president and CEO of the Land Conservancy, explained it is "an extraordinary opportunity" to make the site – already platted for a residential subdivision by the former owner – a public asset instead of another private development. More than 85 percent of the Lake Erie shoreline in Ohio is developed or privately owned.
In addition to providing public access to Lake Erie, the new park will complement regional tourism, which is the source of more than 2,800 jobs in Ottawa County. The inlet at the property provides great views of the lake and a rock break wall at the west end protects this cove.  The village will work to restore pockets of native vegetation to attract local wildlife and migratory bird populations. Future plans call for public parking and restrooms across East Main Street on land already owned by the village.
"I am delighted that Lucien M. Clemons Park will officially open as a restored point of public access to our most valuable natural asset, Lake Erie." U.S. Rep. Marcy Kaptur shared. "Congratulations to the Marblehead Community, Mayor Jacqueline Bird, and the good stewards of Western Reserve Land Conservancy for providing a beautiful coastal connection for visitors and community alike."
Ohio Sen. Randy Gardner added, "I am excited that this project is moving forward, and pleased to have been part of the project support team. I am proud of the leadership of the Marblehead community to make this happen, which will provide special public access to one of Ohio's greatest natural assets, Lake Erie."
Funding for the project was generously provided by donations from individuals in the community; a Clean Ohio Green Space Conservation Program grant administered by the Ohio Public Works Commission; a Coastal and Estuarine Land Conservation Program grant administered by the National Oceanic and Atmospheric Administration and the Ohio Department of Natural Resources Office of Coastal Management; and a Nature Works grant administered by the Ohio Department of Natural Resources Office of Real Estate.
Lucien M. Clemons, and his brothers Ai and Hubbard, were awarded the first-ever Gold Lifesaving Medals issued by the United States government for maritime rescue on the Great Lakes after saving two men from a schooner wreck in 1875. In 1876, Lucien was appointed as the first Keeper of the Marblehead Life Saving Station, one of seven original Life Saving Stations on the Great Lakes; he served in that position for more than 2 decades. Lucien M. Clemons Park Informational signage will bring to life the history and legacy of Lucien M. Clemons and the Clemons family; the park will forever be a testament to Marblehead's rich history of maritime rescue operations.
Rear Adm. J. E. Ryan, commander of the 9th Coast Guard District explained that Lucien M. Clemons played a prominent role in local and Coast Guard history. She said, "We believe naming the public park in Marblehead, Ohio after Clemons will strengthen the awareness and memory of the Coast Guard's long, respected history on the Great Lakes."
"The excitement in our community is palpable," stated John Starcher, president pro tempore of the Marblehead Village Council. "Our residents and the residents of our surrounding communities are very pleased to see the village take ownership of this property. We all look forward to its future as Lucien M. Clemons Park. This will be a lasting legacy for the Village of Marblehead, and words cannot properly convey how grateful we all are that Western Reserve Land Conservancy was able to help turn this dream into a reality."
Details about the official opening of the park will be announced by the Village of Marblehead at a later date.