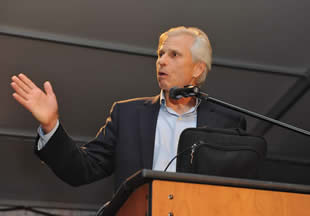 LTA president praises work of Land Conservancy
September 12, 2011
One of the nation's top conservationists described the Land Conservancy as "an extraordinary civic institution" and applauded the preservation work done by the organization in northern Ohio.
Rand Wentworth, president of the Washington, D.C.-based Land Trust Alliance, of which the Land Conservancy is a member, spoke at Friday's EverGreen EverBlue, the Land Conservancy's annual benefit.  This year's event, which was held at the recently preserved Stoneybrook Farm in Hunting Valley, drew a crowd of more than 600 people.
LTA is a national organization representing more than 1,700 land trusts.
"(The Land Conservancy) is at the top of the list," Wentworth said.
Wentworth had earlier toured some preserved properties with Rich Cochran, the Land Conservancy's president and CEO.  The properties included the Adam's-Haley's runs urban greenway project in Akron, farmland and some of the preserved land in the Chagrin River valley.  Wentworth said the formation of the Land Conservancy through the merger of eight local land trusts in 2006 and the addition of Grand River Partners three years later "bore extraordinary fruit."
He added, "It is just amazing to see what you are accomplishing."
Wentworth, who was vice president of the Trust for Public Land before joining LTA in 2002, is a graduate of Yale University and holds an MBA in finance from Cornell University.  He told the EverGreen EverBlue audience that the preservation of our natural areas and working lands is "the greatest [glossary_exclude]legacy[/glossary_exclude] any of us can leave."  The Land Conservancy, he said, is an example of "neighbors working with neighbors" for the community's good.
Cochran told Wentworth it is "our privilege and pleasure to work with you."