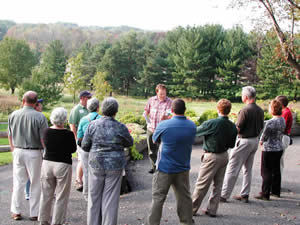 Landowners help celebrate conservation
September 27, 2010
The Land Conservancy on Sept. 23 honored those who have permanently preserved their property with conservation easements.  The event was held at Orchard Hills Park in Chester Township.
The approximately 60 landowners who attended the event used push pins to mark the location of their protected property on a map of northern Ohio.  The Land Conservancy has preserved more than 350 properties and more than 22,000 acres in northern Ohio, principally through the use of conservation easements.
The property owners were mostly from the central and eastern portions of the Land Conservancy's 14-county service area.  Landowners in the western part of the region were recognized over the summer at an event near Wakeman, and those in the southern portion of the service area were honored in August at Rustic Hills Country Club in Montville Township.
Pete McDonald, the Land Conservancy's director of stewardship, said the event was designed to celebrate land conservation and to show property owners how they can help promote preservation efforts going forward.
"It takes a special person to have the foresight to preserve his or her land," McDonald said.  "It was a unique gathering of landowners."
The Land Conservancy extends its thanks to the Patterson family and Geauga Park District for hosting the event.